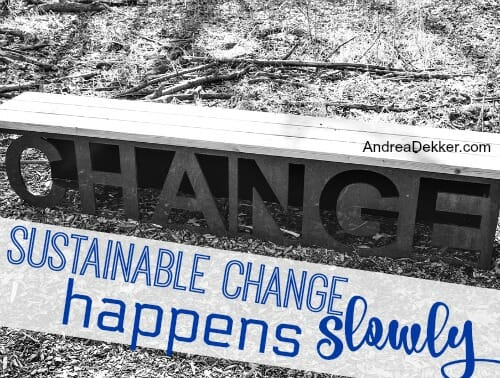 If you know me, you know I am not a fan of being pushed or rushed into anything — especially big changes.
I like to take my time, go slowly, and make gradual changes over time — which, it so happens, is often the most sustainable way to make changes (at least in my exerpeince).
Of course, there are times in life when we are forced to make immediate changes — some of which are huge, life-altering changes we'd rather not make — and of course, those are the exceptions to my "rule".
However, for the most part, if you want to see a change in any part of your life, you MUST give it time while you continually work at it.
Slow and steady really DOES win the race (at least when it comes to sustainable changes!)
Let me share several examples from my own life.
12 years ago…
I never even considered the food choices I made… honestly! I simply ate whatever I wanted to eat, whenever I wanted to eat it.
I purchase the cheapest foods I could find, ate margarine, wonder bread, and super processed meats and cheeses. We never had a huge variety of fresh fruits or veggies in the house, and I considered sugary yogurt cups, Country Time lemonade, and chocolate covered granola bars to be "healthy" and nutritious.
At that time, if you would have told me I had to instantly change and eat what we eat now, I would have felt beyond overwhelmed… however, after years and years of making one or two small changes at a time, we're now eating 12-grain bread, plain yogurt, real maple syrup, lentils, artisan cheeses, black bean brownies, so much less sugar, and loads and loads of fresh fruits and veggies every day.
The best part is, it truly NEVER felt overwhelming for me. I just kept adding in one new change at a time… and now, it's just "how we eat". I don't need to think about what to buy or how to make a certain recipe more nutritious.
It took a while, and we certainly can (and will) continue to make more healthful changes in our diet; but how we eat now is radically different, BUT also completely sustainable, thanks to the slow changes I made over the last 12 years.
.
10 years ago…
I had finally given in and set up my Facebook account, I had no idea what Twitter was, and I wasn't really sure what a blog was either. In fact, we didn't even have internet at home!
At that time, if you would have told me I had to instantly start up a blog, manage social media, write daily posts that people actually wanted to read, juggle several different virtual assistant clients, AND make money doing it, I probably would have passed out right then and there.
But now, 10 years later, I can easily manage all my work responsibilities along with caring for 4 children because all the changes were made slowly over time (usually after the kids were soundly sleeping!)
Of course, as anyone who has ever started a business knows, it takes SO much time (and probably lots of unpaid hours in the beginning) to make it work… but then it finally starts coming together and everything you've been working so hard for eventually pays off!
.
8 years ago…
We were still living in our first home, searching and saving daily for a farmhouse to call our own.
We didn't really expect to find or buy anything soon, so if you would have told me I had to buy a farmhouse, sell our current house, completely gut and renovate the inside and outside of the house, and redo the entire 1-acre landscape… I probably would have just started laughing.
But, here we are… almost 8 years later with our beloved, fully-renovated farmhouse (minus that one pesky bathroom) with a gorgeous landscape that took hours and hours, months and months, years and years of hard work and sacrifice.
It wasn't easy, but we enjoyed most of it, and we sure do love it now that it's finished!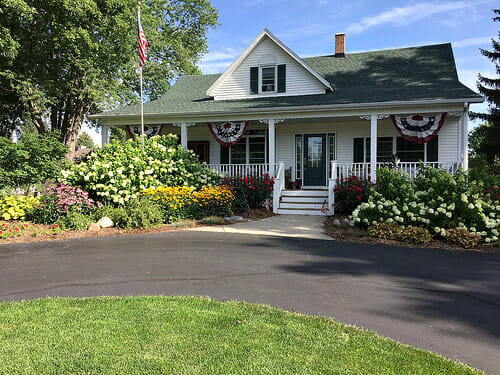 .
6 years ago…
The thought of getting out of the house with ONE fussy baby was enough to make my anxiety soar. If you would have told me I had to get out with 4 kids, I probably would have had a nervous breakdown!
Now, after a few years of practice (and realizing that not all babies cry all day long) I truly think nothing of getting out and about with 3 or 4 children in tow. In fact, 2 weeks ago, I actually took the older 3 to Meijer AND Costco… ON A SATURDAY because it was rainy and we didn't have anything else to do!
Dave was even shocked when I suggested it, but it really went just fine, and he got a little quiet time at home with Clara!
I certainly couldn't have done that 6 years ago, but after adding one child at a time and learning so much in the process, it really isn't that big of a deal for me to get them out of the house anymore.
.
4 years ago…
I never really thought much about my clothing choices. I didn't know what colors or styles of clothing looked good on me… I didn't even know what I liked.
My clothing choices were based simply on whatever I found on the clearance racks, even if those items didn't go with anything else in my closet or flatter my body type. As long as it was rock-bottom pricing, I didn't really care.
I would have felt SOOOOO overwhelmed if someone told me I needed to instantly create a mix-and-match wardrobe that looked good on me and that was somewhat "in style".
After working with a personal stylist (almost exactly 4 years ago) and slowly purging my closet of what doesn't fit or flatter me, I now have an almost entirely mix-and-match wardrobe that looks and feels great on me!
I know what styles and colors look best on me, I know what I feel best wearing, and I know what pieces I can confidently purchase if I want my clothing to mix and match.
Obviously, this is extremely helpful from an organizational and financial standpoint, but also from a personal standpoint — I no longer stand in front of my closet wondering 'what to wear' because everything goes with everything else. It's GLORIOUS — but it took some time to get there!
p.s. I'll be talking more extensively on my mix an match wardrobe in tomorrows post!
.
So you get the idea… sustainable change happens SLOWLY!
And please note the use of the word SUSTAINABLE!
If you want your changes to stick and your efforts to be worth their while, sustainable change is what you are after!
.
I know there will be several people who read this and think… YES, I need to do _________.
And then you go about the rest of your day thinking about how you really need to do __________ and get started on __________ and take steps to move you towards ___________.
And you go to bed tonight thinking, "tomorrow is THE DAY I will get started on ___________.
And then you wake up in the morning and think, "I'm going to do it today". But you never get around to doing it.
So stop waiting for the perfect timing and just DO SOMETHING TODAY that will move you in the direction you want to eventually end up.
It will take time, but with slow, consistent efforts, you will get there eventually. And if you fall a little short, you'll still be much further along than you would have been if you never started in the first place.
Don't expect miracles; don't expect instant results.
Put the time and effort in now, and before you know it, you'll be looking back 2, 5, 10, or 20 years and marveling at just how far you've come!
What sustainable change will you work towards today?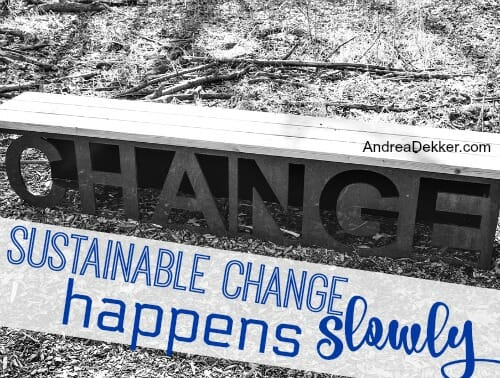 .