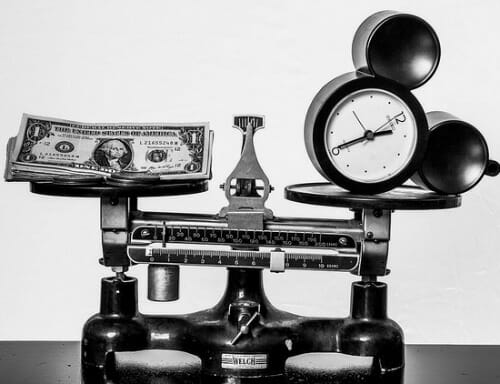 This post is an updated version of one I originally published in June of 2015.

As part of my summer blogging schedule, I'll be sharing a handful of my favorite posts from past years in attempts to give myself a bit of a break, and re-share some goodies from my archives!
A few years ago, I wrote 2 posts that were well-received, but ended up being much more controversial than I expected.
1. Why I Almost Never Say "We can't afford that"
2. We HAVE the Time, We just Don't MAKE it
The controversial emails and comments I got were not rude; they just didn't agree with my perspective.
Of course, I certainly don't expect everyone to agree with me. However, for some reason, I have often thought about the opposing comments and emails from those posts over the years.
I guess it just bothers me that so many people seem to have such a "defeatist" attitude towards their lack of time and money.
Yes, I COMPLETELY understand how frustrating it is to feel like you're not getting ahead financially — even though you seem to be working your butt off day after day after day. After all, I ran a business for almost 4 years, barely breaking even while working WAY more than full-time hours in addition to another part-time job!
I can also FULLY relate to feeling pulled in 100 different directions, having SO much I want to do, not enough time to do it, and feeling like there is no other option but to work myself ragged and hope that half my list is crossed off at the end of the day.
However, that's not how I choose to live the majority of my life — because I hate those feelings of needing and wanting more all the time… and I also know I have quite a bit of control over those feelings.
.
Whether it's finances, time-management, my physical appearance, my home, my business, my daily life, etc. I use the 5 Things Rule to snap myself out of my "funk", realize how much I do have to be thankful for, and how much control I do have over various areas of my life.
Of course, just "thinking on the bright side" doesn't always magically fix all my issues — but it does usually help me to realize and remember that in almost every single situation I HAVE A CHOICE! I'm not just a victim.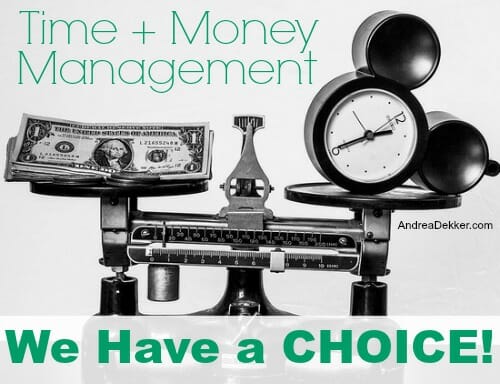 When it comes to our finances, there are truly many things Dave and I cannot currently afford to pay cash for… but even those "unaffordable" things are still unaffordable because of MY CHOICES.
If it was a dire need or a life or death necessity, I'm fairly confident I could take out a loan, put it on a credit card, ask friends and family to help, or cash in our retirement savings to pay for it. Those might not be very good choices, but they are still choices I have.
So I guess the main reason I try not to say, "we can't afford that" is because I know that deep down, the real reason we don't buy something is because "we are CHOOSING to use our monetary resources in a different way."
Can we really not afford pizza for dinner or a fun lunch out with friends, or are we simply choosing not to spend our money in that way because we're paying down debt, saving up for a big purchase, or we'd simply rather spend that money on groceries so it goes further?
Can we really not afford that toy for our kids, or are we simply choosing not to spend our money in that way because we're saving up for a family vacation… and because frankly, our kids don't need another toy!
Can we really not afford to buy a brand new car, or are we simply choosing not to because we don't want to go into debt, have monthly payments, and spend so much money on something that will depreciate the minute we drive it off the lot? (For the record, I don't think a new car is a bad thing if it fits your budget!)
Can we really not afford to go on vacation, or are we simply choosing to budget our money towards different avenues — like braces, school tuition, building our retirement funds, putting in a pool, etc.?
Can we really not afford cable TV, or are we simply choosing to pay the electric bill instead as we know electricity is more important than TV?
If you really stop and think about it, every time you spend money (or don't spend money) you are making a choice. Some of the choices are much easier to make than others — but there is almost always some sort of choice involved.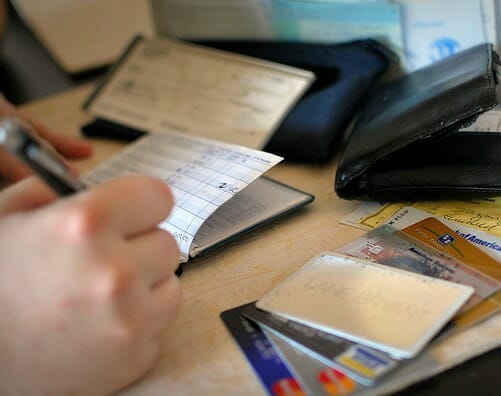 The same goes for how we spend our time.
I think the reason it bothers me so much when others complain about their lack of time or about how busy they are is because we all have the exact same amount of time to use every single day, and we all have the opportunity to make various choices as to how we spend that time.
Unlike our finances, there is no magical way to "make more time" — we all are stuck with 24 hours a day to utilize in the best way we can.
Yes, some of us work outside the home and work more hours than others — but I have to argue that working those hours is a personal choice. We are adults and we have a choice to be employed or unemployed. It might not be a good choice for you to be unemployed, but it is still a choice.
I know I have personally cut back on many different activities that I used to really enjoy doing — all in an effort to simplify my life and have more time for my family, my business, and my house projects. In a few more years, once house projects are finished and my children are older, I might be able to say yes to some of those activities again. But for now, I'm choosing to say no.
Do we really not have time to be on that volunteer committee, or are we simply choosing to say no because we've reserved our nights for family time?
Do we really not have time to take on another client, or are we simply choosing to say no because we don't want to stretch ourselves too thin and have to pull time from other activities we also enjoy?
Do we really not have time to keep our homes clean, or are we simply choosing to use that time for other activities with our family, friends, career, etc?
Do we really not have time to cook from scratch, or are we simply choosing to use some processed foods because cooking from scratch isn't a priority for us and we'd rather have more time for other activities we enjoy more?
Every day, we have hundreds and thousands of choices as to how we will spend our time… it's up to us to choose the best way for our current life and situation.
When it comes to time and money management, I'd argue there honestly isn't a specific "right" or "wrong" choice for any of us. It's all personal preference and weighing the pros and cons over every situation — often on a daily basis.
You all know that I'm a HUGE advocate for being good stewards of our time, money, and other resources… and I think part of that process is realizing (and owning the fact) that there is almost always a CHOICE involved in how we use our time, money, and other resources.
Yes, there are exceptions to the rule, but at least in my own life, I've noticed that even when I feel like I'm being forced into something, it still always comes back to a specific choice I've made at one point or another.
So I guess I'd like to challenge you to not only become more conscious about how you're managing your time, money, and other resources; but also to push that defeatist attitude out the window and take ownership of the fact that in almost every situation, the choices WE make determine how we spend our time and money.
What do you think? Am I crazy? Or do I have a valid point?