How The 80/20 Rule Helps Me Simplify My Home
posted by Andrea | 06/26/2014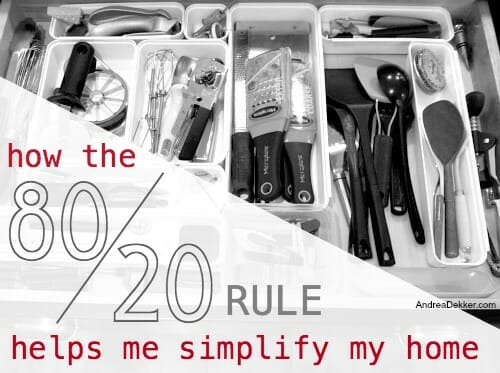 When it comes to the stuff in our homes, the 80/20 rule can probably be applied to almost everything.
The 80/20 rule states that we use and wear 20% of our things about 80% of the time.
This means that we rarely ever use and wear the other 80%… and we probably wouldn't miss it all that much. But don't worry, I'm not going to persuade you to purge it all. 🙂
I know in my own life, I often wear my favorite few articles of clothing on a very regular basis while so many other items go unworn month after month.
I often use the same kitchen utensils and small appliances while so many others simply take up space in my drawers and cabinets.
I watch the same movies and TV shows and read the same blogs while there are literally thousands of other options available to me.
Nora plays with the same favorite toys almost every day while all the other toys sit around waiting for her to get bored.
Nora requests the same books read to her over and over and OVER again, while a bunch more simply sit unread on the shelves.
Even when it comes to meal planning, I often end up planning the same few meals that we all love over and over again
I don't necessarily think there's anything wrong with this — it's normal to have favorite outfits, favorite movies, favorite toys, favorite books, and favorites foods. However, I do think there is A LOT we can learn by taking a closer look at the 20% of things we regularly use — and then utilize that information to help us declutter and simplify our lives.
Let me give a few examples from my own life:
CLOTHES:
I really don't enjoy shopping so I don't have a massive amount of clothing — but even still, I find that I end up wearing the same handful of shirts and pants over and over again. And based on my experiences working with clients who DO love shopping, I can attest to the fact that although they often have a lot more clothing than I do, they almost always have specific items (around 20% of their wardrobe) that they wear on a much more regular basis.
I think some purging is healthy — especially if I haven't worn an item in years, if it doesn't fit, or if it's out of style. However, I definitely don't plan on purging 80% of my closet any time soon (and I don't expect you to either.) Instead, I try to take note of the 20% of clothing I wear on a regular basis and ask myself WHY I wear it so often. Is it especially comfortable? Do I feel great wearing it? Is it a certain brand or style that fits my body extremely well? Does the color flatter me? Does it easily coordinate with many other pieces in my closet?
Whatever it is, I think about that the next time I'm shopping for clothes. Even if I find a fabulous deal (or get freebie hand-outs from friends) I've decided it's not worth cluttering up my closet with items I won't love wearing or feel great in.
NOTE: I'm hoping to do a more in-depth post about wardrobe planning later this summer — stay tuned for that!
KITCHEN ITEMS:
Ever since we renovated our kitchen 2 summers ago, I've been blessed with TONS of kitchen storage! And while I do still have a couple empty drawers and shelves, it was surprisingly easy to fill up most of my precious storage!
Almost everything in my kitchen is used at some point during the year, but if I'm REALLY honest with myself, I could probably get rid of about half (or more) of my serving platters, various kitchen utensils, mixing bowls, storage containers, etc.
Yes, they often come in handy those few times each year when we entertain for an especially large group of people, but they go unused the rest of the year. And I know that if I just got rid of them, I would be able to make due without them for those bigger gatherings. But I have the space, so I keep them!
Again, I honestly don't think it's the end of the world to hang onto items I don't use every single day (as long as I have a "home" for the items). However, since I know there are items I'm not using in my kitchen, I purposely don't buy any other kitchen items.
I can confidently say that it has been AGES since I've purchased any kitchen items because I know that I'm not even fully utilizing everything I have. Even if I see something I really want, I stop and think about how often I'll actually use it and question if I have something else that could be used instead.
This thought process has stopped me from bringing in more needless kitchen gadgets that I don't need — and it has helped me repurpose some of the items I already had in my kitchen.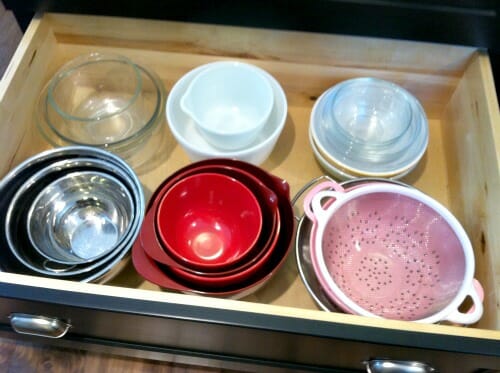 TOYS:
Last year at this time, we had almost NO toys. We had 2 small baskets in the living room, 1 shelf of books, and a few larger toys in Nora's special play closet under the stairs. THEN came her birthday, Christmas, the new play room upstairs, and Simon's birth — all of which were apparently occasions for lots of friends and family to spoil Nora rotten 🙂
Within four short months, she had way more toys than she could ever possibly play with.
I honestly didn't care about all the toys that much. We had plenty of storage space for them, and I figured she would get around to playing with all of them eventually. However, to my surprise, she really only plays with a few of the toys the majority of the time.
Her Babies — she has a crib, a stroller, a little diaper bag, a changing table, and some blankets. The babies are her favorite!
Her Kitchen — making food, feeding her baby at the table, planning picnic lunches, having tea parties with her babies, etc.
Her Doctor Kit — Dave and I get at least 2 check-ups a day
Dress-up — with hats, purses, bags, shoes, jewelry, etc.
Craft Supplies — she could stay busy for hours with stickers, crayons, markers, chalk, paper, etc.
Outside of those activities, she rarely ever touches any of her other toys. So a few months ago, Dave and I put a whole bunch of her toys in a closet where she couldn't see or reach them. To our surprise, she has only requested ONE of the items we put away — and now we're contemplating just donating the rest as she hasn't missed them in a couple months.
Also, from now on, we'll be better about "requesting" these types of gifts for Nora when people ask what to give her for birthdays and Christmases.
I could go on and on with various examples from my own life — but I think you get the idea. So often, we only use, need, and love a fraction of what we own. 
I honestly don't think we need to purge EVERYTHING we don't use — there is definitely a good argument for hanging onto those items we need every so often. However, as you can see from my examples above, there is still some good in recognizing that 80/20 rule in our own lives.
Recognizing the 80/20 rule in my own home and life has helped me to pinpoint the 20% of items I love, use, and wear all the time (and then restrain from buying more items that don't fit what I love, use, and wear).

It has also given me the motivation to repurpose some of the other items I wasn't using as regularly.

And finally, it has allowed me more freedom to purge any items I know I will never use or wear (even if they are in perfect condition and still in style).
Just knowing what my 20% is helps me to simplify and to be more organized — and I think it could do the same for you. Even if you never purge any of your 80%, just knowing and realizing your 20% will help you cut back on those super great deals and other impulse purchases that add so much clutter to our homes (and make future organizing projects seem that much more overwhelming).
So the next time you get dressed, the next time you pull an appliance out of your kitchen cabinets, the next time you flip through channels, and the next time your kids pull out their favorite toys… take note. Realize those items you use and love regularly — as well as the ones you don't!