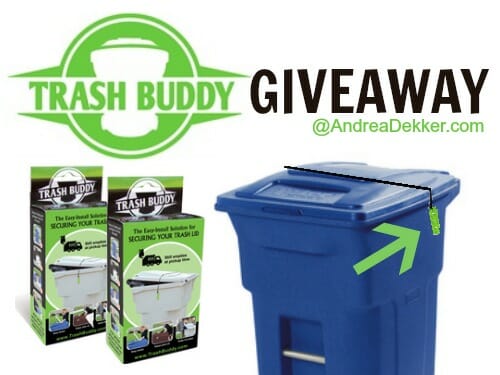 Most people think that because we live in an old farmhouse, we also live way out in the country. However, that couldn't be farther from the truth!
In fact, one of Dave's main stipulations in "letting" me renovate an old farmhouse was that it needed to be VERY close to restaurants, grocery stores, highways, gas stations etc. He also insisted that we have sidewalks, paved roads, and neighbors (yes, he grew up in the middle of nowhere!)
So, when we found a 120+ year old farmhouse (in our budget) RIGHT SMACK in the middle of a small town, with neighbors, paved roads, and sidewalks that was also walking distance to many restaurants, grocery stores, the bank, the post office, etc., less than 5 minutes from 2 major highways, and less than 15 minutes from his school and both our parent's houses, we were sold!
Living close to everything is fabulous, the sidewalks and paved roads are awesome, and we all love having neighbors — except for when our neighbors' trash cans overflow to the point that they don't close properly and large amounts of their trash end up in our yard.
Since we have a very large and open front yard, it tends to collect LOTS of trash — to the point where we can go out and pick up trash in our yard on a daily basis. I will say that one time I found a FULL sheet of unexpired Culver's coupons with 2 BOGO coupons. That day, I was happy for the trash… but that was the only day 🙂
Anyway… a couple months ago, I was contacted by Trash Buddy to see if I was interested in testing out their product… and after 10 seconds on their website, I knew I was interested!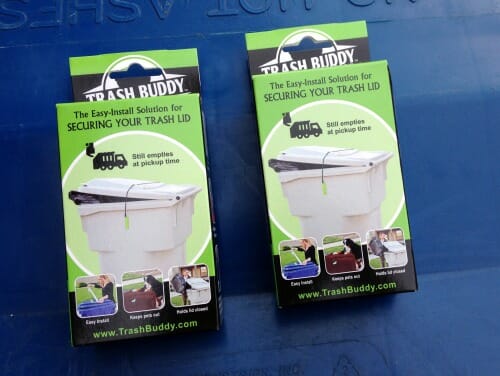 Trash Buddy is a very simple solution for securing your trash can lid from wind, pets, or anything else that might possibly cause the trash to spill out of your can.
It works with virtually every single rolling trash can and still allows the lid to fully open when you need to add more trash or your waste company empties it on trash day.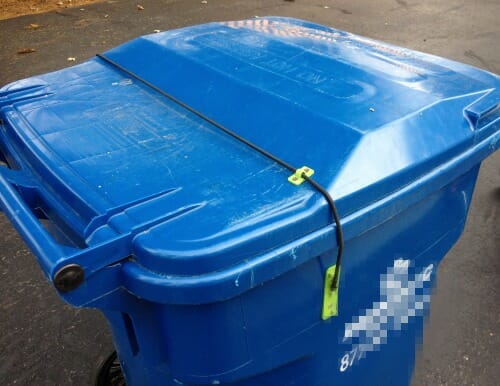 Oh, and it's extremely easy to install (I did it in about 5 minutes with Nora running around like a crazy person and Simon in the stroller)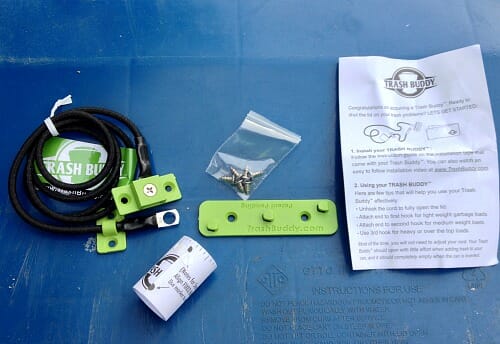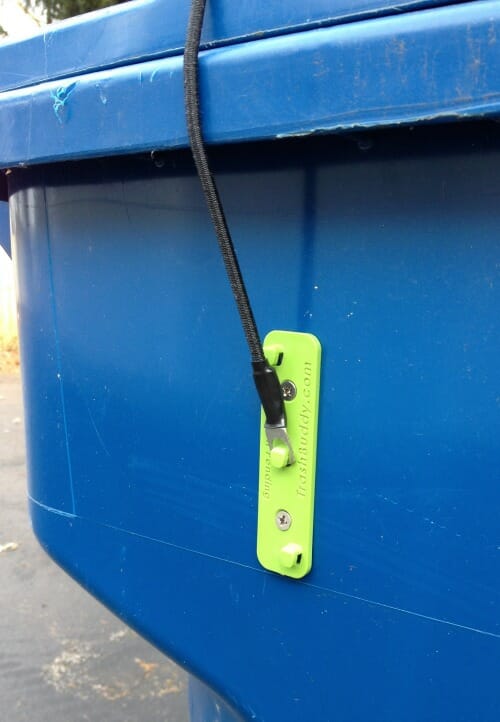 Pretty cool huh?
Here's a 30-second video that will show you exactly how the Trash Buddy works!
From the moment I opened that email from Trash Buddy, I've been trying to think of ways I can secretly install one of these on all our neighbor's trash cans without offending them. I haven't come up with any plans yet — but maybe some of them will see this blog post and buy one (or win one!)
I was also thinking that the Trash Buddy could be a really practical gift idea — maybe a stocking stuffer for your friend or relative who just bought a new house, or a great gender neutral gift for the office party. You could even make a big joke out of it by pairing the Trash Buddy with a variety of trash bags for a "gag gift" that's still super practical and usable.
That's it! Maybe I can host a neighborhood holiday party and give everyone a Trash Buddy as their party favor 🙂
If you've ever had issues with your trash spilling, I would definitely recommend the Trash Buddy!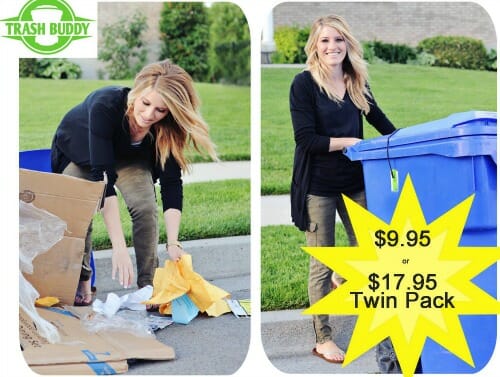 Visit Trash Buddy on the Web:
Visit their website: www.trashbuddy.com
Facebook: Trash Buddy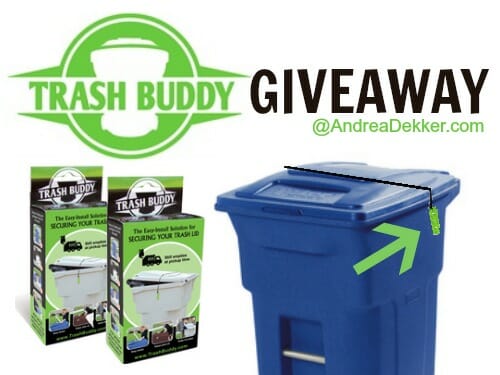 Enter To Win This Giveaway!
Today, SIX lucky readers will win a Trash Buddy system.
Also, all Trash Buddy products purchased on or before Nov. 23, 2014, are eligible for 10% off if you use the promo code: AD10 at checkout
To enter this giveaway, simply use the Rafflecopter widget below (it might take a second to load).
a Rafflecopter giveaway

This giveaway ends at 11:59 pm EST, Monday, 11/17/2014 and is open to US residents, 18 years or older. The winner will be randomly selected via Rafflecopter and notified via email. I received a duplicate prize package in exchange for hosting this giveaway — all opinions are 100% my own. Please see my full disclosure policy and contact me with any questions you have. Good luck!