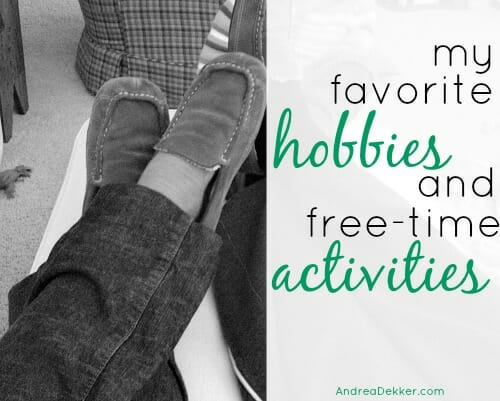 Somewhat recently, a blog reader emailed me and said she was shocked that we had a Netflix membership. I figured she was going to rant and rave about how TV was the most horrible thing ever and would certainly ruin our children's brains.
However, she was actually thrilled to know we had a Netflix membership because (as she put it), "It means you actually have free time and that you actually kick back and relax every once in a while."
I had to laugh when she told me that — because obviously I DO relax, it's just not something I write about on my blog (until today, I suppose). I figured my freetime activities would not be extremely interesting to anyone, and since my focus for this blog is "productivity", "time management", "organization", etc. I just never thought to blog about free time.
However, the more I thought about it, the more I realized it might be a great post topic. So for those of you who have ever wondered what I do in my free time… here are a few of my favorite hobbies!
1. Dreaming about future house projects.
This is for sure my most favorite "hobby" — if you can really call it a hobby 🙂
Although I realize we will probably never do many of my crazy ideas, I absolutely LOVE dreaming up creative (and most likely very expensive) future home renovations and projects. In fact, over the last 8 – 10 years, I've "corrupted" Dave's brain too and we'll both sit and brainstorm crazy scenarios like:
If we could lift up our entire house, dig out a bigger basement, and then finish off the entire basement into usable living space (this would literally add over 1000 square feet to our house — and could easily cost over $100,000, so we will certainly never do it!)
If it would be possible to turn our heated outbuilding into an apartment that we could rent out (we checked with our city and with a few contractors and this would also be a massive project that would not be worth it)
Where we might put our dream underground pool someday (we still haven't come up with a great spot) or if we could buy part of our neighbors property and use that for our pool (also very unlikely).
We have so much fun coming up with ideas, getting all hyped up about them for 3 or 4 days, talking about them constantly with each other for those 3 or 4 days, and then realizing it's never going to work… and moving onto the next idea.
This probably sounds totally crazy to most of you — but it honestly is one of my favorite free-time activities!
p.s. you can take a tour of our house here 🙂
.
2. Netflix
I don't particularly love to read, I rarely listen to music, and I absolutely detest TV commercials (I can't even remember the last time I watched live TV). We only have very basic cable and an extremely limited number of DVDs to watch… so when I want to kick back and just "zone out" for a bit while folding laundry, making my grocery list, planning our weekly meals, or some other mindless task, I turn to Netflix.
Dave and I have enjoyed watching TV series together (like Cake Boss, The Office, Friends, Hell's Kitchen, and Property Brothers) and we also have shows we watch on our own (my most recent favorite was 19 Kids and Counting — but that was just taken off Netflix last month).
Now that it's colder outside and is dark by 6:00pm, we're not doing any yard work or outside projects after the kids are in bed, so we might pick one night a week to watch a movie on Netflix while Dave grades papers and I respond to blog comments or edit photos. It's a fun, frugal "date night" that can easily be put on hold if one or both of the kiddos wake up in the middle of it.
Also, since Netflix works with our phones, tablet, computers, and the ChromeCast plugged into our TV, we can pause a movie on our TV and then start watching it on our phone (with ear buds). This has been a FABULOUS way so use up the hours upon hours we spend sitting in Nora's room in the evening.
You may read more about how we use ChromeCast and Netflix in this post.
.
3. Online Shopping / Browsing
Did you know I'm a huge fan of online shopping? Oh yeah, I forgot, I've blogged about that MANY times in the past couple of years 🙂
It's true, I'm a huge fan of shopping online and enjoy all the time, energy, and money it saves me — not to mention the fact that I can shop from my couch in my PJ's (while watching The Office on Netflix) whenever it's convenient for me.
Here are a few of the posts I've written about online shopping.
My entire Craigslist 101 Series
My Favorite Online Shopping Sites
6 Ways to Get Free (or almost free) Clothes
4 Ways I Save and Simplify With Online Shopping
Simplify your Shopping with ePantry.com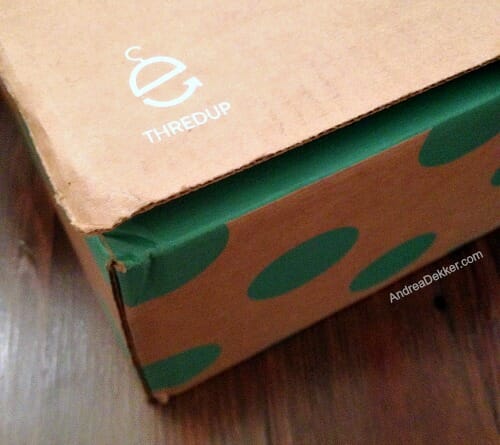 Now days, about the only thing I don't buy online is perishable groceries (and that's only because my grocery stores don't offer grocery delivery!)
HOWEVER, just because I frequently shop (or rather "browse") online stores doesn't mean I'm spending all kinds of money. In fact, I'm confident I spend less money online shopping than I do if I were in a store (often because I can use affiliate credit) — and I don't think I've ever paid for shipping in my entire life.
.
4. Facebook and Reading Other Blogs
Besides Facebook, I do almost NO social media — which I realize might be hard to believe, but it's true. I've never used Google+, I can't remember the last time I "Pinned" or "Tweeted" anything, and I don't use Instagram or any of the other bazillion social media platforms for personal or business purposes.
However, I REALLY like Facebook 🙂
I love how it allows me to stay connected with tons of family and friends all across the country, as well as old high school and college classmates that I otherwise wouldn't stay in contact with.
I know some people abuse it (and I've definitely blocked and unfriended people due to obnoxious posting) but for the most part, Facebook offers my somewhat introverted self the ability to share my life and be a part of other people's lives without lengthy phone conversations or in-person meet-ups that are definitely not enjoyable for me with multiple little kids around.
I also use Facebook as my primary resource to stay "current" with many of my favorite blogs. I don't follow any blogs in any type of "reader" and I only subscribe to 2 or 3 via email. The rest are all followed via Facebook — and yes, I do enjoy browsing through several other blogs in my free time.
.
5. Digital Photo Books
I got started with digital photo books the year after Dave and I were married and I was searching for a way to digitize ALLLLLLL of Dave and my photos from birth on. I was originally very overwhelmed by the task at hand — but I quickly realized that I loved working on digital photo books, and have created 10 large books already!
I'm currently working on (and almost finished with) our 2014 Family book and Nora's 2014 book. I'll wait until closer to March to start working on Simon's 1-Year book.
Here are a few more posts about my digital photo books:
More information on how I organize our photos and create these books
Our 2013 Family Book + Nora's 2-year Book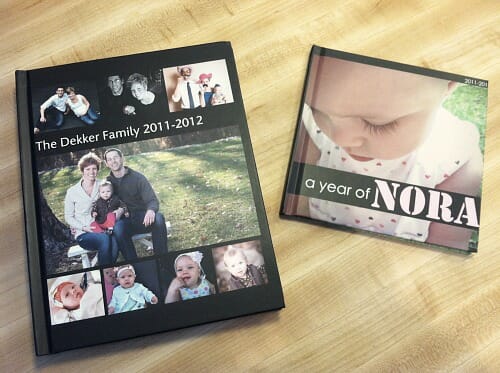 Digital photo books is just the perfect hobby for me because it doesn't involve any pieces or parts or storing anything in my house. Plus, it's all done via the computer — and I'm on the computer so much already that it's no big deal to just make a couple more pages before I shut down for the night.
Also, it gives me an added incentive to keep my photos organized and provides the perfect opportunity for me to print hundreds of pictures in one, nice, neat, organized book (because I really dislike loose photos all over the place!)
.
6. Walking
I'm guessing many of you can probably relate to the fact that I dislike most "formal" exercise methods. I don't like getting sweaty, I refuse to spend money on a gym membership I wouldn't even use, and I'm just not willing to make the time in my already busy schedule to exercise when I don't even like doing it.
For now, I will enjoy my "highish" metabolism… and worry about extra pounds later in life when they happen (and I'm sure they will happen)!
However, I do really enjoy walking — and we walk ALL the time.
Unless it's raining or icy, we walk somewhere almost every single day. Often it's to run errands (we live really close to everything) but many times it's just to get out of the house and take a few laps around the neighborhood.
I fully realize that I'm not burning massive amount of calories just walking, but I enjoy it, and it's better than sitting on my butt! Plus, my kiddos love walks and I love our double stroller!
.
That's about it for my hobbies and free-time activities.
I'm certain this list sounds awfully boring to many of you — but it's just perfect for me and the stage of life I'm in right now. I don't have the desire to make the time or space to do lots of crafts, I'm not excited about traveling with 2 little kids, and I enjoy being home.
So, for those of you who may have thought I was a work-a-holic, let me assure you, I have plenty of free time (at least enough for my liking) and when I do, you'll most likely find me doing any number of the activities listed above.
In fact, in the process of writing this post, I watched 2 episodes of Friends on Netflix, I took a break to place an order on Amazon.com for a few things for Nora's birthday and on ThredUp.com to use a coupon code I had. I checked Facebook once to upload a couple of pictures, stopped to chat with Dave about installing our new front door, and I have my photobook program ready to go now that I'm just about finished with the post.
Oh, and we went for an hour-long walk earlier today — stopping to pay our water bill at City Hall, returning a package at the post office, depositing a few checks at the bank, and stopping by the grocery store for some pop corn 🙂
There you go, a few more random facts about Andrea Dekker!