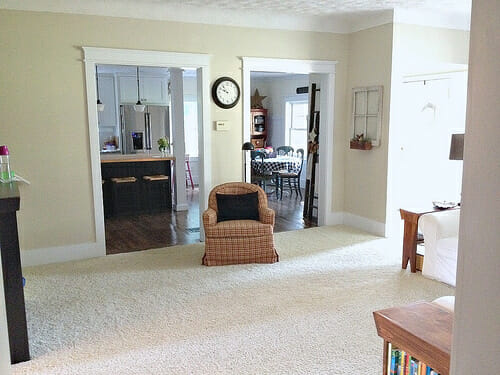 If I had my way, our house would have absolutely ZERO carpeting. I really, really don't like carpeting because of all the dirt, dust, and other allergens that get trapped in carpet fibers.
Gross!
I'm sure most of you who have followed my blog for a while are scratching your head wondering why on earth I'm bashing carpet when we clearly have several rooms of carpeting in our home… right?
It's true, we do have carpeting in our living room, our playroom, Nora's bedroom, and the guest bedroom — and we are actually planning to keep these rooms carpeted for a long time… even though I hate carpeting.
Dave "allowed" me to put beautiful reclaimed barnwood flooring in almost every room on the main floor, but requested that we leave carpet in the living room. I was originally a little bummed that he didn't want the entire main floor to be wood — but I will admit, it was the best choice. (Did you read that Dave!)
I am stubborn on many things, but when it comes to carpeting, Dave's preference won out as I do realize carpeting is much warmer in our cold West Michigan winters.
Plus, carpeting is much nicer for little kids to play and crawl around on. In fact, for a long time, Simon actually refused to crawl onto the hardwood floor so the carpeting was like an invisible baby gate!
Of course, once he realized how much fun toilet paper can be, he braved the wood floors and hasn't looked back 🙂
Anyway, back to the carpeting…
Even though I don't particularly love carpeting, I get SO many questions about the "best" way to care for carpeting, how to clean it, how often to clean it, what type of carpeting to buy when shopping for new carpeting, etc. etc.
So while I'm not an expert on carpet, I thought I'd share what I know and how I care for my carpets… and then leave the comments open for you to share your carpet tips and knowledge.
My Vacuum:
I use this Hoover High Performance vacuum — and I've been really happy with it for the past couple years. It has several attachments and the canister is very easy to empty. We use this vacuum for all our carpets, on our hard floors, and even to vacuum out our cars.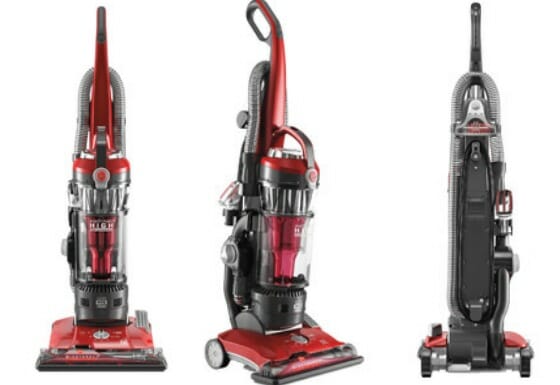 If you have heavy-shedding pets, I'm not sure this would be the best vacuum for you, but it works well for our needs and is moderately priced compared to many other vacuums.
Daily Carpet Maintenance:
I recently heard that it's best to vacuum your carpet every day… but then I also heard that vacuuming too often could damage the carpet fibers and cause them to break down more quickly.
I usually vacuum twice a week — sometimes 3 times if we have people over or if I feel like the carpets are extra dirty for some reason. Keep in mind we don't have pets, we don't often eat in the carpeted areas, and we usually take our shoes off inside.
Also, I will admit that I rarely (like almost never) vacuum the stairs to our second floor. I don't know what my deal is but I absolutely HATE vacuuming the stairs. I know this is probably so gross but it's not like we're sitting on the stairs — just walking up and down 🙂
Eventually, we plan to remove the carpet from the stairs (after kids are finished crawling) and install hardwood treads with white risers… but for now, our "dirty" carpeted stairs will do!
Carpet Cleaning:
I use a a $4.00 can of carpet stain remover to clean any small spots throughout the year. I also get our carpets professionally cleaned once a year (and yes, he cleans the stairs really well!)
I thought once a year was completely "normal" until our carpet cleaner said many of his clients cleaned their carpets 2-3 times every year. In my opinion, once seems like enough for me — but I'm sure it couldn't hurt to have it done more regularly if it fits into your budget.
Since our carpet cleaner is my parent's neighbor and we've known him forever, I've honestly never even considered trying to rent a carpet cleaner and do the work myself. As I mentioned in this post, there are just some things Dave and I feel are worth paying the pros for — and carpet cleaning is definitely on that list!
Buying New Carpeting:
If you've ever shopped for new carpet, you know it's expensive! I can't believe how much it costs — and then you have the cost of the pad and the labor to install it.
If you're in the market for new carpeting, I would definitely recommend shopping around. We found a large variation in prices between different companies and brands. However, also know that for the most part, you do "get what you pay for", so the more expensive stuff SHOULD hold up a lot better over time.
I would also recommend talking with a trusted carpet cleaner and asking their opinions on what carpet to buy. When we were shopping for carpeting in Nora's room and the playroom, I called our carpet cleaner to see what type of carpeting he would recommend. He quickly listed off 2 or 3 very durable and easy-to-clean types of carpeting (as well as 2 or 3 types to stay away from). This helped me narrow down my options and walk into the carpet store more informed.
I will say that one of my favorite things about carpeting is that you can totally transform a room in just a couple hours — which is definitely not possible when you need to install, sand, stain, and seal wood floors!
I think that's it for now — I've exhausted my limited knowledge about carpeting 🙂
However, I'd love to hear any of your tips.
How often do you get your carpets cleaned? How often do you vacuum? What type of vacuum do you use?