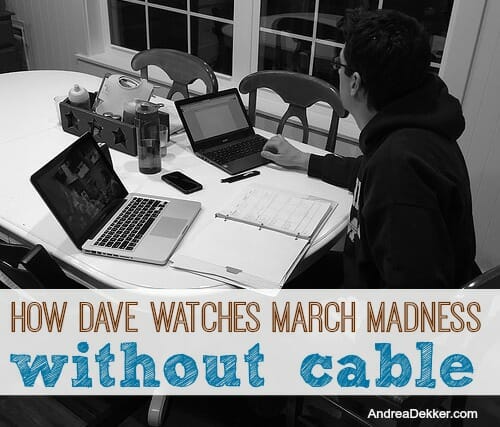 As many of you know, Dave and I nixed cable a while ago… and we really have no regrets.
Frankly, I can't even remember the last time I watched any live TV (in general, I rarely turn the TV on) but Dave is a huge sports and news nut — which was the main reason we held onto our cable package for as long as we did.
However, when Dave came home with a $25 antenna (similar to this one) I called up the cable company and canceled the next day!
Now Dave can still get local news and the basic "major network" sporting events without the high cost of cable.
Dave is really good about only watching sports after the kids are in bed — something I really appreciate! And if there is a super important game that isn't on our basic channels and he really REALLY wants to watch it, he'll just drive over to one of our parent's homes and watch it there (this doesn't happen often though).
The one time of year Dave gets a little crazy with his sports watching is during March Madness. The man is a basketball junkie and would probably watch every single game if he didn't have to work during the day — so not having cable during this time of year is very difficult for him 🙂
Thankfully, a couple years ago he discovered SlingTV.
NOTE: this post is NOT sponsored.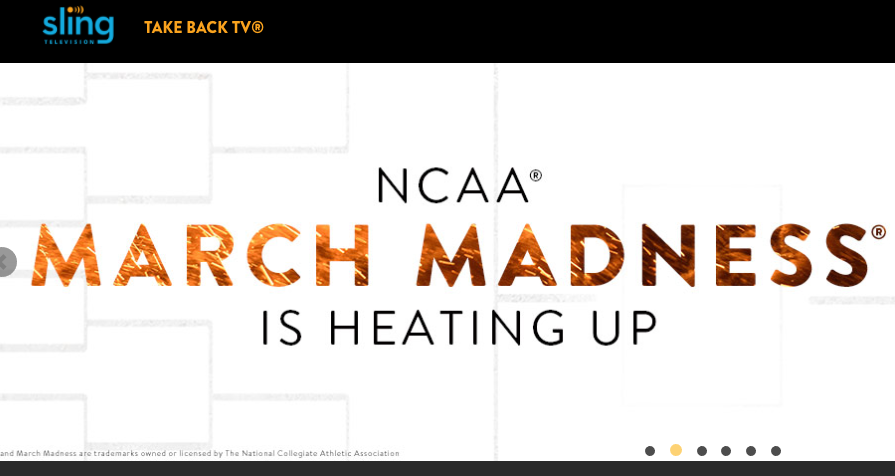 Sling TV is NOT specifically for sports — but Dave can get all the sports channels he wants (along with an insanely huge number of other channels) for $25 per month.
He can watch live sports (and live TV) from his phone, from a tablet, from his computer, or streamed to the TV (via Chromecast) all day long… and there are several shows you can watch any time of day — similar to Netflix or Amazon Prime.
His favorite set-up is with 2 laptops at the kitchen table — one for basketball, one for school work, with his grading nestled in between. This is pretty much how you'll find him every single night for the next 3 weeks 🙂
Now obviously, $25 per month isn't super cheap, but since Dave ONLY buys it for one month a year (there are no contracts), it is significantly cheaper than paying for a long-term cable contract month after month after month. Plus, I have a feeling $25 per month is actually less expensive than most cable packages out there — especially when you consider how many channels you get with Sling TV.
Plus, if you've never tried Sling TV before, you can get 1 week free (Dave said you need to put in your credit card information to get the free week).
As I mentioned above, this post is NOT sponsored, but I think it's such a fun and frugal way to enjoy a month of special sports and extra TV channels without any contract or long-term commitment, so I wanted to share it here in case any of you were interested.
This might be a fun "treat" for an at-home vacation, over summer break for teachers, or when there are major sports tournaments on during certain times of the year.
Lucky for me, March Madness always coincides with spring break — which means I get to watch HGTV all spring break long thanks to our month of Sling TV!
Have you ever tried Sling TV… or something similar?