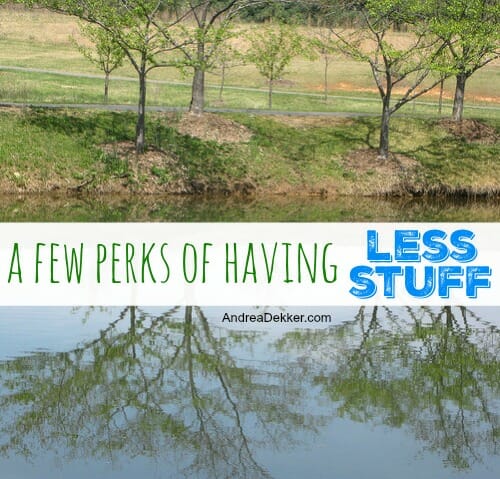 Although I personally have no desire to become a true minimalist, there are many situations when I definitely prefer "less" over "more".
I prefer fewer items of clothing that I love and feel great in versus lots and lots of options I continually try on and hang back up.
I prefer fewer toys, books, games, and crafts that my children actually play with versus rooms full of toys and games they don't have the time to enjoy.
I prefer fewer to-dos and obligations on my schedule versus being over-committed and stressed out by everything on my plate.
Even when it comes to technology, I prefer fewer gadgets, accessories, Apps, plugins, etc.
Of course, there are always situations and circumstances where "more" is most likely better than "less", but when it comes to things and stuff, I feel there are a handful of tangible benefits from having LESS.
Let me explain…
1. More Financial Stability
You're buying less, you're paying to maintain less, you're updating less — all of which equates to spending less, saving more, and more financial stability.
2. More Time
Along the same lines, with less stuff to shop for, buy accessories for, clean around, and maintain, you'll most likely end up with more time to do other things you might enjoy even more!
3. Less Buyer's Remorse
We've all been there — that great jacket, purse, couch, refrigerator, toy, computer, kitchen gadget, etc. seemed like just the thing for our home and lives… but now we've spent the money, we hate it, and we can't bring it back.
I doubt any of us will get through our lives completely unscathed from buyer's remorse, but it sure happens less often when you don't buy or have as much stuff!
4. Less Indecision.
I don't know about you, but I cannot stand indecision. Personally, I am very decisive, so it drives me nuts when there is procrastination or dawdling over any type of decision.
I honestly think this is one of the main reasons I choose to have fewer things — because it means fewer decisions (and less chance of indecision) on my part.
I don't struggle with "what to wear" because I regularly purge the things I don't love and am only left with clothing I know I like and feel good in. I don't wonder about where to put things because we have "homes" for all our books, toys, games, puzzles, etc. and if things start getting too full, we purge to make more space.
Less indecision is a huge perk (for me) of having less.
5. More Freedom
In general, when I think about owning less, I have a feeling of more freedom. In fact, Dave and I regularly joke about retiring to a tiny condo someplace where there is no room for anything extra — I think we both like the idea of being "free" from stuff.
I realize it's often very difficult to be completely free from stuff, but by owning less, I do feel like we have more freedom.
I should point out that when I say "having less stuff", that can refer to any number of items.
In my opinion, "less" is determined by our own personal views. What Dave and I might consider as "less" could be three times as much as what someone else might consider "less". What you consider to be "less" might be more than what Dave and I consider to be "less".
I'm not nearly as interested in the exact number of things you have or own as I am in the fact that you are willing to purge the things you don't want, need, use or love.
I don't care if you have 40 things, 400 things, 4000 things, or even more than that as long as you actually use them all, enjoy them all, and have a reason for keeping them all.
That said, if you feel like you could use more financial stability, more time, less buyer's remorse, less indecision, and more freedom, it might not be a bad idea to consider purging some of your things. You might be surprised how much you also enjoy having less!