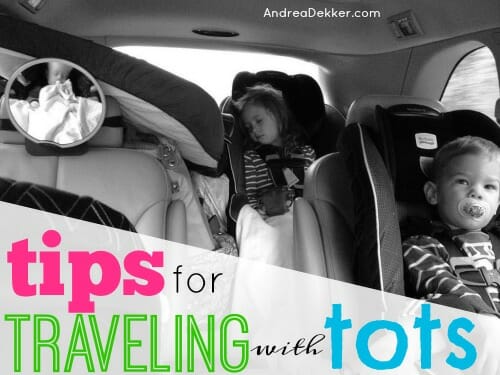 I'm a homebody — I don't particularly love to travel (I think most of you knew that already!)
That said, Dave and I will actually be traveling more than usual over the next few months — and yes, we'll be traveling with all 3 kiddos.
Thanks to a fun spring break vacation with my entire family, a 85th birthday party / family reunion for Dave's grandma, a mini-vacation with Dave's immediate family, a week at the cottage with my family, and potentially a couple weekend trips to visit friends or family this summer, the Dekkers will be traveling more in the next 4 months than we have in the last 4 years (seriously!)
Since I'm not an experienced traveler by any means, I figured it couldn't hurt to do a few quick internet searches for handy tips, tricks, ideas, and suggestions to simplify the traveling process with small children.
We'll be flying for 1 trip and driving for the rest. We'll be staying in a large 2-bedroom condo with a full kitchen for one vacation, in a beach house for another, with relatives for another, and we'll most likely end up in a couple smaller hotel rooms along the way as well — so I was ultimately interested in tips for all types of travel.
Not surprisingly, I found way more than I would ever need (the internet is amazing!) and I thought I'd share some of my favorites with you today.
.
Helpful Advice for All Traveling.
As I mentioned above, I don't have a ton of experience traveling with young children — however, whenever we go anywhere, I always bring plenty of snacks and drinks.
Even if we're just running a few errands or going for a walk, I ALWAYS, ALWAYS, ALWAYS bring a little stash of food along. There's no telling when the kids will suddenly be "famished" and super cranky. Give them a few goldfish, a sucker, or a handful of grapes and they are instantly happier.
Also, if you have an infant, make sure you bring a baby carrier along. I cannot tell you how many times this has saved my butt!
.
A Few Packing Suggestions.
While I'm normally not extremely minimalistic when it comes to my clothing, I do tend to pack VERY minimally for any and every vacation. If we're staying for more than a few days, I always make sure we have access to a washer and dryer and we simply wash what we wore the first part of the week — and wear it again the 2nd part of the week.
I always check the weather forecast a couple days before we leave, and I try to stick with mix and match pieces and coordinating color tones (example: all black and grey, no brown or tan) for myself, and only pack a few outfits for the kids. The absolute worst-case scenario is someone has to wear something slightly dirty for a day — not a huge deal in my opinion.
I also find it helpful to use these EZ packing cubes to separate clothing for different people or for different days (depending on what works best with our vacation schedule). It's SO handy to be able to quickly pull out one cube and have everything you need for a specific person or a certain day of the trip.
Oh, and we always bring a laundry bag (or 2) with us for every vacation. We put everyone's dirty clothing in the bag and when it's time to do the laundry, I can take that one bag. This also makes it very quick and easy to unpack when we get home as all the dirty clothing is together in one location.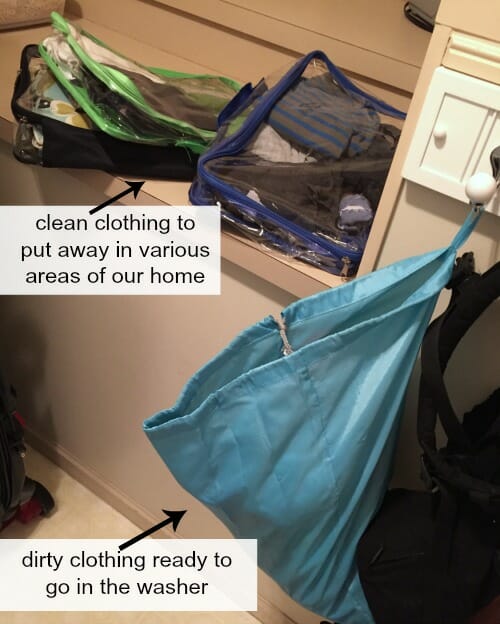 .
If you're flying…
I found SO many redundant and overly-obvious tips and ideas for flying with small children — and then I found this VERY LONG list of helpful tips from a pretty funny blog, My Life Suckers 🙂
She is a very experienced traveler and has flown SOLO with her kids… so she definitely knows what she's talking about!
One thing she didn't mention (that I always do) is bring sanitizing wipes along. Airplanes are NASTY — and even though I'm not a total germaphobe, I really don't want my kids picking up a bug on the way to our vacation. I take 2 minutes to quickly wipe down the seat trays, arm rests, window sills, and anything else I know they will either touch or put their mouth on (so gross!)
Also, here's an informative post about the pros and cons of taking a carseat on the plane, versus checking at the baggage counter, versus renting a car seat when you get to your destination. We're still unsure which option(s) we're going to go with on this issue. If you ARE planning to take the car seat on the plane with you, here's a really clever way to attach it to your rolling carry-on so you don't have to lug it through the airport!
MY TIPS:
Pay for a seat, even if they are under 2. I know it's an extra fee, but unless your child is a tiny baby that will easily sleep on your lap the entire time, I would say it's totally worth it to pay for an extra seat. Not only will everyone have more space, but you can also bring your car seat on the plane (which, in my opinion, helps the little kids sit and sleep so much better).
Also, don't give into cute kid carry-ons — you know YOU will eventually end up carrying them around! If older kids want to take a backpack, that's cool, but I would suggest carrying everything you want for your infants and toddlers in YOUR carry-on (no matter how stinkin' cute the kid's carry-ons are these days!)
.
If you're driving…
I personally haven't had many great road trip experiences — mainly because I have terrible motion sickness.
I do think it has gotten better as I've gotten older, but the thought of driving long distances with 3 young children (all while feeling slightly woozy myself) has never appealed to me!
However, Tune My Heart Blog has a bunch of fantastic ideas for road trips with toddlers (for those of you who are much braver than we are!)
MY TIPS:
Flip the radio to a staticky AM station that doesn't come in clearly as a white noise machine to calm a fussy baby or during nap time.
Also, if your vehicle doesn't have a TV/DVD player built in, bring one along! It's worth it for a few minutes of peace and quiet, especially on a longer trip.
And finally, these cute neck pillows are great for naps in the car — our kids LOVE them!
.
If you're cruising…
I've only been on one cruise, but it is way up there on my list of favorite vacations. I LOVE that once you're on the ship, you don't need to worry about anything. You don't need to worry about getting lost driving somewhere, wondering where you should eat, worry about how expensive the entertainment or the meal will be, or wondering if you'll have anything fun to do tomorrow.
Almost everything on a cruise is paid for up-front (at least everything I would do)
I personally wouldn't choose to go on a cruise with young children… but if you're planning to cruise with toddlers, this post has SO many helpful ideas from a very experienced mom who has apparently taken many cruises with her young children!
MY TIP: Don't cruise with young children! Either that, or bring a nanny along to take care of the kids so you and your spouse can actually relax a bit 🙂
.
If you're staying in a hotel…
I found so many helpful tips regarding staying in a hotel room with young children (something Dave and I have personal experience with!) that I didn't know which ones to link to — so I figured I'd just list out a bunch of the tips I found:
bring your own pillows (we do this if we're only driving a short distance, not if we're flying)
bring a nightlight
get a room with a mini fridge (or at least ask for the use of a mini fridge)
bring quarters and laundry detergent for longer trips
inspect the room before unpacking (look for bedbugs or overly gross and dirty areas)
always keep the door latched/locked when kids are inside
bring extra plastic cups (since the hotels usually only give you 2 or 4)
don't be afraid to move furniture around to make more floor space
bring noise makers and/or fans for sleeping at night
be prepared to sleep one adult and one kid to each bed (this is what Dave and I always do with Simon and Nora)
bring your own toys and books so the kids have something to do in the room
scout out local parks or other places within walking distance (or at least a short drive) from your hotel BEFORE leaving on vacation
use the desk as a makeshift changing table (we always do this!)
MY TIP:
If at all possible, find a hotel with continental breakfast AND a small kitchenette in the room (mini fridge, sink, microwave).
We almost always stay at Holiday Inns or Holiday Inn Expresses because of this — they are frugal, they always have a hot breakfast, and they usually have a kitchenette.
.
If you're heading to the beach…
I've never been a beach lover (I don't like sand) but my kids seems to love it. Dave and I have taken them to Lake Michigan a few times over the past 5 years — and every time, I think of a few more things I should have or could have done to make it a smoother, easier, less stressful outing.
I recently read this blog post from Passion for Savings that has thought of practically everything to make beach outings easier with little kids — seriously, this lady is a genius!
MY TIP:
Bring a small shower curtain, dig a hole in the sand, place the shower curtain in the hole, and fill it back up with water. Now babies or small toddlers can have some really shallow water to play in right by your chair.
.
If you're camping…
Dave grew up tent camping with his entire family — and I can guarantee it was NOT a "vacation" for his mom in any way. She worked like crazy ahead of time, then was busy the whole vacation, and then had to clean everything up after they got home again.
My family, on the other hand, never camped a day in our lives — and since we've been married, neither Dave nor I have had any desire to go camping.
I have a feeling that once our children are older (like all completely potty trained and sleeping through the night) we might attempt camping in a trailer, but I don't ever see myself tent camping — at least not with the unpredictable weather here in Michigan.
That said, if you're interested in camping with young children, this comprehensive list of tips and ideas should be helpful. It even includes a printable packing list!
Also, here's a helpful post detailing everywhere you can camp for FREE within the USA!
MY TIP:
Since I have no experience camping — with or without children — I have a hard time offering tips. However, I would say that lots of organization and planning BEFORE the trip would most likely be essential to pulling it off without too many hiccups.
Also, rent a camper or RV instead of camping in a tent 🙂
.
No matter where you are going or how you plan to get there…
I would highly recommend doing a quick Pinterest and Google search for "traveling with kids to _________" with your destination in the blank. It's honestly amazing how many fabulous ideas will pop up — many of which you probably never even thought of.
You'll find everything from packing tips, food recommendations, lodging suggestions, free family activities, and educational ideas for learning about this new place with your children. The internet really can be amazing if you utilize it well!
.
Now it's YOUR turn…
What are your best tips for traveling with tots?