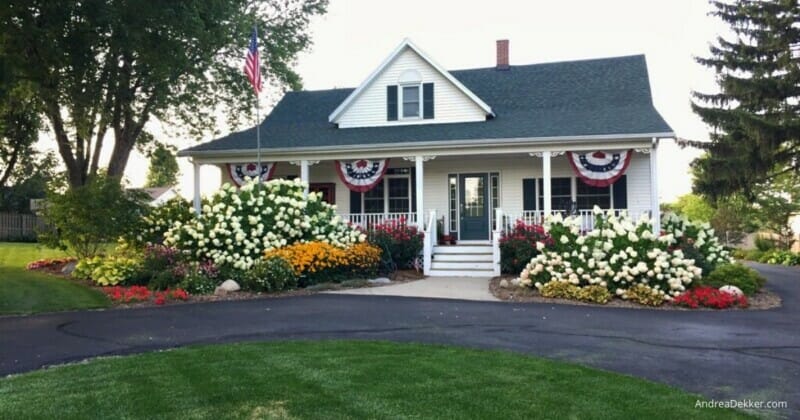 Since we have a pretty large yard (about an acre) and lots of planting beds, I am often asked how we deal with (and prevent) weeds.
I don't have a perfect system, and I've come to accept that a few weeds will ALWAYS be lurking in our planting beds; however, after 4 LONG summers of intense landscape renovations and lots and lots of weeding, Dave and I finally feel like we have a pretty decent system for dealing with the weeds we have AND preventing the majority of "weed seeds" from germinating.
And yes, we've learned mainly through trial and error (remember the bazillion maple tree seedlings we had to pull by hand a few years ago!?!?)
Aso, the picture below really was a weed in our garden last summer! Dave thought it was a plant so he never picked it — and I was occupied with my brand new baby (and my broken toe) so I didn't do much weeding last summer!
Anyway, like I mentioned above, I feel like we finally have a good weed-prevention system in place, and so far this year, we've had very few weeds to deal with. Hopefully our method will continue to work all summer and fall and we won't need to spend much time weeding this year!
If you hate weeds as much as I do, here are my favorite weed-fighting tips and tools!
Remove Actively Growing Weeds First
It's inevitable that weeds always seem to grow before plants in our yard 🙂
So every Spring, before we spread mulch, I go through all our planting beds and remove any actively growing weeds by either pulling them out or spraying them with Roundup (we use an off-brand, but it's the same concept).
I usually do it one section at a time, sometimes while the kids are outside playing and sometimes after they go to bed. In the last couple of years, we truly haven't had many weeds so this process goes quite quickly.
The 3 main weeding tools I use are:

1. Round Up (in a 1-gallon sprayer)

2. A weeder stick (pictured below) or very skinny hand shovel

3. A 5-gallon bucket
I usually keep my weeder stick in the 5-gallon bucket and carry that around with me when I'm outside with the kids. If I see a weed, I pull it and dump it in the bucket. When the bucket is full, I dump it in our yard waste container.
Nora and Simon think it's a game so they often "spy for weeds" and although they rarely get the roots, I'm happy to have them help out as weeding will someday be their job 🙂
If there are weeds in hard-to-reach places (like cracks of the sidewalk) or if there are lots of weeds in one particular area, I'll often just spray them with RoundUp (or an off-brand version) to completely kill off the roots. I'll pull them once they are dead, or just cover them with mulch if they are in a planting bed.
In my experience, if I do a good job of weeding everything once in the Spring, I will need to spend very little time weeding during the Summer and Fall months (especially since I use the following 2 simple steps to prevent future weed growth)!
.
Prevent Future Weed Growth
Since I personally have no interest in weeding all spring, summer, and fall, we use 2 very basic steps to prevent future weed growth in our garden and our planting beds.
1. We spread a relatively thick layer of mulch each spring.
This is not necessarily the most fun thing we do all year, but Dave and I have a good system and we can usually spread our 40 yards of mulch over the course of 2 weeks (working mostly after kids are sleeping at night). He scoops and dumps, I spread everything out (yes, I get the better end of the deal!)
We get the least expensive hardwood mulch (natural color) and since we buy so much every year, the company gives us a deal and free delivery 🙂
2. We spread Preen in our planting beds 3 times every season.
Immediately after spreading the mulch, I go back and sprinkle Preen weed preventer over all the mulched areas. Preen prevents seeds from germinating — so while you wouldn't want to use this on your vegetable garden (at least not if you're growing them from seed) it's a great way to prevent weed growth in your planting beds.
I usually spread Preen in late April (after we spread the mulch), in mid July, and then in early October. I'm not positive the early October time is necessary, but many of our plants are actively growing until mid-late November, and I feel like one more application of Preen in the Fall helps to cut down on weeds that pop up the following Spring.
We've been doing these few things consistently over the past 4 years and I've almost worked myself out of a job — at least in the weeding department!
Oh, and I should mention that we do NOT use any sort of black plastic or felt layer under our mulch. I don't think it's a horrible idea if you do have it; we just have way too many planting beds and I'm constantly moving plants around so it doesn't make sense for us. Plus, by following the steps I've detailed above, we really don't feel like it's necessary to prevent weeds from our planting beds!
What are your best weed-fighting tips and tools?