Crispy Cheddar Chicken Bake
posted by Andrea | 04/28/2016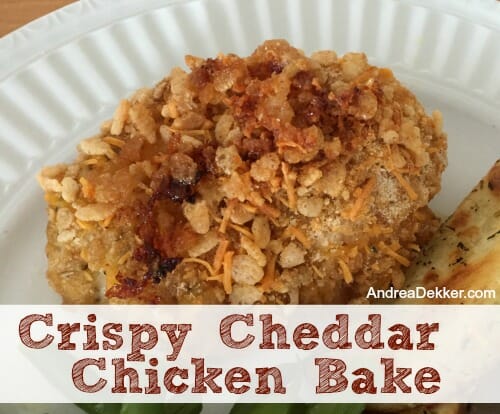 Over the past month, we have enjoyed eating LOTS of yummy meat — thanks to a 40 pound shipment of Zaycon Fresh chicken breasts and a quarter of a cow "belated Christmas gift" from Dave's parents.
We've enjoyed roasts, steak, grilled chicken, stew, hamburgers, chicken burgers, and lots of baked chicken.
The recipe I'm sharing today is one of our family favorites — even the kids gobble it up!
If you're looking for a new baked chicken recipe with simple ingredients, minimal prep work, a yummy crispy shell, and juicy meat with every bite, look no further!
Recipe for Crispy Cheddar Chicken Bake
Serves 6
INGREDIENTS:
1/4 c. butter
6 chicken pieces (I used 2 HUGE boneless, skinless breast cut into 6 chunks)
1/2 c. flour
1 T. Italian seasonings (or your favorite seasoning blend)
1 t. garlic powder
1 t. salt
1 t. pepper
1 egg
1/2 c. bread crumbs
1 c. cheddar cheese
1 c. Rice Krispies cereal
DIRECTIONS:
Place 1/4 c. butter in the bottom of a large baking dish (I use a 9″ x 13″ pan) and place in oven.
Preheat oven to 350ºF and let butter melt in pan (remove pan from oven once it's melted).
Use 3 shallow dishes to mix up the "batter" for the chicken.
In the first dish, combine flour, seasonings, garlic powder, salt, and pepper.
Scramble the egg in the second dish.
Mix the breadcrumbs, cheese, and cereal in the third dish.
Dip each piece of chicken in the flour mixture, then the egg mixture, then the cereal mixture; then place in the pan with melted butter.
Bake in preheated oven for 40-50 minutes, or until chicken is cooked through and no longer pink.
I usually serve this chicken with some type of potato (mashed, baked, fried, etc.), cooked veggies, and fresh fruit — I never get any complaints!
In fact, the last time I made it, Nora took one bite and said, "this is really good Mom!"
Although it can seem like extra busy work and extra dirty dishes to do the 3 layers of "breading" it really doesn't take long, and the finished product is worth a few extra dirty dishes (in my opinion!)
I can usually get all the ingredients out and have the chicken ready to go into the oven by the time the oven preheats, and then I clean up the kitchen, set the table, and finish preparing the rest of the meal while the chicken bakes.
As with all my recipes, you can easily substitute ingredients based on what you have in the house or what your family prefers. Change out the spices, use seasoned bread crumbs, use french fried onions instead of cereal, use different blends of cheese, etc.
You can really mix up this 'base recipe' to create many more delicious meals!
What are your favorite baked chicken recipes?
Visit my virtual recipe box for more simple, delicious, family friendly recipes!