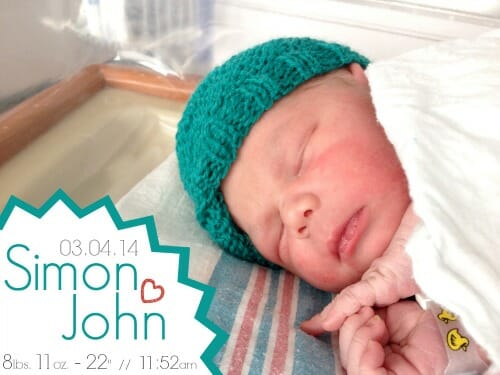 He's here!
Dave, Nora, and I are ecstatic to introduce you to the newest member of the Dekker family…
Simon John!
He was born yesterday (3/4/14) at 11:52 — less than two hours after getting to the hospital AND right on his due date!
He weighed in at 8 pounds 11 ounces and measured 22″ long.
Sheer perfection!
And take a look at those lips and that cute button nose…
I'll share lots more details in future posts, but for all of you who were waiting in anticipation for his name to be announced on the blog, I'll just tell you that he's named after Dave's Grandpa (Simon) and Dave's Dad (John).
So both of our kiddos first names are after a great-grandparent and both of their middle names are after a grandparent. And yes, his name fits all my "baby name requirements"!
Thanks so much for your thoughts and prayers thus far… we feel loved!
Now the fun begins!