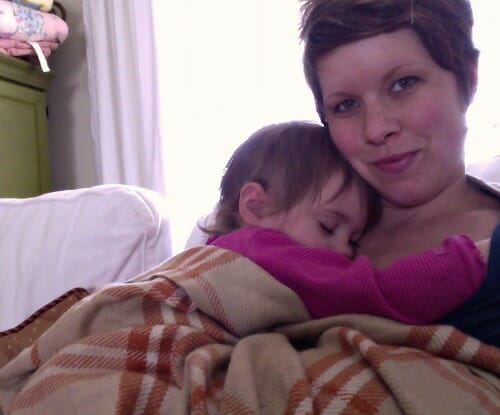 Recently, I've been noticing a lot of chatter about "sleep training" in my social media feeds. And while I honestly have nothing against sleep training (I actually think it can be VERY helpful for many families), I know for a fact that it doesn't work for everyone — even if you follow every single rule in those books 🙂
So since I know there are other frustrated parents out there thinking, "what is wrong with me? why don't these books work?" I thought I'd share some of my thoughts on baby schedules and sleep training.
Keep in mind that this post is NOT written from someone who thinks schedules and sleep training are awful or cruel for babies (which is usually the stance of these types of posts), but as someone who is PRO schedules and sleep training… and who really REALLY wanted them to work.
I hope this post offers some encouragement for sleepless parents out there — because it's honestly NOT YOUR FAULT!
Before Nora was born, I knew exactly how things were SUPPOSED to go. Dave and I had read the books, I had done research on the internet, I had read all the mom blogs, we had taken the classes at the hospital, and we even watched a parenting DVD.
Dave and I both decided that we really REALLY wanted to get our new baby into a good, solid, predictable daily routine; and more importantly, on a good sleeping schedule.
The books made this all sound super simple (which makes me wonder if any of the authors ever actually had children of their own). And if you're a Type-A person like me who thrives on rules, a book saying something is super simple is all you need to boost your confidence that you can, in fact, do whatever that book says.
After all, I'm a fast learner and extremely competent in following relatively simple step-by-step instructions — and that's what these sleep training and other parenting books gave me.
I honestly can't remember many times in my life when following instructions didn't get me the results I wanted; so certainly, following step-by-step instructions to get our baby on a daily schedule and nightly sleeping routine would be a PIECE. OF. CAKE!
Right?
Then Nora was born, real life began, and almost NOTHING in those the books actually worked for us!
The Ingenious "Eat, Play, Sleep" Routine:
Dave and I were 100% gung-ho about implementing the "eat, play, sleep" routine one of the books talked about. We knew many friends who had successfully implemented this routine with their children, and we just knew it was going to be a fabulous way to get our baby on a schedule of taking nice long naps and eating conveniently every 3-4 hours.
The books say to start the baby on this eat, play, sleep routine from the very beginning — and I took that "from the very beginning" extremely literally (because I follow the rules!)
NOTE: the following story is unfortunately very true 🙂
I can vividly remember sitting in my hospital bed on the 2nd day… the nurse brought Nora into me and said she had just woken up and it was probably time for a feeding — perfect, she just slept, now she can eat — these books are awesome!

So I fed her — 15 minutes per side like they instructed me — and then it was time to "play". But Nora just wanted to fall back to sleep. I couldn't do anything to keep her eyes open.

Dave and I were honestly BOTH sitting there trying to come up with ways to keep our 24-hour old baby awake so we could follow the "eat, play, sleep" routine these books suggested.

Seriously friends — can we say "Type A"!
Thankfully a good friend gently suggested that we didn't really have to start from the VERY beginning, and that Nora's life would not be ruined forever if we waited at least a week or two to start the "eat, play, sleep" schedule.
OK, so that was a relief — but as you know by reading many of my other posts, the "eat, play, sleep" routine never ever worked for us (and not due to lack of effort).
.
Next up: Sleep Training!
I can remember how excited I was around 5-6 months because we could finally start introducing some baby foods AND start the sleep training.
Life was going to be good — no more nursing every 2 hours round-the-clock (I eventually gave up on the book's 3-4-hour recommendation as that obviously didn't work for us either) and no more waking up 18 times each night.
As I mentioned in this post, the baby food part didn't work… and unfortunately, neither did the sleep training part.
We followed the book's instructions and it was easy… for me. I had no trouble listening to Nora cry it out because I knew I was following the rules and doing what I was supposed to do to help her learn how to sleep.
The only problem was, she never ever stopped crying. We would go in her room every 20-30 minutes like one of the books suggested, give her a hug, wipe her tears, put her pacifier in, lay her down, rub her back, and say goodnight… only to have her start screaming uncontrollably the second we turned towards the door.
But we kept at it… for a long time.
I don't feel bad about what we did because we were just so desperate to sleep — and I honestly think Nora would have been a much happier baby if we could have gotten her to sleep better, but that just wasn't going to happen.
Slowly, we started to realize that although we were following ALL the rules, this just wasn't working for our family — especially since I knew I could get Nora back to sleep in about 5 minutes if I just held her and rocked her (yes, this still works two years later!)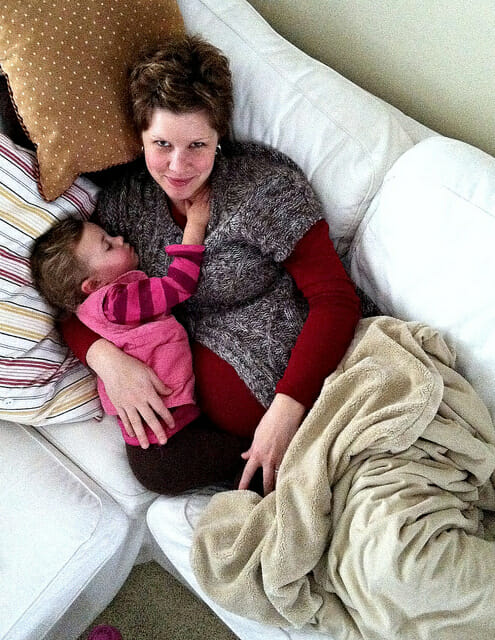 We actually started getting MORE sleep when we dropped the sleep training rules because even though Nora still woke up all the time, I knew exactly what to do to get her sleeping again ASAP (instead of everyone laying awake listening to her cry).
So we figured out what worked best for us. It definitely wasn't ideal, and it definitely made me feel like a complete failure since I apparently couldn't follow the super simple rules laid out in the parenting and sleep training books.
SIGH…
But life goes on… I promise!
The last 27 months of our lives have been very sleep-deprived — but things are definitely starting to get better.
Starting right around Christmas break something changed.
We didn't have to sleep IN Nora's bed with her all night long (this was the only way we could keep her sleeping for about 14 months!)
She was only waking up once or twice each night.
She almost always took a nap after lunch — sometimes it was only 20-30 minutes, but there were several days when she slept for well over an hour!!!!!!
We officially experienced what it's like to sleep through the night — more than once!
We thought we had hit the jackpot and finally figured Nora out… and then things got worse again
About two weeks ago, things got REALLY bad — like waking up every hour on the hour for several days in a row and taking 2-3 hours to fall asleep every night.
Yes, we were frustrated!
But then the past few days, things have started to turn around again.
She started napping again (and even told me she wanted to take a nap yesterday.)
She slept through the night 2 nights in a row and in has been sleeping in much longer intervals.
The bedtime process has not been as big of a struggle.
Dave and I have tried looking back to see if there was ANYTHING we did we did differently to get her to sleep better (or to cause her not to sleep)… but we can't come up with ANYTHING!
None of the books, doctors, chiropractors, medicines, natural remedies, therapies, brushing, massaging, essential oils, music, sound machines, special blankets, diets, heating pads, pillows, etc. had any overwhelmingly positive or negative effect… NONE OF THEM.
Many of them offered SOME help for a few days or a short period of time, but to this day, there has been absolutely no cure — or one thing that was "the solution" for us.
We have no idea why Nora magically slept really well for 2 whole months… or why in one day, she just completely reversed and went back to her old sleepless ways.
It would have been nice to say, "we finally found the solution" and announce the winning sleep remedy here on the blog — but that's just not the case.
I realize we're not even close to "out of the woods" when it comes to dealing with Nora's sleeping issues — AND that we'll be adding a new baby to the mix any day — but it's OK.
I'm not writing this post for tips or suggestions on how to get Nora to sleep… I just know how helpful it would have been for ME to read something like this post 2 years ago.
I haven't found much on the internet from the a PRO sleep training perspective that also freely admits that it definitely did NOT work. Everyone either says, "sleep training is amazing and it's your fault if it doesn't work" or, "sleep training is cruel and an awful way to get a baby to sleep".
Well, I'm here to say that I personally think sleep training is a decent idea that often works but not always. I KNOW our family would have benefited from it IF we could have gotten it to work.

At this point, we plan to try some form of sleep training and baby scheduling with baby #2 — just not when we're still in the hospital!!
If you're trying to sleep-train your precious baby and get him or her on a schedule with little to no success, it's not your fault!
The books and the rules are good tools to use — but parental instincts are better (and this is coming from someone who didn't have many parental instincts starting out!) If the books aren't working, it's probably because you have a special baby like Nora 🙂
Don't beat yourself up, don't let yourself feel like a failure, and certainly don't let other "sleep training experts" make you feel like less of a parent. All kids are different and there's no way the suggestions of one book could possibly work for every single baby out there.
From this type-A mama who desperately tried to "follow all the rules" please know IT'S NOT YOUR FAULT!