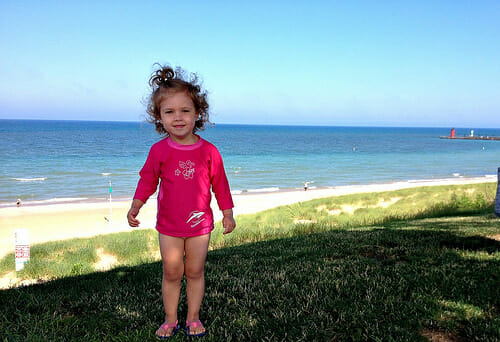 If you've never been to Michigan's fabulous West coast — you are totally missing out!
I might be a bit bias since I've called West MI home for my entire life — but honestly, it's stunning almost year round. Even for a non beach-lover like myself, there are oodles of things to keep you and your entire family busy for weeks!
Yes, we love West MI so much that we live here year-round AND we vacation here 🙂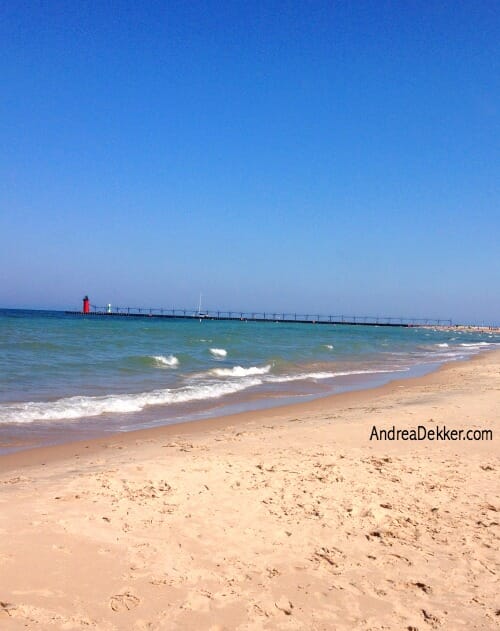 Last year, Dave's family rented a cottage for a week (it was Dave's parents' Christmas present to everyone). We had so much fun that we thought we should try it again this year. We stayed in a different cottage about 30 minutes south of last year, but it was still just as fun.
The cottage wasn't directly on the beach but we visited the beach a couple different mornings — and boy did Nora have a blast. I personally don't love the beach (especially not with a baby) but Nora had so much fun that it definitely made it worth all the work of packing everything up, getting full of sand, and washing everything when we got back.
That girl + sand + water = lots and lots of fun!
Simon napped like a champ with the soothing sounds of the wind and waves.
I also realized that by simply putting a plastic bottle of water in the warm sand all morning, it's the perfect temperature to make a bottle — very convenient for future beach trips with a hungry baby 🙂
Since we weren't right on the beach this year, we brought 2 kiddie pools for back at the cottage — one filled with sand and one with water. Nora and her cousins (all 4 and under) had a blast playing and splashing Papa (Dave's dad) — who was a REALLY good sport!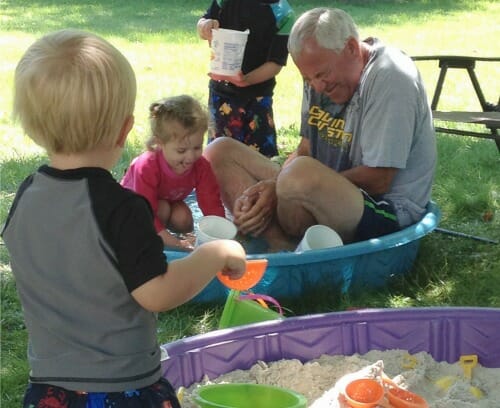 There was a really nice trail right next to the cottage too — perfect for lots of walks and bike rides.
There was also an old red barn on the property, so of course, we had to snap a few family pictures!
And what's a beach vacation without ice cream… right?
There's already talk of doing another cottage vacation next year… but for now, another fun-filled cottage vacation is "in the books".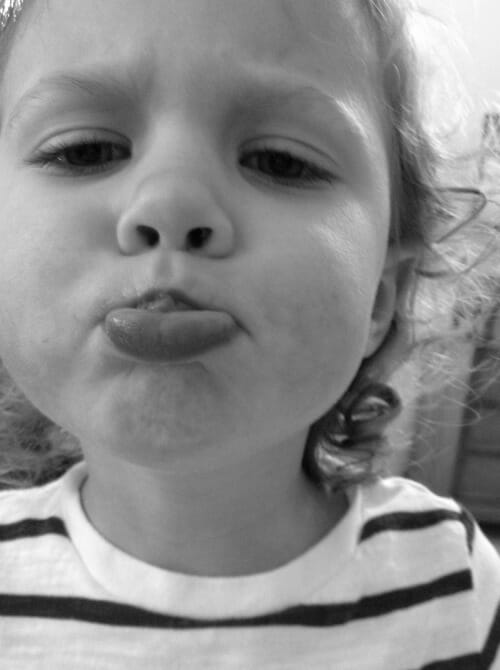 Last year, I got a lot of questions about where our cottage was, how we found it, etc. etc. Since Dave's mom did most of the planning, I don't have every detail — but here's what I can tell you.
We stayed in Holland (on Lake Macatawa) last year. This year, we were in South Haven.
I believe she used VRBO.com to find both cottages.
You'll want to start looking early — especially if you need a larger cottage or are picky about your location. They fill up FAST!