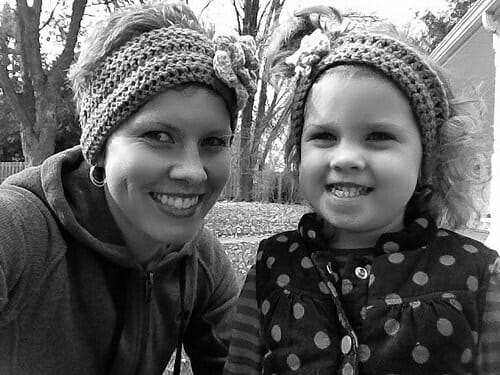 When it comes to parenting (and life in general), I'm essentially a self-taught, trial-and-error, learn-as-I-go type of "student". I suspect many other people can relate!
It's not that I don't care enough about my kids to read those parenting books with "all the answers"… it's just that those parenting books with "all the answers" have never had all the answers for me. Plus, I know that the way I personally learn best is through hands-on, trial-and-error methods where I can work through an issue and then take an alternate route to hopefully avoid that issue the next time.
This learning style served me very well in school, and it has honestly been quite helpful in many areas of my life so far — especially since I tend to be a 'go-getter' so I will tirelessly work at something until I figure it out. I rarely give up before I've found my solution!
As you can imagine, parenting (especially parenting miss Nora) has given me many MANY opportunities for trial-and-error… and error, and error, and error, and error.
In some ways, I feel so frustrated that after 3.5 years of trying to do something so well, I still have SO far to go. But on the other hand, I know that parenting is a life-long journey, and as much as I'd love to have everything figured out after only a few years, that's just not possible.
I make many stupid parenting mistakes EVERY SINGLE DAY… and the crazy thing is, I often make the same mistakes over and over again (which is just so aggravating for me!) However, over the past 3.5 years, I've also learned an enormous amount about myself, about my children, about how to best relate to my children, and much more.
So far, Simon is much more straightforward, easygoing, and "by the books" than Nora ever was (or will be).
Nora has stretched and challenged me more than I ever thought possible — to the point that we often end up in tears at some point during the day because we are BOTH just SO frustrated (and I promise you, I'm not a crying type of person… that's just how frustrated I get with her sometimes).
Out of sheer desperation, I have actually read a handful of parenting books about dealing with strong-willed children, and they have offered some helpful advice. However, the one tip that I've found to be most effective over the past couple of years is simply pointing out the positive as often as I can.
And no, this is not always easy!
Nora's extreme stubbornness and strong will pushes me to my limits — often on an hourly basis. Some days, I feel like I am constantly reprimanding her, telling her "no", asking her to stop, putting her in time out, or taking some sort of privilege away from her.
It is exhausting, to say the least.
Probably the most frustrating thing for me is when she starts her day by being naughty (which is A LOT). Often she'll wake up, come down stairs, and immediately throw a huge temper tantrum about something as simple as going to the bathroom, being hungry, or not having enough water. I just want to send her back up to her room… HOWEVER, I've noticed that if I can start the day by simply ignoring these ridiculous tantrums and instead, point out something positive, the day gets off to a MUCH better start.
I know this might sound overly-simplistic to many of you, but it takes a lot of willpower for me to ignore and overlook her crazy morning antics and search for something (anything) positive I can mention instead.
Sometimes, the most positive thing I can come up with is: "Did you know that you only woke up once last night, and you went right back to bed without crying when I brought you back upstairs? That was great!"
Then, all throughout the day, I will search for almost anything positive I can point out to her.
wow, you ate your breakfast so quickly — you are getting to be such a good eater
good job washing your own hands, it was helpful for me that you could do it by yourself
that was so nice of you to get Simon's toy for him
you are such a good colorer, I love coloring with you
Without fail, no matter how upset she is about something or how stubborn she is being on a certain issue, a positive comment or compliment immediately softens her a bit.
It certainly doesn't always stop the tantrums or make everything right in her world, but it DOES almost always buy me a little more time before a complete meltdown ensues.
As I was thinking about this more the other day, I realized that this mentality would probably work pretty well with almost everyone (not just stubborn 3 year olds)!
Just think how often we could calm an argument, or resolve an issue, or even prevent an issue from arising if we simply tried to focus on something positive instead of immediately reacting to something negative or always assuming the worst.
No, it's NOT always easy — in fact, it's usually really REALLY difficult to do.
I mean seriously, if I have trouble focusing on the positive with an adorable 3 year old whom I love to pieces, think how much more difficult this would be with a stranger, a nosy neighbor, an annoying relative, or a bossy coworker!
Obviously, I have PLENTY of experience "learning the hard way" and "fueling the fire" by only focusing on the negative side of things. However, more and more, I'm starting to hold my tongue for just a few seconds, slow my reaction time, and think about anything positive I could possibly say to smooth things over or improve the situation.
I'm amazed at the difference it has made in my own life, in my family, and in my interactions with other.
And like I said above, this might sound overly-simplistic to some of you… but sometimes those simple messages are worth repeating a few times so they can really sink in!