Today is a monumental day in the Dekker household.
For the very first time since Nora was born (over 22 months ago) this mama bird is leaving the nest.
And yes, I feel SO anxious, nervous, sad, excited… and guilty.
But I'm getting over it.
I'm headed to San Francisco later tonight for a blogging conference tomorrow (the Evernote Conference). I'm only staying at the conference for one of the two days, but due to the timing of the conference, the flight options, and the 3-hour time difference, I'll end up being gone for 2 bedtimes and 2 naps.
Things could get ugly my friends.
My little girl has never been away from her mama for more than 6 hours, and she's almost never fallen asleep without me right there with her (if this sounds crazy, just read this post and you might understand more of our "situation").
Luckily my sister is staying with Nora while Dave is at school… and she's ready for anything. She is armed with new toys, new stickers, new crayons, new music CD's, nail polish, special snacks, and probably a few other tricks up her sleeve…
She can do this (I hope!)
I was telling a friend of mine that this is the first time since being a mother that I'm totally putting myself first — and like I said earlier, I do feel pretty guilty.
I can't even count how many fun sponsored trips and opportunities I've passed up over the last 22 months — all because I knew it wasn't good timing, and all because of Nora.
Since she absolutely refused to eat any type of baby food, people food, or take a bottle for the first 19 months of her life, there was literally no way I could have left her for more than 5 or 6 hours. She would have starved!
But now that she's FINALLY eating on her own, I figured this is a great opportunity to accept a super fun, all-expenses paid, nicely compensated, mom-only "vacation" — especially since I'll be starting all over with a new baby in a few months!
And speaking of the new baby… to satisfy the many requests for a bump picture, here are a few 17 week pictures.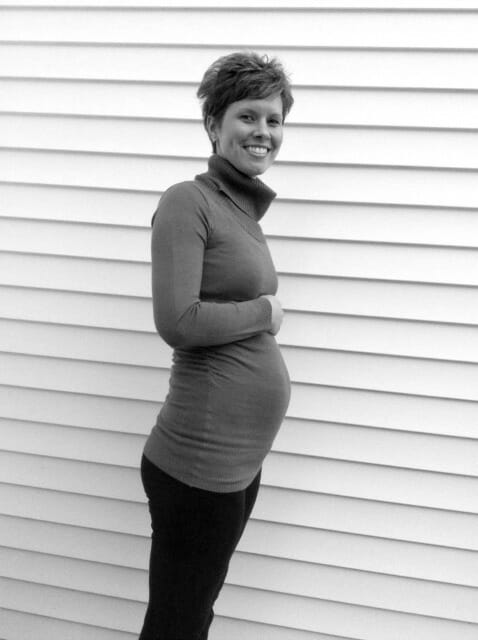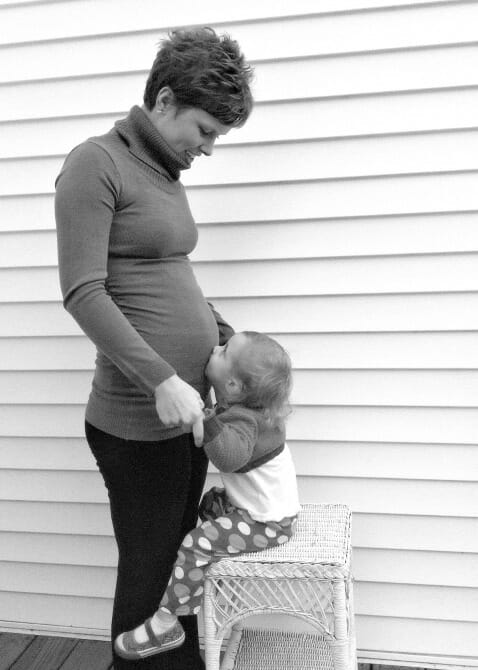 Now that I think about it, these 2 nights could potentially be my first opportunity to have a full night sleep in almost 2 years — and possibly my only chance for the next 2 years. The only problem is, my body is so used to waking up every 30-90 minutes that I highly doubt I'll actually sleep all night long (but you never know).
Anyway, back to my mom-only vacation…
All day long, I'll be talking with grown ups — on the airplane, at the conference, at restaurants, at the hotel, etc.
All day long, I'll be doing whatever I want to do, focusing for more than 10 minutes at a time, and actually remembering what I was supposed to do.
All day long, I'll be learning new things and exploring new ways to organize information online.
And all day long, I'll be missing my Nora "baby" so much it hurts.
Seriously friends, I'm not a huge cryer, but you should know there will be tears as I drive to the airport tonight (and not just from Nora!)
Yes, she feel asleep right in the middle of eating a yogurt on my lap the other day!
To be perfectly honest, I was super close to turning this opportunity down. I know how hard it's going to be for me to leave, I know how traumatic this COULD be for Nora, and I definitely know how trying these 2 days will be for my sister and for Dave — dealing with a little girl who misses her mama really bad.
Thankfully, Dave insisted that I go — well, he didn't force me to go, but he did strongly encourage me to take this opportunity for ME and for my business. And thankfully, my sister's work schedule allowed her to stay with Nora for these two days.
Even Nora's therapist encouraged me to go — although she made it clear that there's a really good chance Nora will try to "punish" me for leaving. Apparently that's common in high-need kids Nora's age. The therapist said she could potentially regress a bit in her eating and be extra super-duper clingy for several days (or more).
BUT, the therapist also said that Nora COULD handle it better than we think and this COULD be just what she needs to force her to function without me (which she'll have to learn how to do more of once the baby comes).
So who knows, maybe this opportunity came at just the right time for me and my little girl?
But that still doesn't make me feel less guilty right now. Not guilty in a self-destructive way, just guilty because I know how sad and confused Nora is going to be when I'm not there at bed time, or at nap time, or when she wakes up (and needs extra hugs and snuggles).
She's so young that we really can't explain it to her in a way she will understand. We can't say, "mom will be back in 2 days" and have her understand. She doesn't even understand when I leave for 2 hours because for some reason, her attachment anxiety prevents her from realizing that even when mom leaves, she ALWAYS comes back!
That's why I feel so guilty.
Not because she won't be safe or loved or properly cared for while I'm gone — but just because I know how confused, sad, and even scared she might be.
All due to my absence — something that could easily be avoided if I just stay home.
But I'm not staying home.
I'm leaving, I'm excited, and I'm going to have a really good time being wined and dined (well, maybe "juiced" and dined!)
I'm doing something for ME and although the guilt is still there, it feels really good!
I'll most definitely be sharing more about my trip, the conference, and any Nora "repercussions" when I get back. But for the next 3 days, if you think of me, Nora, Dave, or my sister — please, say a little prayer.
We will need ALL of them!
Oh, and if you'll be at the conference, please let me know so we can meet!