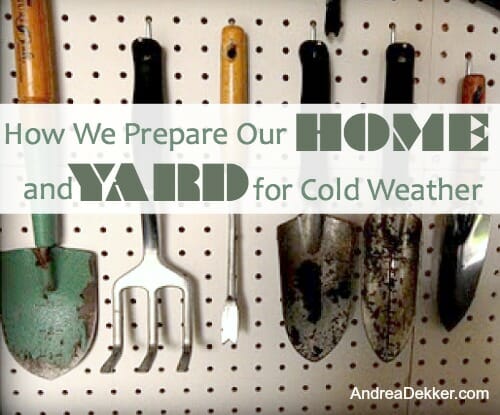 As I mentioned last week, Dave and I officially said 'goodbye' to summer with one last hurrah — inviting all our in-town extended family over for dinner and to see the various house projects we've completed over the past 4 years (seriously, I still can't believe it's been almost FOUR years in this house already!)
So now that we are in full-on "Fall Mode", we'll be outside almost any chance we get raking and mulching leaves, dead-heading flowers, splitting perennials, draining hoses, cleaning yard tools, emptying flower pots, and preparing our home for the COLD Michigan winter that is just weeks away.
I realize many of you don't live in a cold climate — and also that some of you on the other side of the world are gearing up for Spring (lucky!) — however, for the rest of us who are bracing ourselves for freezing temperatures and lots of snow, I thought I'd share a few of the simple and frugal ways we're preparing our home and our yard for cold weather.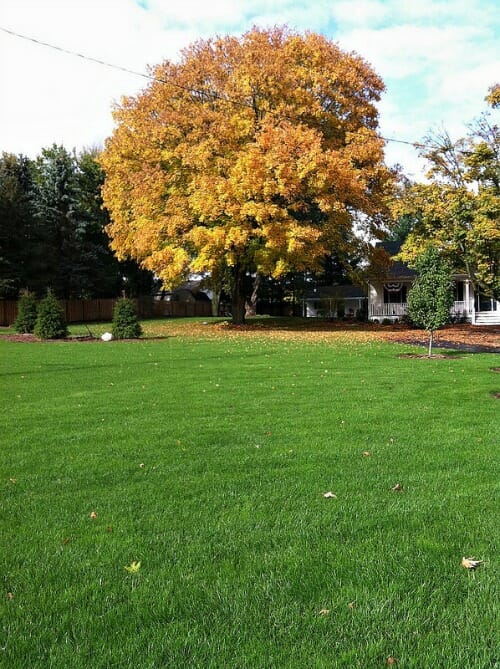 LEAVES:
Although we only have 3 really large leafy trees in our yard (along with several smaller leafy trees and a bunch of evergreen trees) our neighbors to the West have a small forest of trees — and I'm sure you can guess what direction the wind usually comes from!
Yup, we spend hours and hours raking, mowing, and mulching our neighbors leaves that fall into our yard. It's a time-consuming task, but I LOVE the fall color so I can't complain too much.
Also, as I mentioned in my post about grass maintenance, mulching the leaves (with the mulching blades we installed on our mower) really does seem to help the grass and alleviate a lot of raking on our part.
If you have the space, I'd highly recommend composting your leaves. We currently do not do this (read my reasons why in this post) but it's a fabulous (and free) fertilizer you can then use in your planting beds next spring. Some day, we hope to have a better system for composting… some day 🙂
SPLITTING PERENNIALS:
Splitting perennials is a FABULOUS way to acquire more plants for no added expense — not to mention it's a great way to assure that your current planting beds never get too over-grown.
We split most of our perennials in the fall as that is the best time to split spring-blooming and summer-blooming perennials. If you have a lot of fall-blooming perennials, you might want to wait to split those until early Spring.
Side note: I've actually sold many, MANY split perennials on Craigslist for $1 or $2. I did this 2 summers in a row at our old house and made over $200 each summer. I'm planning to do this again next summer/fall if we have extra plants after splitting them!
IRRIGATION:
Since we are lucky enough to have underground sprinkling, we "get to" pay for them to be blown out each fall. It only costs about $55, but we don't have the proper equipment to DIY and we're OK letting the pros tackle this job!
Dave is to the point that he knows how to repair, fix, tweak, or add sprinklers to our existing sprinkler system, but it still pays for us to have a professional come and blow out the lines each fall. This way, we know it's done correctly and we don't need to worry about our pipes freezing in the winter.
SPRINKLERS and HOSES:
Speaking of freezing pipes, hoses and sprinklers can also break or start to leak if they are not properly drained before frigid temperatures hit. We usually take 20 minutes to gather up all our hoses, unroll them, drain out all the extra water, and roll them up again. To prevent bugs (especially earwigs) from making a home in our hoses, we screw the ends of the hose to each other after we have it wound up. This has always worked well for us.
We also shake any extra water out of our various sprinklers and store everything in a metal bin at the bottom of our shed (not pictured below as that picture was taken in warm weather).
YARD TOOLS:
Now that we have our designated "garden shed", we have a nice, neat place to store all our yard tools without cluttering up the garage.
We honestly don't spend a ton of time cleaning our yard tools — but we do make sure they are free of debris, relatively clean, dry, and stacked up neatly to assure they will still be in good condition when it's time to break them out again in the spring.
We rinse out our fertilizer spreader and tightly seal up any extra bags of fertilizer, bottles of weed killers, or other "dry chemicals" to prevent moisture from ruining them over the winter (yup, we learned this one the hard way!)
We also make sure to empty all flower pots, rinse out the pots, and neatly stack or nest them together. One word of caution: if you're stacking terracotta pots or other clay-material pots, stack them laying down as the weight of vertically stacked pots could cause the bottom pots to crack and break.
GUTTERS:
Almost all our gutters are covered with "Gutter Helmets" or "Gutter Guards" so they rarely get super clogged. But with leaves, pine needles, and 'helicopters' falling all spring and fall, we still try to do a thorough inspection / cleaning of our gutters in the fall. If there are issues, we simply spray the gutters out with high-pressured water or take the Gutter Guards off and pull the junk out.
WINDOWS and DOORS:
The fall is an excellent time to do a once-over on all your windows and doors — not only to clean them up, but also to check for any cracks or places where cold air could be entering your home. I just washed ALLLL our windows and doors a couple weeks ago and although I hated the process, I'm just so happy now that it's finished and I can enjoy my less "dirty" view!
If you do notice any small cracks or air leaking through your doors and windows, there are many simple (and frugal) DIY remedies. A tube of caulk from your local hardware store is only a few bucks but it could save you a bundle in heating costs if you take the time to caulk any small cracks around windows and doors.
If you have larger cracks, consult with your local home store experts to select a repair kit that will fit your needs. We have all new windows in our house so we haven't had this issue, but I know my parents have done this before and noticed a nice savings on their gas bill.
None of the tips and suggestions above are extremely difficult or time-consuming for a relatively novice DIYer. Best of all, they can almost all be implemented with little to no out-of-pocket expense!
With a little "elbow grease" on your part, you can save yourself a bunch of energy (and money) this winter… and a bunch of extra work next spring.
This post was written as part of the Allstate Influencer Program and sponsored by Allstate. All opinions are mine.

As the nation's largest publicly held insurance company, Allstate is dedicated not only to protecting what matters most—but to guiding people to live the Good Life, every day. For more helpful tips like this, visit the Allstate Good to Know community.