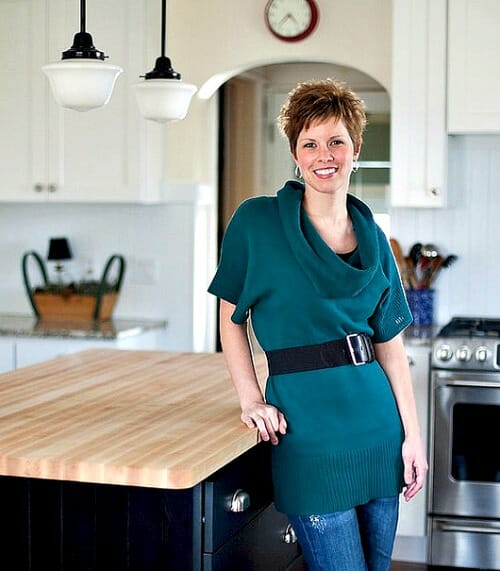 When it comes to my blog and business, I'm often asked why I haven't hired anyone to take over part of what I do — or to do all that "boring stuff" like social media, email newsletters, proofreading, editing, etc.
I don't have a simple answer for these questions… but in general, I'm definitely a "do it myself" type of gal (always have been… and yes my feisty Nora comes by it naturally!) I like the challenge of managing my time to be super efficient and to get as much done in as little time as possible. I also like to know that things are done "my way" and no corners are cut.
I do realize that I could most definitely grow my blog, my business, and my income if I was willing to hire on more help… but right now, I feel like the hassle and stress of managing other people working for me (and then paying them) would basically offset the additional growth and income, to the point where I don't feel like it's worth it for me at this point in my life.
.
My goal with my blog and business is not to be a mega blog or to have millions of followers. I'm not really interested in writing a book, being on TV, or traveling around the country speaking for various events. I'm also not interested in spending massive amounts of time, effort, or money to promote myself on social media, send out daily email blasts, pay for advertising, or build my online "Klout".
I don't think it's bad or wrong that there are many other bloggers and businesses who ARE interested in those things — but that's just not me.
I preach "simple" and that's what I want for my own life too.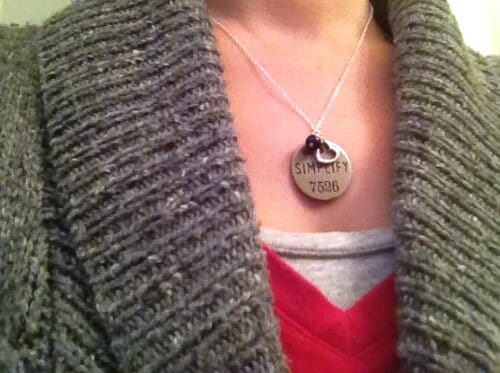 When I first started my organizing business (way back in 2007) and then eventually my blog (in 2010) my #1 goal was to figure out a way to make money while working from home. My secondary goal was to figure out a way to do this as efficiently and as simply as possible 🙂
Obviously it wasn't that simple or efficient in the beginning — and as I've mentioned before, I put in YEARS of full-time work with little pay to show for any of it. But that was before kids, and I did it because I really enjoyed blogging, organizing, and sharing my passion with anyone who was willing to listen!
Thankfully my passion paid off (literally) in the form of a full-time, from-home job that I can work around my kids, my family, my house projects, etc.
Yes, my blog and my social media are growing, but I think I hit a "plateau" about a year ago and have just had really consistent stats and numbers since then. Nothing is going down, but I'm not growing as quickly as I was in prior years either.
I suppose that MIGHT mean I'm doing something wrong… but it also MIGHT mean that I'm doing everything exactly right and that I've simply found my target audience — all of you!
People who enjoy reading about simplifying, organizing, meal planning, budgeting, and "the crazy Dekker family".
People who are looking for super simple recipes that aren't always from scratch or following the latest diet trends.
People who want to know how to do something as quickly and as easily as possible without a lot of frills or "extras".
People who love a good farmhouse renovation project.
People who like following a reliable blogger that publishes a new post Monday-Friday at exactly 8:01 am EVERY DAY!
People who prefer reading real-life posts versus boatloads of sponsored posts with little to no usable content.
People who like a simple blog design that's easy to navigate and find what they are looking for.
People who don't mind an occasional typo or bad grammar 🙂
While I certainly would not be against more blog growth (as long as it happens gradually) I also know from experience that as my blog continues to grow, it requires more and more time and resources from me — and with another baby on the way, my time and resources are becoming more and more limited.
But yet, I'm truly not interested in hiring anyone to do "the boring things" for me.
.
Maybe I'm stubborn… or maybe I just realize that if I'm going to name my blog and business after myself, I better be willing to not only be the "face" of the business but also the substance behind it too.
Again, I don't feel it's bad when other bloggers and businesses do this… I just don't feel good having someone else write for "AndreaDekker.com" or post content to the "Andrea Dekker social media sites" or send emails from "Andrea Dekker".
I want you all to know and trust that (aside from a very occasional guest post) EVERY word you read on my blog, on my social media sites, and in an email is directly from me. I try to respond to any blog comments that ask questions… and if I had to estimate, I would say I respond to 98% of all the emails and Facebooks message I get (the other 2% are people just trying to pick a fight.)
So THAT is the really long answer to why I haven't hired anyone yet, and why I'm still "doing it all myself" almost 8 years later.
That said, I have hired people to do some of the behind-the-scenes stuff that totally stresses me out.
Website Design, Web Hosting, Domains, and Tech Support:
From day 1, I've worked with Agathon Group to design and host my website. They also keep track of all the domains I own and help me with any random tech support needs that come up over time.
They not only built my website from the ground up (per my exact specifications), but they have also done several minor updates as well as a complete site overhaul almost 2 years ago.
I pay them a monthly fee for hosting my site and then an hourly rate for any additional help they offer me. Sometimes this is $0 a month, sometimes is several hundred dollars.
They are amazing and there is no way I would ever switch to working with any other company. I have referred MANY bloggers and other companies to them and have heard nothing but thanks and praise from the people who I've referred.
Accounting and Taxes:
Neither Dave nor I have any interest in filing our own taxes, so we've always paid a local company to do them for us. And as my business started to grow, we decided it made sense to incorporate — so our accountant helped me with all of that too.
I still use GoDaddy Bookkeeping to track all my income and expenses, I still send out all the invoices, and I still pay my monthly federal and state taxes — but my accountants do all my quarterly tax prep, all my year-end tax work, and anything extra that I might not know about. Plus, they are always around for me to quickly call or shoot them an email with questions or concerns.
It only costs me a few hundred dollars a year for their services and it is WELL worth it for the amount of stress it removes from my plate every month and every year.
Legal Services:
There have been 2 times in my business career that I've had to hire a lawyer to help me weed through some issues. Both times it was pretty stressful and there's no way I would have known what to do without the help of a professional.
FYI, legal services are ridiculously expensive (seriously, it's crazy) but it was worth it to know everything was handled correctly and that something couldn't come back to get me later on.
And, as most of you know, Dave is my faithful editor. He's not perfect, but the price is right 🙂
I feel like I'm in a "sweet spot" right now — not too much work that I feel stressed out, but enough to keep me busy. No big major changes coming up, but I also don't feel like any major changes are necessary.
I'm still loving what I do; and based on the comments and emails I get, I think I'm actually helping people to better their lives and make positive changes (that's always a nice feeling!)
I like the fact that I recognize many of my regular readers and can engage in discussions with them via comments, email, and social media. Yet it's also fun to get periodic emails from new readers who just found my blog and are loving it.
.
Yes, I could hire people to help me do more, grow bigger, grow faster, make more money, etc. but I could also simply be content with the fact that I'm doing EXACTLY what I set out to do 8 years ago — make a full-time income while working from home.
Right now, I'm choosing to be content. Hopefully that's OK with you!