When I was pregnant with Nora, many of my friends, family members, and fellow bloggers were also pregnant… and most of them had a 'birth plan' detailing exactly how they wanted their birth experience to go.
At the time, I figured that since I'm always a big fan of plans (all plans!) that I too should probably consider creating a birth plan. However, I just couldn't make myself do it. The fact of the matter was I didn't want a birth plan.
I know how crazy that must sound coming from a list-making, over-planned person such as myself… but it's true! Of course I wanted a positive birth experience… and I was very excited and anxious to finally meet our little girl. But I never once felt the need to have a formal (or even informal) 'birth plan'.
I realize many of you might think I'm crazy, and some of you certainly will not agree with my reasonings — and that's OK. However since I've been asked about my birth plan many times over the past few months (AND since my due date is less than 4 weeks away!!!!!) I figured it was time I shared why I've never had a birth plan and why I don't foresee having any type of written or formalized birth plan with the 3rd baby.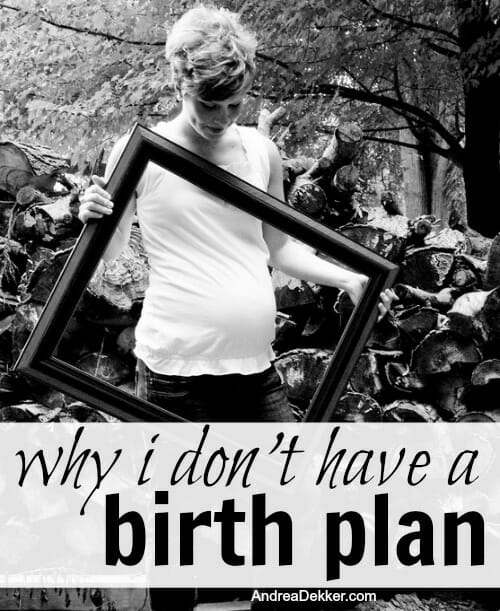 1. I know I don't have full control over the situation.
For me, a plan is a way of having control over a situation so I know what to expect and what to plan on. When it comes to childbirth, I know that I have very little control in that situation (no matter how much planning I do).
I have no control over when this baby is going to come — it could literally be any day now, or I could be waiting a full month yet (maybe even more!)
I have no control over if the baby will be healthy or not — or if he will need extra care from the hospital.
If something does go wrong, I have very little control over how to remedy the situation and will happily rely on my doctors and nurses to "coach" me through (see #3 below).
2. I don't feel childbirth requires a lot of "extras".
I don't know how to say this without potentially offending someone… but the fact of the matter is, I don't put a lot of value in all the "fluffy extras" of labor and delivery.
In my eyes, my job is to get to the hospital, try to stay somewhat relaxed, and push my baby out ASAP.
I don't need special music or candles or massages. I don't need a pool or a bathtub or bouncing balls or any other contraptions. I don't need special foods or drinks. I won't be posting minute-by-minute updates on Facebook or Twitter. I don't want anyone taking pictures or videos. I certainly don't need 17 family members watching and/or waiting. And I don't need a special "push prize" for doing the only thing that I came to the hospital to do… push that baby out.
All I need is a bed, a glass of water, Dave, my doctors and nurses, and maybe a cold washcloth for my head.
3. I fully trust my doctors and nurses to do what's best for me.
I honestly think there is something very wrong with our society today that so many completely untrained individuals try to "play doctor" by remedying their own health issues instead of just trusting their doctors and nurses to DO THEIR JOBS!
They are highly trained professionals who know what they are doing… and aside from a few nut jobs you see on the news, they really do care (especially the nurses).
My sister is a labor and delivery nurse at the hospital I will be delivering my baby at, and it is simply amazing to see and hear (anonymous) stories about what she does every day. She works 12+ hours in a row and never, ever stops caring about her patients. She has even gone in at 3:00 in the morning (on her day off) to help deliver a baby via a special request from a patient who specifically wanted HER to be the nurse.
I know that's just one person and one nurse (and I might be slightly biased since she's my sister) but… I fully trust all my doctors and nurses and feel very confident they will do what's best for me and for my baby. For this reason, my "birth plan" is to do what they tell me to do, when they tell me to do it, how they tell me to do it… and I'm going to keep doing it until my baby is born!
I wouldn't try to tell my plumber or my roofers or my car mechanic how to do their jobs… so why should I try to tell my doctors how they should do theirs (especially when there are human lives on the line and they are much more trained than I am).
4. I truly do not care how my babies come into the world.
I know many women are dead set on either using pain meds or not using pain meds. Some women know that they want a c-section while others would literally do anything and everything to avoid that situation.
Some women know they want to have their babies at home, while others would never consider anything but a hospital birth. Some women want a doctor, others want a midwife or a doula or their friend or husband to deliver the baby.
For me… I truly just don't care!
I will say it would totally freak me out if I ended up having my baby at home or in the car (or anywhere but the hospital) but other than that, I do not care how my baby comes into this world.
Both my previous labors were very quick so I didn't have time for an epidural… but that doesn't mean I wouldn't get one this time around if things don't go as fast or if I feel more pain.
I'd rather not have a c-section (mainly because I've heard that recovery is harder), but if my doctors say I need one for any reason at all, I won't be putting up a fight.
I prefer just staying put in my hospital bed, but if the nurses want me to try something else, go for a walk, take a shower, etc. to get labor moving, I'll try it.
For me, the fact that I have no set-in-stone plan allows me to stay flexible and try to 'go with the flow' since I know I don't really have full control over the situation in the first place (see #1 above).
Like I mentioned above: My job is to get to the hospital, try to stay somewhat relaxed, and push my baby out ASAP.
I guess that is my version of a super simplified 'birth plan' 🙂
.
I realize not everyone will agree with this post — and many of you probably think I'm crazy for not having any type of birth plan. However this is what worked for me with the past 2 babies and I'm hoping it works again in another few weeks.
I know many people say things like "as long as they are healthy…" but to be honest, even if he isn't healthy or has some medical conditions or requires extensive amounts of treatment, he will still be mine and I will still love him with every ounce of my being.
So basically, as long as he ends up alive and outside my body at some point in the near future, I will be happy.
Without getting into too much of a "debate" I'd love to know if you create a formalized birth plan or not — and if your birth plans have helped your labor or not.