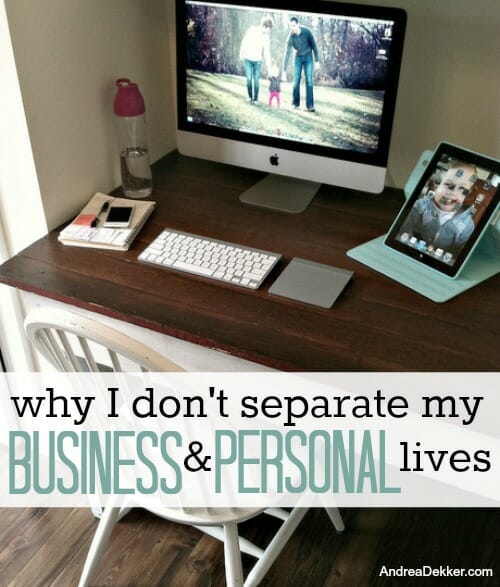 I get lots and lots of questions about what it's like to work from home — what the best and worst parts are about it, what I do with my kids when I'm working, and (the most common) how I manage to separate my personal and business lives.
I always respond to these emails, comments, and questions, and my short answer to the question about separating my personal and business lives is simply…
I don't!
.
When I first started working from home, about 8 years ago, everyone told me that one of the worst things I could do would be to mix my home and personal life with my work life.
They said I should create a separate office in my home that was just dedicated to work. They said I should set "office hours" and not let people interrupt me during those hours so I could get as much done as possible. They said I would have to hire child care if I ever wanted to work from home with small children.
It all sounded good in theory — but after 8 years of working either part-time or full-time from home (4+ years with babies and young children), I have yet to take any of their advice.
As many of you know, our home office is wide open to the main living area of our home (we specifically designed it to be this way). I have never set office hours. I don't have child care.
Even still, I have been successfully working from home for many years.
Honestly, I think one of the main reasons (potentially the only reason) I've been able to make it work, even after adding 3 children and many house projects into the equation, is because I have completely mixed my business and personal life.
I realize this wouldn't necessarily work for every type of at-home business, but considering what I do, it only seems to make sense to let these two areas of my life mix.
Let me explain…
How I come up with blog post ideas:
I am CONSTANTLY asked how I can possibly come up with so many blog post ideas (I've published over 1700 on my blog alone). And thanks to the nature of my blog, my home and personal life lends itself perfectly to helping me come up with various blog post topics and ideas…
Whenever I make a recipe that I want to share on the blog, I give myself a few extra minutes of time to take some photos of the process, and I quickly snap a few pictures before we sit down to eat.
When I'm doing an organizing or cleaning project, I simply need to remember to take a few before, during, and after pictures and mentally remember the steps I followed so I can share it later on my blog.
When we're gearing up for various house and yard renovation projects, I take a bit more time to document what we purchased, where we purchased it from, what steps we took, etc. And of course, I need to remember to take a bunch of pictures along the way.
When I'm canning, or meal planning, or freezer cooking, I'm constantly thinking about different tips or new ideas I have and use that might be helpful to my readers.
When I'm looking for cute, fun, and creative ways to entertain my kids, I've often been able to simplify various activities and turn them into some of my most popular blog posts.
When I'm doing more research-related posts (how to make various natural cleaners, how to save money in certain areas, the best storage containers, etc.) I get to learn about it for my blog post… and then can also apply it to my own home and life as well!
And I've already told you that I come up with my best blog post ideas in the shower — I don't know too many people who regularly shower at the office 🙂
How I fit work hours into my day:
Of course, even after I come up with blog post ideas, I still need to find the time to edit pictures, write the posts, do a small amount of social media, write sponsored posts and guest posts for other blogs, and do my Virtual Assistant work.
This has not always been easy. I've tried various systems and methods, I've worked to increase my productivity, I've tried hard to eliminate anything "extra"… and even with a non-napping Nora, I have always been able to find pockets of time to finish everything on my to-do list (read more about how I work from home with kids in this post).
Often, I'll wait until Dave is home from school, work on the weekends, at night when they are sleeping, when a grandparents comes over to play, or wake up extra early one day a week.
I also do a pretty good job of knowing how long various tasks will take me, and then squeezing those into pockets of free time throughout the day. For example, there are a bunch of different business-related tasks I can do in 20 minutes or less, so I'll let Nora watch 1 show on Netflix (usually 25 minutes) while the boys are napping, and I can get one of my tasks completed.
Working with a laptop also allows me a bit more "work time" as I can work from the table while helping the kids with a craft or coloring project (or even while watching them play outside).
.
Aside from filing my business and personal taxes separately, and maybe an occasional work-related meeting or skype conversation, I honestly don't ever feel the need to separate my personal and business life.
I know so many people who are starting to work from home (either part time or full time) and wondering if they can do it without putting their kids in daycare or without retrofitting their home to accommodate a fancy office… and I recently heard a statistic that by the year 2020, 50% of the workforce will have the opportunity to work remotely for part of their work week! That's crazy!
.
Like I said earlier, I realize that every at-home business is not as convenient as writing a blog about home and family… but I do think that there is often too much pressure for at-home workers to separate home and work, to set office hours, to hire child care, etc. etc.
However, if you really think about it, some of the major benefits of working from home (at least in my opinion) are that you aren't confined to a cubical, you don't have to work specific hours, and you don't have to send your children away to daycare.
The point of this post is not to say that everyone should work from home, or that everyone who does work from home should mix business and personal endeavors. It's simply to say that IT CAN BE DONE!
If you are one of those people who works from home some or all the time, I'd encourage you to let your business and personal lives mix a bit… you might just find that you're less stressed and more productive! Or maybe not 🙂
Do you work from home? If so, do you mix business and personal?