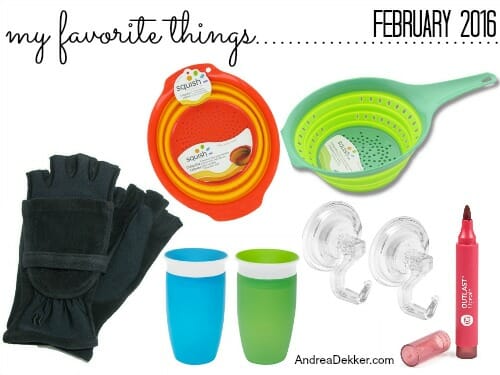 I have a handful of bargain items on this month's favorite things list — in fact, I believe every item is less than $20!
As always, be sure to check out some of my favorite things from past months and share your favorite things in the comments!
DISCLOSURE: None of these products are sponsored; however, some of the links below are affiliate links — which means that at no cost to you, I may get a small commission. Please know that I use these products daily in my own home and life. Read my full disclosure policy for more information.
CoverGirl Lip Stain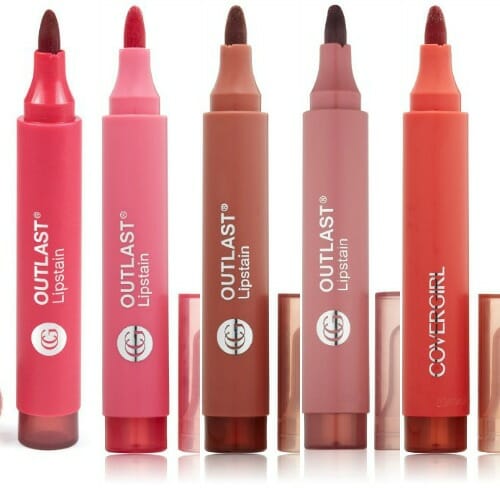 Many of you probably know that I don't wear a ton of makeup — just mascara and chapstick.
For special occasions, I've started using mineral makeup as I like how "weightless" it feels on my skin… I never even feel like I'm wearing any makeup at all.
I've tried wearing lipstick so many times over the course of my adult life, but every time I do, I end up wiping it off before I leave the house. I couldn't even handle it for our wedding pictures. I absolutely detest the feeling of lipstick on my lips!
I can sometimes deal with lipgloss… but even then, it often just feels too sticky and gross — so I resort to my trusty chapstick day in and day out.
However, when my sister got married 3 years ago, we wore grey dresses with bright pink accents… including BRIGHT PINK LIPS.
I didn't think I'd be able to make it through a whole day of wearing bright pink lipstick… but then my sister said that it was LIP STAIN, not lip stick.
I tried it… and ever since then, I've been hooked!
The CoverGirl Outlast Lip Stain is now my go-to lip coloring agent of choice because you can't feel it on your lips. Just dry your lips, apply the stain, and then apply chapstick or anything else overtop. It's not sticky or goopy, it doesn't rub off or smear, you don't have to worry about it getting on your teeth or your drinking glass or your kids' cheeks!
I just bought 2 more lip stains when they were really on sale at Meijer — and that got me thinking how I definitely need to add the lip stain to my Favorite Things list!
If you hate the feeling of lipstick, I would definitely try out the lip stain.
.
Isotoner Convertible Gloves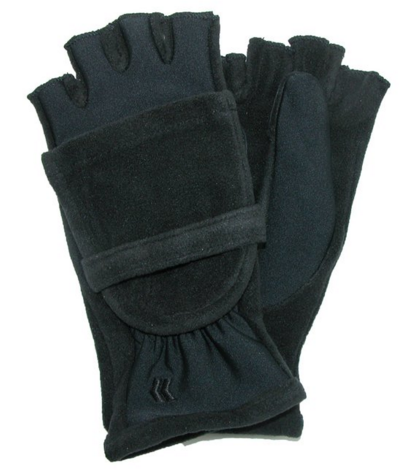 My mom gave me a pair of Isotoner Convertible Gloves for Christmas 2 or 3 years ago — and since then, they have become my most favorite pair of winter gloves.
They aren't necessarily the warmest gloves ever (I certainly wouldn't wear them for playing out in the snow) but they are SO practical because I have full use of my fingers AND my thumb at all times.
This means, I can buckle kids into car seats, fish a credit card out of my wallet, and look up anything on my phone while still wearing my gloves. This also means that I won't lose my gloves since I never have to take them off to do these basic tasks.
My gloves have a little bit of grip on the inside — perfect for driving or pushing a stroller. And they are just thin enough to keep my hands warm but not feel too bulky when I'm inside. In fact, I recently wore these gloves as I was running a bunch of errands and when I got home, I realized I had been wearing them for 2 hours straight and never took them off once.
Of course, I have the black gloves — but they do come in a bunch of fun colors if you're not as boring as I am 🙂
And you can't tell by these pictures, but the tip of the thumb actually peels back too — so you can use your thumb for your phone.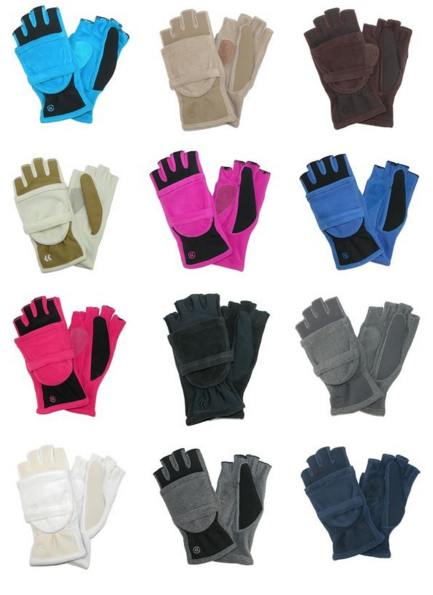 .
Power Lock Suction Hooks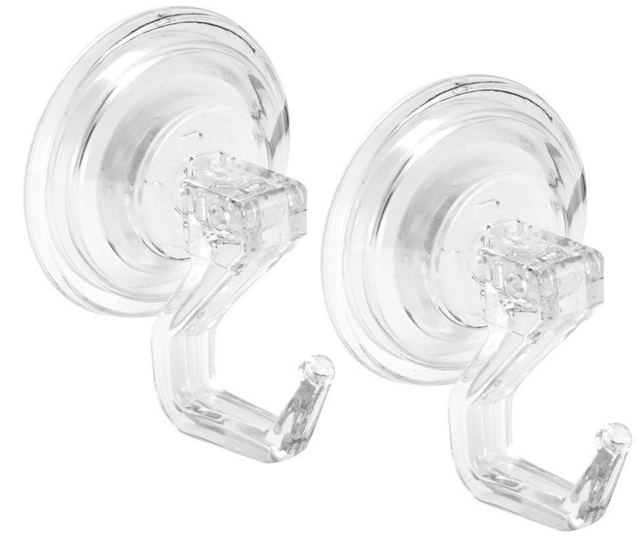 We probably have 10-12 of these super strong "power lock suction hooks" around our home — and I LOVE them!
Not only are they clear so you really don't see them, they are also really strong and have held up very well over the years (at least for us).
We use them in our shower to hold our loofahs, we use them on the front and back door to hold wreaths or other seasonal decoration, we use them in the kid's bathroom to hold washcloths, etc. etc.
They are super cheap and really come in handy.
.
Squish Collapsible Colanders

I have the 2-quart colander with a handle (pictured above), as well as the 4-quart colander with 2 hand holds (pictured below).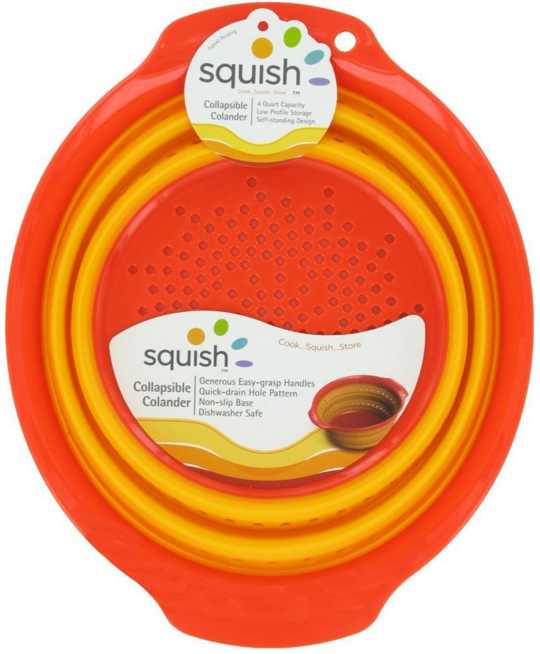 These colanders are SO great — I've been using them both on a very regular basis in my kitchen, and have since gotten rid of all of my other big strainers and colanders.
When folded flat, they take up the same space as a dinner plate (which is really nice for the dishwasher and for storage).
I do think that rice and other very small grains might slip through the holes, but other than that, it should work for almost anything you want to strain.
Also if you like the collapsible products, Squish offers a whole bunch of options — like collapsible measuring cups, measuring spoons, and even mixing bowls!
.
Munchkin Miracle 360 Sippy Cups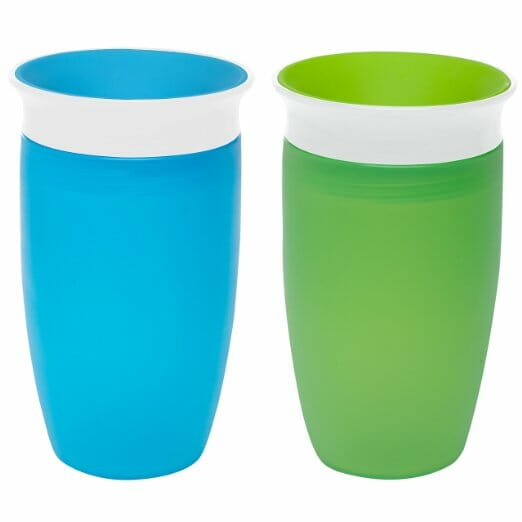 The Munchkin Miracle 360 Sippy Cups are officially the Dekker family's new favorite sippy cup.
A couple weeks ago, I mentioned how stubborn Simon has been lately — refusing to drink from a sippy cup and only wanting to drink from a "real" cup. Well, he was also making a REALLY big mess as he was constantly spilling his cup, knocking it on the floor, dripping water down his clothes, etc.
So I did a little online research, and found the Munchkin Miracle 360 Sippy Cup. It looks just like a "real" cup, but is spill-proof like a sippy cup… all our problems are now solved!
These cups are SO cool — and they truly do not spill (even when they are FULL of water and knocked off the table.) I will say that if they are just laying horizontally for an extended period of time, they have leaked a bit for us, but we usually just leave these cups at the table, so it's not a big deal.
I don't really know how to explain how these cups work — I actually had to try drinking from them before it fully made sense to me. Basically, they have a silicone seal that goes over the whole top of the cup, and when you suck slightly (just like you would "suck" to drink out of a normal cup) the silicone lifts just enough to allow water to come out — then it seals back up again.
Note: I found mine buy-one-get-one-free at the grocery store (so 2 for $6.99)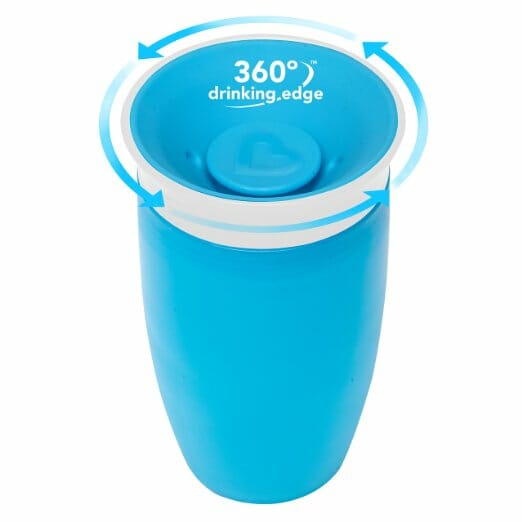 I think these cups might just be the perfect transition from sippy cup to normal cup for our kids… and yes, Nora is using one too 🙂
.
That's all for me this month.
Make sure you check out my previous month's favorite things — and feel free to share some of YOUR favorite things in the comments below!