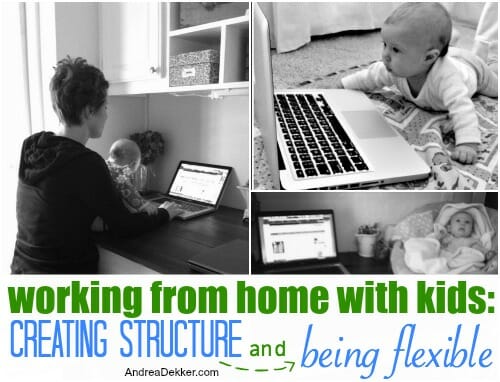 A while back, I did a podcast with Sandy Fowler from Heart Filled Holidays Radio. She talks about MUCH more than "just holidays" so we chatted for almost an hour about my thoughts on simple living, how simple living has vastly changed and improved my life, and how simple living works when I'm running a business from home while raising a family at home.
Sandy (and her husband) also work from home much of the time, and although her children are older than mine, she still totally understood the "challenges" that come when you work and live in the same place, at the same time, ALLLLLL the time 🙂
After I hung up the phone with Sandy, I realized that I get TONS of emails and questions from many of you, asking specifically how I handle working from home with kids and house projects and everything else I do.
So even though I've already shared posts about what a typical day in my life looks like, I thought it might be interesting to share more about how I make the working + raising babies + housework happen… without feeling like I'm totally stressed out or way too busy.
First things first:
There are a couple things I need to mention before we get too far into this post, because I'm 100% confident that I would NOT be able to do everything I currently do if it wasn't for the following key factors.
1. I LOVE being home. I know I've mentioned this so many times before, but I truly do love being in my home no matter what I'm doing. I rarely get "stir crazy", I'm not the type to constantly be thinking up places to go or things to do, and it's not abnormal for me to spend many days without ever leaving my home (or at least my neighborhood).
2. All of my jobs and work obligations are extremely flexible. For the most part, I do not have strict deadlines to meet — and this is actually one of my "requirements" before I'll accept any new jobs or new clients.
I do have many different projects that need to be completed each week and each month — but WHEN and WHERE and HOW I do those projects is fully up to me. I can wake up early, stay up a little later, or work when Dave is home.
3. I am naturally very structured, organized, self-motivated, and driven. It would be impossible to do the type of work I do and the quantity of work I do unless I kept things organized, set self-imposed deadlines, and constantly motivated myself to "do it now".
This is NOT to say that my work is draining and I need to "push" myself to finish it. But rather, because there are no specific deadlines for much of what I do, I have to be the one to set those deadlines… and then actually follow through with them. Otherwise, I'm positive my VA clients would find more reliable help and my blog readers would move on to blogs that published content on a regular basis instead of just once or twice a month — or whenever I "felt like it."
4. Dave (and both our families) are very helpful. You've heard me talk about how much Dave helps me around the house, with the kids, and even with my blog… so it's probably pretty obvious that I wouldn't be able to do nearly as much without his constant help and support.
What you might not know, though, is that both of our families are also extremely helpful. Both sets of grandparents frequently offer to stop by and play with the kids for a couple hours. So while we currently don't have any type of formal childcare, I do get random breaks every now and then.
Of course, this doesn't always happen each week, so I don't plan it into my schedule. However that means whenever it does happen, I magically have an extra 1-3 hours to work on blog projects, house projects, freezer cooking, cleaning, laundry, errands, etc. — and it's amazing what I can accomplish in that much unexpected "free time".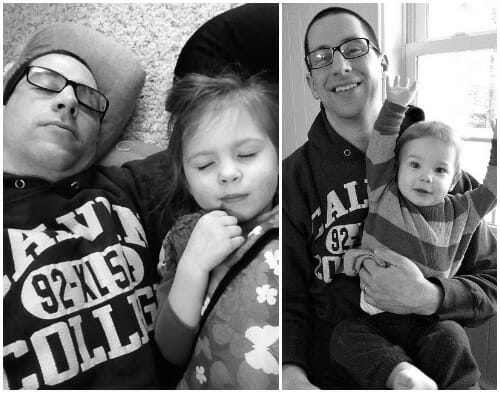 Along with everything I mentioned above, I think there are 2 key factors that are necessary for me to be able to work from home with kids.
1. Creating Structure.
I naturally crave structure and order to my day. It makes me feel more "in control" and I know I get more accomplished each day if I have a plan, a to-do list, and some sort of structure in place. So it's probably no huge surprise that creating structure has been a big part of why and how I've been able to manage working from home with kids.
Of course, there was a HUGE learning curve that took me a while to figure out — and I'm still constantly being thrown "curve balls" and "change-ups" to keep me on my toes 🙂 There is never a "normal day" nor does any one day ever go 100% completely according to my plan… but the general structure is there, and THAT'S what I need.
Some key elements of this structure include:
— Making a to-do list before I go to bed each night. More specifically, a Top 5 List so I know, without question, the most important things for me to do the following day. Also, many of you have asked if I make separate lists for my business and personal to-dos — the answer is no. I only have ONE to-do list every day and I try to be as realistic as I can with that list (so I'm not going to put 35 things on it each day). All my business and personal tasks are on one list so I can work through everything as I have time each day.
— Having a meal plan. Even though we might swap meals or opt for fast food if something changes at the last minute, I know that I have the ingredients ready to go for dinner every night of the week and that I won't be left scrambling at 4:30pm. This also allows me to make dinner as I have time during the day — and sometimes, that means I'm browning ground beef, snapping beans, and cooking up pasta sauce at 7:30am!
— Timing my tasks. Please don't picture me timing everything I do. But over the years, I have periodically timed various tasks so I have a general idea of how long specific tasks take me. This way, I can fit them in during my day according to how much time I have at any given period. This means I'm not going to try to write a full-length blog post when I only have 15 minutes of free time, but I could fold a load of laundry and clean out the dishwasher.
— Keeping our home relatively clutter-free. Yes, it does take a small amount of time to keep things relatively neat, clean, and clutter-free — but the time I spend picking up during the day is NOTHING compared to the amount of time, energy, and sanity I save myself on a weekly, monthly, and yearly basis. I work and play better in a clean home, I know the kids and Dave both appreciate order, and I'm fortunate that Dave is really good about helping me keep it this way.
— Doing things NOW instead of waiting until later. I know "doing it now" is never as fun or as enjoyable as procrastinating (and I do procrastinate at times). However, almost every time I put something off "until later" I regret it. While it's not always fun or easy, I've simply conditioned myself to almost always do it now so I can be done with it and move on with my day. Whether it's cleaning out the dishwasher, editing photos for my blog, scheduling social media posts for my VA work, or scrubbing a bathroom — once it's done, it's done and I don't have to think about it or worry that plans will change and I'll run out of time.
As you might notice, nothing on my list above would be "messed up" or "ruined" due to fussy babies, sick children, non-napping children, bad days, unexpected visitors, last-minute obligations, etc. etc. This list is not comprised of actual things I do each day, but rather the structures I put in place to allow me to do the things I do.
Each item on my list above is something I have full control over. Even if I have a horrible day and nothing goes according to plan, I can still make my to-do list for the next day before I go to bed. I can still look at the meal plan and get a meal out of the freezer for dinner tomorrow. I am still able to know how long various tasks take me. I can still do a quick pick-up of the house after the kids are in bed. And although it might not be as convenient some days, I can still usually "do it now" as much as possible during the day.
Having these general structures in place helps me to stay on top of the important things while still allowing for a large amount of flexibility within each day.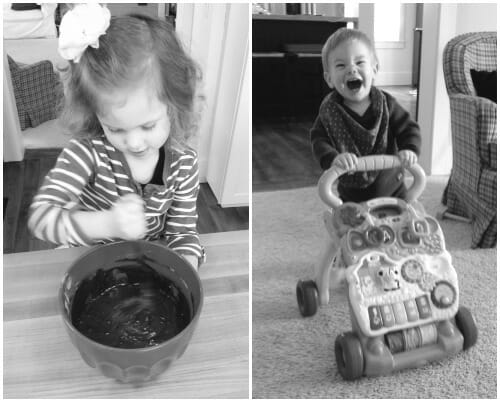 2. Being Flexible.
Speaking of "flexibility", being flexible is a HUGE factor in my ability to work from home with kids scrambling around all day.
As many of you probably know, being flexible is not necessarily one of my strengths. It's something I've had to work at, and work at, and work at over the past several years — but I'm making progress. I'm even (dare I say) becoming a tiny bit "spontaneous" 🙂
Flexibility still does not come naturally or easily to me, but I'm learning to recognize that when different and unexpected situations arise, the fact that I have so many structures already in place helps to lessen the amount of frustration I feel when things don't go as planned (which happens frequently around here!)
I've learned not to tell the kids about any fun outings or activities until we are literally almost ready to walk out the door — otherwise they are just too disappointed if something else comes up, plans change, someone gets sick, etc. etc.
I've gotten pretty good at having "back-up plans" for almost everything. Not in a sense that I spend hours and hours of time planning for every possible scenario, but just that I try to think ahead and have a handful of inside craft and baking projects in mind if the weather is nasty… or I'll have a special movie reserved for a time when another fun activity might be canceled.
Also, by timing my tasks (as I mentioned above) I know how long various work, personal, and home projects should take me, so if something unexpected comes up, I can fairly easily swap a few things around to make it work without putting a damper on my previously planned schedule. Plus, since many of my work responsibilities allow me to work well in advance, I never have that fear of "getting behind" if something unplanned comes our way (either good or bad).
Even if you don't work from home, I think being flexible is a huge factor in raising children (and enjoying the process!) However, for me, being flexible is only possible because I have already created some form of structure for my day — and I can then be flexible within that structure (if that makes any sense!)
I realize there are many people who don't need much structure and can thrive each day by simply doing whatever they feel like doing or whatever comes up. That's great — sometimes I wish I was more "that way".
However, I also know that if I was "that way" I wouldn't be able to manage working from home with kids and everything else I do on a daily and weekly basis — and I honestly can't imagine a more perfect work + home + family + life setup than what I've got going on right now!
So while I will continue to push myself to be more flexible, I also refuse to feel bad for my love of structure and order. Without either piece of the puzzle, I don't think things would work as well as they are working now.
What about you?
Do you work from home? Do you work full-time or part-time outside of the home? Are you a full-time at-home parent or grandparent?
I'm curious to know if creating structure and being flexible also play a key role in your ability to manage everything YOU do??
UPDATE: Here's a great website with lots of work-from-home ideas that aren't scams!

Also, an updated picture by the infamous office door! 🙂