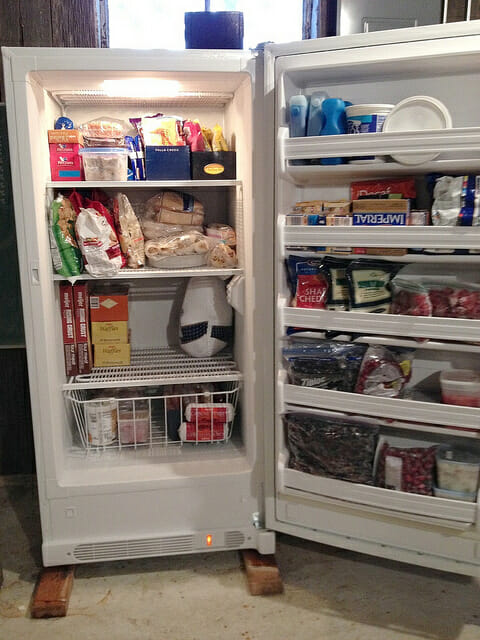 I rely heavily on our deep freezer for quick meals, extra baked goods, pre-cooked and pre-portioned ingredients, and storing extra frozen foods in attempts to reduce the number of trips I need to make to the grocery store.
And while I'm sure our deep freezer has saved us a significant amount of money over the years, the biggest asset for me is the amount of time it saves me every week.
I am able to pull full meals, pre-made baked goods, and various "parts" of meals from the freezer when I'm short on time in the kitchen.
And no, you DON'T need a big deep freezer to reap the benefits of freezer-cooking… you can read about my favorite space-saving freezer tips here!
Fall is one of my favorite times to fill the freezer. The cooler weather and shorter days allow me to spend more time in the kitchen without overheating the house.
However, before I start stashing food away in our freezer for another year, there are a few things I always do first to "prepare my freezer for Fall".
1. Eat from the Freezer
Take a week (or several weeks) to go through your freezer and plan as many meals as you can with the ingredients/meals/side dishes you already have in your freezer (and in your pantry).
This will help to make sure none of your current freezer goods get spoiled or ruined by freezer burn, and it should also save you a nice chunk of change on your grocery bill for those few weeks.
Get creative with your meal planning — and maybe even offer a few "free-for-all" nights where individuals can pick and choose what items they want to eat for dinner based on what leftovers and freezer meals are available.
I realize our kids are still pretty young, but Nora especially thinks it's fun to eat weird combinations of food every now and then (think pickles + peaches + pasta + popsicles for a fun P-themed meal). This is a good way to clean out our fridge and freezer and also encourage the kids to try something new.
2. Defrost the Freezer
I know, you're probably groaning at the thought of defrosting your freezer, but if you work quickly, it shouldn't take long to have a sparkling clean, ice-free freezer, ready for another stash of delicious foods.
We usually defrost our freezer every-other-year (or as needed) and it's almost always in the Fall because it's not so hot that our food melts immediately after we take it out, but not so cold that we freeze our butts off!
Plus, if you've been eating from your freezer as I suggested above, you shouldn't have THAT much stuff to remove from the freezer.
3. Restock the Freezer
This is the fun part — at least for me. I love looking at a nearly empty freezer and slowly filling it back up again over the next month.
And notice I said "SLOWLY"!
Please do not think you need to have a freezer-cooking marathon and get every dish in your kitchen dirty making 200 different freezer meals.
As I mentioned last week, the important thing is to just get started. Make a double batch of something this week and next week — you'll have 2 meals in the freezer after that. Then make some extra bars or cookies for the freezer the following week. And the next time you buy lots of meat, cook up some extra ground beef, sausage, or chicken and divide up the extras for the freezer.
Freezer cooking does not need to take all day (or even all afternoon). You can quickly and easily start stashing away extra freezer goodies with just a few extra minutes in the kitchen. I promise.
Just make sure you take the time to clearly label the contents and the date. (Yes, I speak from experience after defrosting a tub of unlabeled refried beans that I thought was chocolate frosting!)
A Few More Freezer Cooking Resources:
I hope that's enough motivation, encouragement, and resources to get you excited to prepare your freezer for Fall! If not, I'll just send Nora over to help you 🙂
What do you love most about freezer cooking?