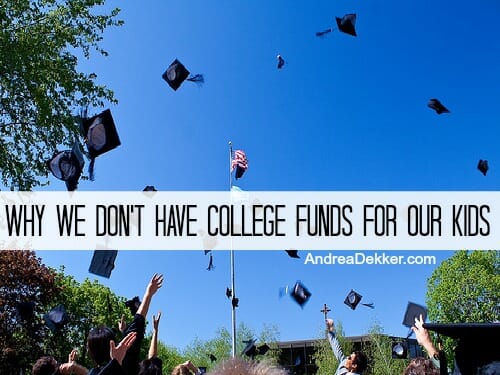 Almost immediately after Nora was born, I was asked if Dave and I were planning to set up a college fund for her and for any future children.
Now, after 2 more children, we still get asked this question quite regularly.
The short answer:
No, probably not.
The longer answer:
Our kids are still really young and it will be many years before they will be going to college. We have LOTS of financial goals to reach before then, and we feel those goals are more important than setting up a college fund for our kids.
Obviously, we will continue to evaluate this decision year after year, and we might very-well decide to start college funds for our children, but at this point, we just don't feel like it's a great use of our money.
Oh, and I should mention that although we aren't planning to set up a formal college fund, we DO plan to help our children with at least a portion of their college tuition if/when that time comes.
The "WHYS" to our answer:
I realize many of you probably think we're crazy for not setting up college funds for our kids — but we've actually given the topic a decent amount of thought and we have some pretty specific reasons WHY we don't currently have college funds for our kids.
1. We want to pay off our mortgage.
One of our goals has always been to pay off our mortgage before our oldest child starts Kindergarten… and the amount of interest we have saved by aggressively paying off our mortgage so quickly is in the tens of thousands of dollars.
This is most likely more than the interest we'd make by keeping our money tied up in a college fund for our kids — plus we have the peace of mind knowing we have no debt and no one can take our home away from us.
2. We want to invest our money to make more money.
As our disposable income increases, we would like to get a little bit more aggressive with our investing and work with our financial person at Edward Jones to help us make money from our money.
At this point, neither Dave or I are very "investment savvy" but we trust our financial investor and he hasn't steered us wrong over the past 8+ years… and this is currently more important to us and our financial future than saving up a bunch of money to hand our 18 year olds a free college education.
3. We want to send our kids to a Christian school.
Nora is "just" in preschool right now, but starting next year, we'll be paying full Christian school tuition — and that amount will only continue to increase as our children get older, as we have more children in school, and as tuition prices increase.
For the next 20+ years, we'll be paying Christian school tuition (no, Dave doesn't get a discount because he's a Christian school teacher) and that is more important to us than paying for our kid's college education.
4. We want to have plenty saved up for retirement.
At this point, Dave and I have been fully-funding our Roth IRA's each year since we've been married. We plan to continue doing this every year until we retire as we feel this is a very important use of our money.
We don't want to be working when we're 75 — and since the life expectancy is getting longer and longer, we want to try to be as prepared as possible for our retirement days.
We also don't want to be a financial burden for our adult children because we failed to save enough to live comfortably in retirement. I have a feeling they would appreciate that more than money for their college tuition 🙂
5. We want our kids to EARN their education.
Dave and I went to a fairly expensive private college, and we both lived on campus. It would have literally been impossible for us to pay for our education by just working and getting scholarships… so we were both thankful that our parents agreed to help us out with SOME financial assistance.
However, we both worked multiple jobs and applied for TONS of scholarships, grants, and special funds to help offset the cost of our tuition. We also both took out student loans each year.
As I mentioned above, we DO anticipate helping our children to fund PART of their college education; however, even if we have the means to fully pay for their entire college education, we probably won't do it.
I saw too many college students who slacked off because they didn't have anything invested in their education. They got a "free ride" from mom and dad (who sometimes took out a 2nd mortgage to pay for the tuition). Meanwhile, Dave and I worked our butts off to keep our grades up and keep our scholarships. I know this isn't always the case, but I did see it happen often.
6. We're not against student loans.
I know loans aren't ideal, but the fact that Dave and I had student loans (and then paid them off really quickly) actually did a lot of good for our credit score and our own personal savviness!
Although we were both initially stressed out about how we would pay off our student loans, we learned a great deal about proper budgeting and even how to refinance student loans (something we did NOT do, but it was an interesting concept).
Ultimately, the whole process taught us a lot of financial responsibility — something we would not have necessarily learned if our parents had simply paid for our college tuition.
We don't think it's bad if our kids also have to take out student loans.
7. Our kids might not go to college.
Obviously, we won't deter our children from pursuing higher education, but the reality is that a college education is getting ridiculously expensive… AND there is currently a shortage of "blue collar" jobs like mechanics, plumbers, electricians, etc. because everyone thinks they MUST send their children to college.
So if we set up a college fund for our kids and they don't end up going to college, there's a chance that money would be stuck in the college fund until another sibling went to college, and then the child wouldn't get the money anyway (we currently have friends with older children who are dealing with this situation right now and it has caused A LOT of tension among their children).
I know there are different types of funds and ways to save up for college expenses… but the potential hassle of having the money "locked away" until our kids actually go to college (assuming they actually choose to go to college) just doesn't appeal to us right now.
8. We just don't want our money tied up.
Dave and I are the type of people who would MUCH rather save money than spend it — and because of this, we don't feel it's necessary for us to have our money tied up for so many years just to make sure there is something left when our kids get to college.
By not having college funds, we can use and invest that money for the next 10-20 years, all while keeping college tuition costs in the back of our minds… and then deal with them when the time comes.
I fully realize this method would NOT work for everyone (especially if you aren't naturally a saver) but that's how Dave and I view the situation at this point.
These are just a few of the major reasons why we've chosen NOT to set up college funds for our kids at this point in our lives. But like I mentioned above, we will continue to evaluate this decision as time goes on.
College funds are a great way to set aside money for your kids — and I definitely don't think it's bad if you DO have college funds set up for your kids.
However, if you are someone who is currently stressing about how you will manage to scrimp and save in order to set up a college fund for your children (or maybe you're someone contemplating taking out a 2nd mortgage on your house to pay for their college) I hope that after reading this post, you realize that there are other options.
You should not have the sole burden of funding your child's college education… so don't feel guilty if you have other ways you'd like to use your money instead.
What are your thoughts on college funds?