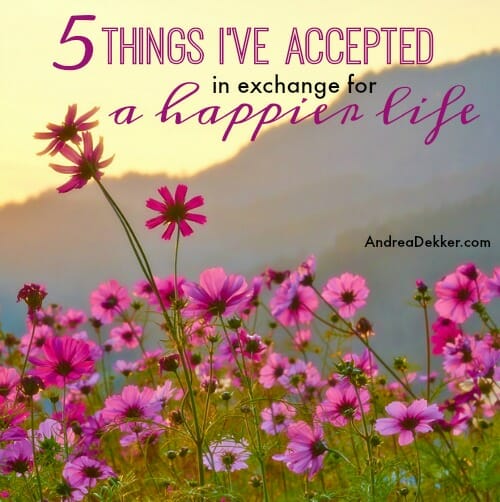 Although I would consider myself to have many good life skills, being overly-accepting of random quirks and differences is not one of the life skills I've mastered yet 🙂
However, I have noticed that (especially when it comes to my own children) I have become SO much more accepting of their mistakes, their crazy antics, and the changes they bring about to our home and our lives.
I don't just "tolerate" them, I truly "accept" them — and as a result, I enjoy simpler, happier, more peaceful days at home.
Let me give you a few examples…
1. What My Kids Wear
I've never been big on fashion — but I do always try to look presentable and somewhat put together when I go out in public. I'm not the type to lounge around in PJ's all day, and although I do wear the same things on a regular basis, I don't often see the same people so it's not a big deal 🙂
However, I honestly never thought I would be 100% OK with letting my very stubborn and opinionated children pick out their own (completely mismatched) clothing on a daily basis.
Nora and Simon both insist on picking out their own clothing the night before, and while this does help our mornings run very smoothly, there are plenty of times when I wonder what they are thinking as they get dressed.
Nora is a huge fan of single-color outfits (pink pants + pink skirt + pink shirt + pink sweater) as well as single pattern outfits (flower leggings + flower skirt + flower shirt). She also gets ideas in her head for what "goes together" and then will always and forever wear those items together.
Simon, on the other hand, goes for comfort every time.
He has a whole section of what he considers "cozy clothes", and that's what he wears 95% of the time. Some days, this means he takes off one pair of PJ's and put another pair on. Other days, this means his favorite jeans and t-shirt. And still other days, it means lounging around in gym shorts and a t-shirt in the middle of the winter. It almost always involves a pair of boots though!
Simon loves wearing shorts and t-shirts in the winter — and since I have much better things to fight about, I just make him put on snowpants and a winter coat any time we go outside, even if it's not snowing or not all that cold. He thinks it's great that I let him wear "summer clothes" in the middle of winter, and I think it's great that we never argue about clothing choices!
Also, Nora and Simon change their clothing (on average) 4-6 times every day. It's totally ridiculous, but they have specific reasons for changing their clothing and they are responsible to put it all away. Sometimes, this creates extra laundry for me, but I figure they will be in school all day before I know it and then they'll only get one outfit dirty every day!
I have fully accepted my children's individual wardrobe choices, and despite comments from others, I am truly not bothered by whatever they choose to wear — even when their clothing is on backwards or inside out!
.
2. Crumbs… everywhere!
I will never deny being a very neat, organized, and tidy person. I like things to be picked up and put away… and with very few exceptions, everything in our house is always picked up and put away at the end of every day.
But then there are the crumbs!
I've limited myself to sweeping our kitchen floor ONLY after dinner because it literally doesn't matter how many times I sweep, there will always be more crumbs.
Also, do NOT look under my couch cushions!
We regularly lose game pieces in our couch cushions, and I'm always shocked to find full-size crackers, goldfish, pretzels, and cereal chunks (amidst a sea of crumbs) under the cushions. Sometimes, I take the time to vacuum it all out… but most of the time, I simply grab the game piece and put the cushions right back.
I realize this might be difficult for some of you to imagine — but it is very, very true.
I try to keep our car somewhat crumb-free, but only on the surface level. I vacuum the carpets and mats, but I rarely dig to the bottom of the carseats (and you know it's nasty down there!)
I'm not sure when exactly it happened, but I have come to accept that my life and my home will be full of crumbs for the next few years. I will clean them when I get around to it — until then, things will be a bit crumby 🙂
.
3. Somewhat selective eating.
In general, I honestly think my kids are good eaters — but that's also because I make a lot of foods I know they really like.
They are good about trying things once (and regularly discover new foods they actually like) but they definitely have their favorites that they request on a very regular basis.
We eat a lot of pancakes, eggs, sausage and fruit for breakfast and a lot of meat, cheese, fruit, and sandwiches for lunch. I used to feel bad that we didn't have a ton of variety for these meals, but now I find it somewhat comforting.
We never argue about food choices or menus, they usually eat their breakfast and lunch fairly quickly and without complaining, and I don't need to come up with creative ideas of foods I think they might like.
We always have plenty of veggies with dinner, and if I'm going to try a new recipe, I do it for dinner so Dave can be there to encourage trying something new.
Yes, our kids could probably be more adventurous with their food choices, but the fact that they are eating from multiple different food groups at every meal AND eating without much complaining means I readily accept their somewhat selective eating for breakfast and lunch each day!
.
4. Toy overload.
Before we had children, I swore we would never accumulate "too many toys" and I stood by this mantra until baby #3 arrived. Since then, Dave and I have been on the losing side of the war against toy overload in our house.
Yes, we purge VERY regularly. Yes, we have plenty of storage space for our toys. Yes, our kids enjoy playing with ALLLL their toys. And YES, we could easily get buy with 1/3 the number of toys, books, and games we currently have.
It bothered me more a couple of years ago — but now, I think I've honestly come to terms with the fact that our relatives are going to load our kids with new toys for every birthday and Christmas no matter how many times I suggest practical gifts like socks, a new water bottle, or diapers 🙂
My small victory is when they purchase cheap toys that end up breaking after a week or two so we can toss them guilt-free!
However, for the most part, I've come to accept that for the next few years, our house will have more toys than I would ideally want… but at least I'm not wasting my own money on them and my kids really do have so much fun with their toys and games.
.
5. Sibling bickering.
I know, this might sound like bad parenting — but honestly, I don't think I would believe you if you told me your kids never fight or bicker back and forth.
I know my sisters and I fought all the time growing up, and we turned out OK!
And really, I think letting them fight and bicker a bit can actually be helpful. There are so many times when I hear Nora and Simon start to fight, and then one person gives in and the fight is over. And both Nora and Simon are quite generous with James — letting him have the toy he wants instead of playing with it themselves. It's actually sort of sweet to watch.
Of course, there are still plenty of times when I step in and dole out punishments, but for the most part, I've come to accept general sibling bickering as a part of our daily lives and not something to get overly worked up about.
.
If I really wanted to keep you here a while, I could start listing many other things I've learned to accept within the various different relationships in my life (Dave included!) but I won't bore you with all those details.
The point is, by learning to legitimately accept these things (not just tolerate them) my life is simpler, less stressful, less uptight, and less "angry".
Yes, there are many things I have not learned to accept yet (like loud smacking and slurping noises while eating or anyone who drives too slowly for my preference) but I figure I will hopefully have lots of years left in my life, so there's no sense rushing into too much acceptance just yet 🙂
Learning to accept certain quirks in people you love (or just people you're around on a regular basis) is a very simple concept that's not nearly as easy to actually do. However, it's definitely worth it!
Just think of all your relationships — family, friends, neighbors, coworkers, committee members, fellow church-goers…
What could you learn to accept?