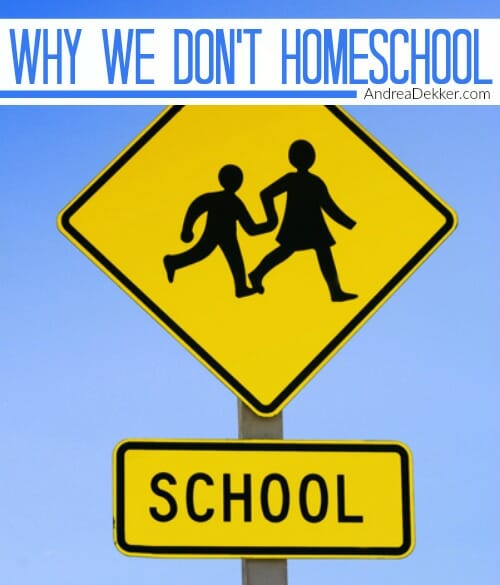 A couple weeks ago, I had just finished registering Nora for next year's preschool class (I registered online) when I clicked back over to my email and noticed a new email with the subject "Homeschooling Questions?".
I smiled, knowing what was waiting for me when I opened that email, and thinking that it might just be time to write a post about why we do not homeschool our kids.
Obviously, our children are very young, so I really haven't had a reason to share much about our education decisions; however, over the past year of Nora being in 3-school (preschool for 3 year olds), I have gotten a surprising number of emails asking why we aren't homeschooling Nora, suggesting that we should homeschool her, or asking if we would ever consider homeschooling our kids.
I have gotten an equal number of emails that, for whatever reason, assume we DO homeschool our kids (I truly have no idea how or why they assume this… maybe just because I'm a blogger and many bloggers choose to homeschool).
I've even gotten emails asking me to share my favorite homeschooling resources and suggesting I start a new section of my blog dedicated to homeschooling ideas, tips, and information! It's crazy, and every time I get one of these requests, I somehow wonder if I've made any statements on my blog alluding to the idea that we are interested in homeschooling our children.
If I have… I'm sorry for the confusion!
The truth is, Dave and I have never once even considered homeschooling our children — and although neither of us think homeschooling is bad, or wrong, or worse than any other type of school, we have absolutely no intentions of homeschooling any of our children in the foreseeable future.
Of course, I won't say "never" because you just don't know what the future holds. If it makes sense at some point to look into homeschooling, we will do so… but until then, we will send our children to the local Christian school… and here are just a few reasons why (in no particular order.)
1. Dave is a Christian school teacher.
Part of Dave's contract as a Christian school teacher is that we MUST send our children to a Christian school — and no, we don't get a discount because he's a teacher. We do not need to enroll our children in Dave's school district, but we do need to enroll them in a local Christian school (there are MANY in our area) or he would lose his job.
We could probably get some sort of exception granted to us if we felt strongly that we wanted to homeschool our children; but in my opinion, it would not be very supportive of Dave, his job, or his school to say that we "support Christian education" enough for him to be a teacher, but not enough to enroll our children in a Christian school.
2. We both LOVED school.
I know so many people who homeschool their children based on the fact that they were also homeschooled and truly loved the experience. Well, Dave and I feel exactly the same way about sending our children to a local Christian school.
We have no idea what it's like to be homeschooled, but we DO know what it's like to attend a great school with fabulous teachers and fellow students… and we want to try and give those same experiences to our children.
It's so fun for me to talk with Nora on the way to school (they don't have bussing for preschool) and listen to everything she is excited to do at school, who she's excited to play with, what she's excited to tell her teachers, etc. etc. It's even more fun when she comes home and is bursting with school news, stories, craft projects, and all sorts of information she learned that day.
As I've mentioned before, I participated in a lot of extra curricular activities growing up — most of which were somehow tied to my school. Sports teams, choirs, bands, musicals, student council, various spirit-week activities, prom, homecoming, banquets, class trips, etc. etc. It was all so much fun for Dave and for me… and we want our kids to have the opportunity to experience many of those same opportunities.
3. We have so many great school options.
Where we live, there are MANY Christian schools. In fact, we live within a 20-minute drive of 8-10 different Christian high schools and too many Christian grade schools to count.
For most areas of the United States, it is unheard of to have this many options so close to home — and since private schools don't require you to live in any specific school district, we can choose whatever school we want our kids to go to.
Right now, Nora is enrolled in Dave's school district (which is the 2nd closest school to our house). We're not positive if she will stay there forever, but for right now, it seems to be a good fit as Dave can pick her up after school on the 2 days she goes.
With so many fabulous school option, it just seems silly for us not to utilize them!
4. I don't have the patience to
homeschool!
I am not a patient person… in fact, the idea of me homeschooling my children is most likely laughable to anyone who knows me. I'm sure I COULD do it if I had to — and I think I would do an OK job, but it sounds like absolute torture to be my kids' teacher.
If we were really serious about homeschooling our children, Dave would almost certainly have to quit his job to do it — which wouldn't really make any sense at all since Dave loves his job, and I love the health benefits we get from his job 🙂
You know the saying, "absence makes the heart grow fonder"… I know they weren't talking about a 4-year olds going to school, but I can say with utmost confidence that the 3 hours Nora is at school 2 days a week does a world of good for her and for me!
5. Christian education is part of our family, our friends, and our faith.
Dave is a Christian school teacher, my mom is a Christian school teacher, my grandma was a Christian school teacher. Dave and I have aunts, uncles, cousins, and siblings who are (or were) Christian school teachers. Dave's mom is a secretary in the Christian schools. The majority of our friends are Christian school teachers.
Our church and our denomination strongly support Christian education… to the point that they will even offer to help with some of the expenses if a family is unable to pay the full tuition.
Dave and I feel that sending our children to a Christian school is a "full circle" approach to faith-based learning. It's an extension of what they are already learning at home and in church… and that's important to us.
So you can see, Christian education just runs in our blood! It's all we've ever known, and it's a big part of who we are. We want to pass this on to our children as well.
I think Dave and I have always felt that sending our kids to a Christian school was a "non-issue" — meaning, neither of us have ever really considered another option.
It's interesting for me as I am now on both "sides" of the school system. On one hand, I'm a teacher's spouse who gets to see how much time, effort, and energy Dave puts into teaching and mentoring his students. On the other hand, I'm a parent who gets to see how much Nora thoroughly enjoys and benefits from all the time, effort, and energy her teachers put into the crafts and lessons each day.
I know that when it comes to educating our children, we all want what's best for them — and it's so wonderful how many options we have these days!
As I mentioned earlier, we truly don't think there is anything bad or wrong about homeschooling, it's just not the right option for our family (at least not right now).
It's OK if you disagree with us, or if you have different views on education. I have no intentions of getting into a debate in the comment section — I'm simply sharing why WE are not choosing to homeschool our children, since it's apparently a question many are wondering about 🙂