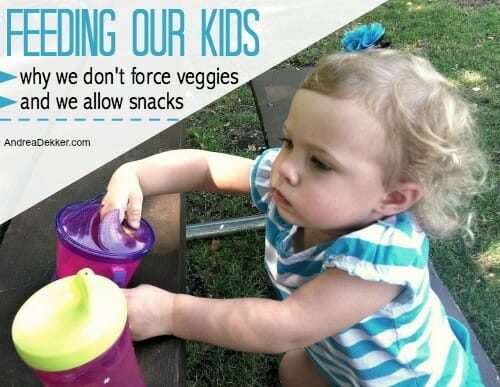 Lately, I've heard SOOOOO much hype (in the media, on the news, and from real-life acquaintances) about what our children should and should not be eating, why they MUST be eating a certain amount of veggies, why we should not let our kids eat snacks or sugar or salt (because apparently they lead to childhood obesity), organic versus non-organic, GMOs, and all these time-consuming "creative" ways to force more fruits and veggies into our kid's diets.
Blah, blah, blah — I've just started to tune it all out.
I know I'm not a dietitian, nor do I really have ANY knowledge about food or proper eating habits. But I do know that whatever organic or non-organic veggies and snacks my kids may or may not be eating is VERY far down on my list of daily priorities or concerns.
Here's why…
1. Forcing any type of food never seems like a great idea with small children.
I realize Nora is considerably more stubborn and strong-willed than many children (including Simon); however, any time I try to FORCE or PREVENT either of my children from eating something, they almost always want to do the exact opposite.
So if I tell Nora that she absolutely MUST eat the broccoli on her plate, no questions asked, she probably won't — even though broccoli is one of her favorite cooked veggies. And if I try to force-feed Simon something he doesn't want, it's NOT going to work!
Similarly, if I tell Nora she may never ever have a snack, she's going to beg and beg and beg me for a snack ALL day long.
And if we're really honest, adults function in the same way. If I told you that you'll never be allowed to have chocolate ever again, you'll probably start thinking about it right now and be craving it for days and days… just thinking about the fact that you can't have it.
Obviously, I think there are times when we might need to "insist" that they try one bite of something, or simply say "no dessert unless you eat 3 more bites" but for the most part, I've witnessed that when parents force or prevent certain foods, the kids will go against those rules any time their parents aren't around to force or prevent (I had MANY college friends who went crazy in the dining halls once they moved out of their parent's homes).
2. I don't want to send negative messages about food.
I personally try not to talk about "good foods" or "bad foods" or "things that make us fat".
Instead, I try to send the message that ALL food is good, but that some choices are simply healthier, more filling, and more appropriate at different times of the day than others (a.k.a. no pickles for breakfast!)
Yes, we often "guide" our children's food choices (do you want a banana, grapes, or an orange?) but we rarely stop them from eating anything they are interested in eating.
For example, if Nora keeps saying she's hungry and want's M&M's, I'll say that she may definitely have some M&M's AFTER she chooses something more filling — like a banana, pretzels, yogurt, or cheese and crackers.
If she turns down my offers, then I know she's probably not too hungry and just wanted the chocolate.
That said, there are other times during the day that I will give her M&M's without any "qualifications". If she chooses some M&M's as her dessert after dinner (and she eats her dinner well) then that's fine.
Sometimes I'll also let her pick any snack she wants for a special event or a long car ride — and if M&M's are her choice, I'll explain that they might not be very filling but that she can still choose them if she wants. Or maybe I'll add some peanuts and pretzels to her M&M snack to make it more filling.
I'm HOPING that by doing this, my kids will enjoy a variety of foods without thinking of them as "good" or bad"… but instead, just "different".
3. I know that snacks, salt, and sugar are NOT the only causes of childhood obesity.
As if parents don't have enough to worry about, we are constantly bombarded with messages trying to scare us into believing our kids will be overweight and obese if we give them a cookie, candy, or some chips.
I have a feeling the real issue with obese children is that they don't get enough exercise each day… not they they eat a few snacks.
Both my children are BIG snackers and neither one is even close to reaching an obese status. They both still eat well at meals and Nora often surprises me by choosing healthier snack options when I give her a choice.
In fact, this past weekend, I thought she would want one of the brownies we had made for her afternoon snack… but instead, she chose to eat a banana and some Cheerios with Simon (while I enjoyed a brownie) 🙂
4. Kids know when they are hungry and full.
Like I mentioned earlier, I am not a dietitian, but after going through 2 rounds of food therapy with Nora when we couldn't get her to eat anything, I learned that kids are actually MUCH better that adults at knowing when they are hungry and full.
Just think about how many times you've been pretty full, but still ate dessert because it just sounded good. Or you've gone to a holiday party or a buffet and just kept eating and eating, even though you were already SO full.
Kids (for the most part) don't do that.
They eat when they are hungry and stop when they are full. Yes, there are times when I tell Nora "you need to eat one more bite" or "you need to at least try one bite" but I can almost instantly tell if she really is full and can't eat anymore or if she's just saying it to get out of eating a less-enjoyed food.
And even though Simon is still very young, he will literally push his bottle or the spoon away and keep his mouth shut if he's too full (it's actually pretty funny!)
5. I'm a huge advocate for MODERATION!
As long as my children are getting enough to eat and eating relatively balanced meals with some protein, some starch, some fruits, and some veggies, I'm really not too concerned with much else.
After all, do you know how many mothers in this world don't even have the privilege of providing enough food for their children each day — let alone an appropriate variety of organic and "approved" foods.
While I agree that our children's health and well-being is VERY important, and obviously, we all want to do what's best for our kids, there are just so many more important issues than if they got exactly 3 servings of fruits or veggies in the past 24 hours.
Are they safe, happy, loved, growing (mind, body, spirit)? Are they kind and generous? Are they learning proper values and morals and life lessons that will serve them well into adulthood?
If so, you're probably doing a decent job as parents, even if you did count those veggies straws as their vegetable of the day or take them to Culver's for dinner 🙂
6. The worst-case scenario of a picky eater isn't really THAT bad.
I know this is kind of a cop-out excuse — but if we really stop and think about it, what is the absolute worst-case scenario if our children grow up to be picky eaters?
Dave and I have a handful of adult friends and relatives who are VERY picky eaters — and while I will admit, it is difficult for them to eat out in public, I will also say that they ALL live very fun, happy, active, successful, and fulfilling lives.
They are "normal", they are contributing to society, they have good jobs, they have lots of friends, they have families, and they are surviving just fine even though they have a very limited list of foods they enjoy.
So if you're super stressed out about the fact that your child will not eat any vegetables or fruits, just take a deep breath, relax, and know that they will probably grow out of it. And if they don't, they will almost certainly grow up to be a decent human being despite their lack of food variety.
7. I want food to be enjoyable for my whole family.
Growing up, we almost ALWAYS had dinner together at the table with my whole family… and I know Dave's family operated the same way.
Now, because our kids are so young, we basically eat every single meal together (although Dave is only home for dinner and on weekends). We enjoy making the food together, we sing and read stories while the kid's finish eating, we have "fun" cleaning up their big messes after every meal and seeing who spilled more, Simon or Nora or Dad 🙂
We REALLY love having people over for dinner or going to other people's homes for dinner — and I don't ever want to be that parent who doesn't let their kids eat food other people have lovingly prepared for them, or the supposed "junk food" at their friend's or cousin's birthday party.
As I said before, in my opinion, ALL food can be "good"… in moderation. I want to be able to enjoy all of it, and let my kids experience all of it. I want to make their beloved comfort foods for special occasions (even if that means pasta, cheesy potatoes, pickles, peas, and strawberries all in one meal!) I want to have fun lunches like "red lunch" or "the letter 'C' lunch" where everything is one color and/or starts with the letter C — even if they all aren't super healthy organic food choices.
I want my kids to enjoy eating the way Dave and I do, and view it as a form of hospitality — not something to be fearful or cautious of. So yes, they need to TRY at least one bite of everything we are eating… but after they try that one bite, I'm not going to force them to eat and eat and eat until they hate coming to the table because they don't like the food.
I completely understand that all families and all kids are different — and obviously food allergies and sensitivities play a factor into eating habits. However, I will say that at this point in my life and my parenting journey, I have basically tuned out everything anyone says or advises or suggests about what MY kids should or shouldn't be eating.
Again, I want to reiterate that I am NOT a food expert or dietitian and I certainly don't have all the "right answers". But based on the number of emails and questions I get about kids and food (mainly because of my past posts about Nora's food issues earlier in her life) I know that the food our kids eat is a HUGE stressor for so many parents… and I really don't think it should be.
I don't think we should feel ashamed if we don't buy organic foods for our family and I don't think we should feel badly about our parenting abilities based on what our children will or will not eat.
My kids most definitely eat their fair share of cookies, candy, chips, and other not-as-nutritious foods — but it's just PART of their daily diet. They also eat loads of fruits and veggies and dairy… and Nora has been gobbling up almost any type of meat we put on her plate (she even tried one bite of our Tilapia the other day!)
Based on general common sense and my life-long personal experience with eating in moderation, I can almost guarantee that our children's future well-being and happiness in life will not come back to whether or not we fed them 3 servings of organic fruits and veggies each day or whether we let them have a few fruit snacks, Skittles, or an Oreo every now and then.
Food is a wonderful gift that we can share with our children… let's stop treating it like "the bad guy" or a stressful part of life and just start enjoying it!