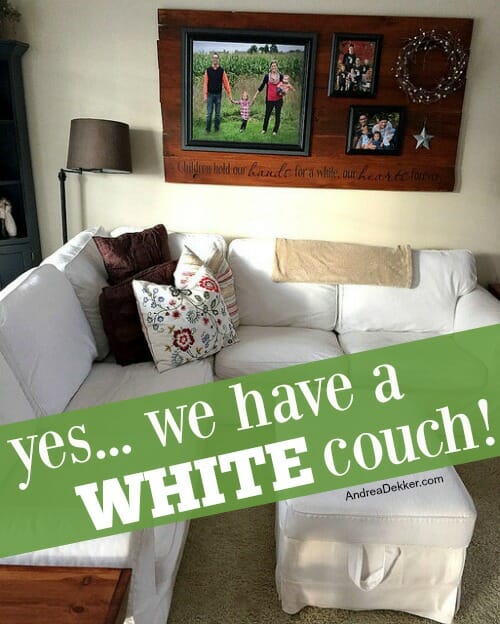 Over the past 5 years, the number of questions, comments, and emails I've gotten regarding our white couch still amazes me!
Many of the questions are simply inquisitory — where we got it, if we like it, how often we wash it, how comfortable is it, etc.
The rest of the comments and questions are from awe-struck readers who think I'm totally insane to have a white couch with 3 small children… who knows, maybe I am!
I suppose it is kind of crazy if you think about it — but I honestly love our couch so much that it's worth the (very) small amount of time and effort I put forth to keep our couch relatively clean and white.
However, since I get so many questions about how I clean and care for our couch and slipcovers, I thought it might be time for a post detailing exactly what I do to wash and dry our WHITE slipcovered couch!
If you're looking for more information about why we love slipcovered furniture, read this post.

If you're looking for more information about how I keep our white couch white (in between washing), read this post.
Where did you buy your couch and slipcover?
Our couch is from IKEA (it's the Ektorp line). It was roughly $800 for the entire sectional, and then $99 for the slipcover. I found the ottoman on craigslist for $20 and purchased the matching white slipcover for $29 (at the time).
If you want to read a "fun" story, read this post about how we drove 3 hours to IKEA to get this couch only to realize that the measurements listed online were wrong and it wouldn't fit in our U Haul. It was also 90ºF and I was 6 months pregnant!
I'm sure you can see how excited and happy Dave was to spend time unboxing everything and figuring out how to cram it into our truck and U Haul in the mid-afternoon heat on black asphalt in the IKEA parking lot!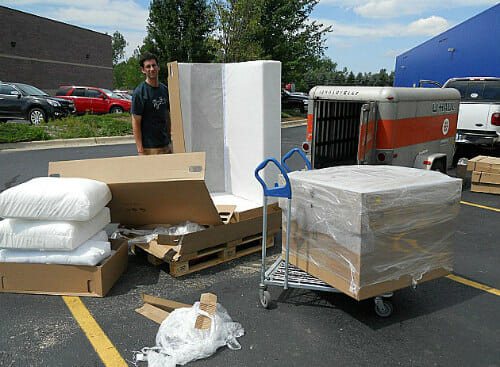 Can you buy an IKEA couch and not use a slipcover?
No, you would not want to buy a couch without a slipcover!
The IKEA couches are made to go with a slipcover. Without slipcovers, the cushions and pillows are a very thin, see-through (almost mesh-like) fabric. It looks very cheap and would look extremely dorky without slipcovers (at least in my opinion).
It's hard to see from the photos below — but just trust me, you would not want to have this couch in your house without some sort of slipcover!
Also, I wouldn't suggest buying generic slipcovers to go with the IKEA couches. It's kind of a package deal, so you'll want to buy both the couch and the slipcover at the same time.
How often do you wash your slipcover?
I honestly don't wash it very often — maybe 3 times a year.
And actually, I only wash the seat and back cushions because the slip cover "base" probably wouldn't fit in my washing machine!
Throughout the year, I wipe up any smaller stains as needed. Sometimes I use upholstery cleaner or wash an individual cushion when needed. I also am not ashamed to admit that I'll simply flip the pillows and cushions around to cover up a spot until I'm ready to wash it 🙂
Do you dry your slipcovers in the dryer?
Yes, I've always dried them in the dryer — normal heat, until they are fully dry. I've never had any problems with shrinking!
How exactly do you wash the slipcovers?
It's not really an "exact" process — but here's what I do:
1. Pull off the slipcovers from the cushions, the pillows, and the ottoman (there are 12 total)
2. Let kids jump all over the uncovered cushions while I'm washing the covers
3. Spot-treat any dark stains with an OxiClean paste (just mix a little with water and scrub with a brush)
4. Put 6 covers in the washing machine, add a scoop of OxiClean and some laundry detergent
5. Wash with hot water on the quick cycle
6. Toss in the dryer on normal heat until they are dry (I don't use any type of fabric softener)
7. Repeat with remaining 6 covers
8. Use upholstery cleaner to spot treat armrests and skirt if/when necessary
9. Vacuum the massive amount of crumbs under the cushions while kids are still jumping
10. Put covers back on cushions after kids go to bed.
Are you still using the same slipcover you bought 5 years ago?
Yes! We're still using the same one.
I have thought about trying out a new color, but I just love the white right now!
I have also thought about buying another white one, just since it's been 5 years, but I feel like that is pointless since we have so many little kids and I know I'd be more "protective" of the couch if I bought a new slipcover now.
Do you eat on your couch?
Yes… all the time (see picture of crumbs above!)
While we never eat full meals on the couch, we let our kids have snacks on the couch, Dave and I have snacks on the couch, and we frequently eat on the couch when people are over.
I also let my kids color in the living room, and we have frequently had to wash markers and crayons off our slipcovers.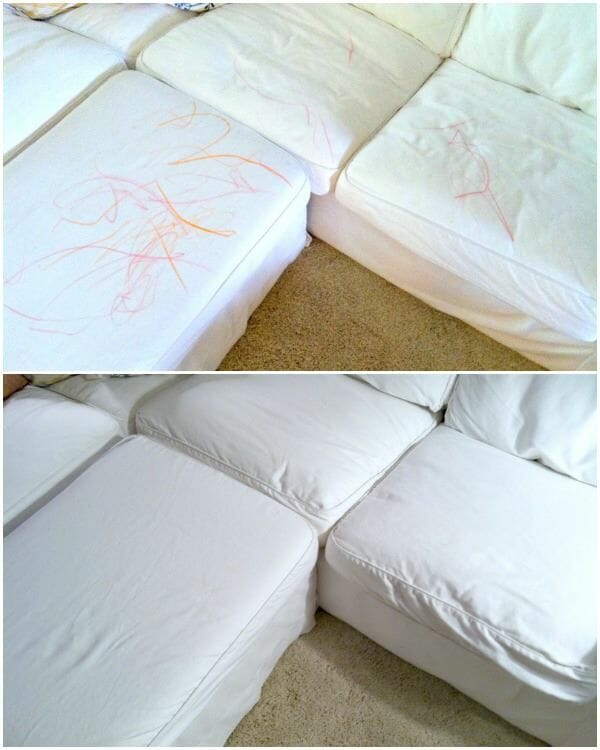 How often do you use this couch?
This is our only couch — so we use and abuse it many, many times every day.
Kids spill, babies spit-up, kids pee (and poop), grownups spill, guests sleep, we nap, we make forts, we make trampolines, etc. etc. Believe it or not, I even let my sister's dog on our couch over Thanksgiving break!
.
I will say that I would not have this couch if we had shedding pets (which I can almost guarantee will NEVER happen)… but it sure has held up to daily use and abuse from 3 little rugrats!
We do have plans for potentially changing the layout of our living room (and getting different furniture) at some point in the next few years… but until then, I'm pretty sure we'll be sticking with our white couch.
What are your thoughts on white furniture?