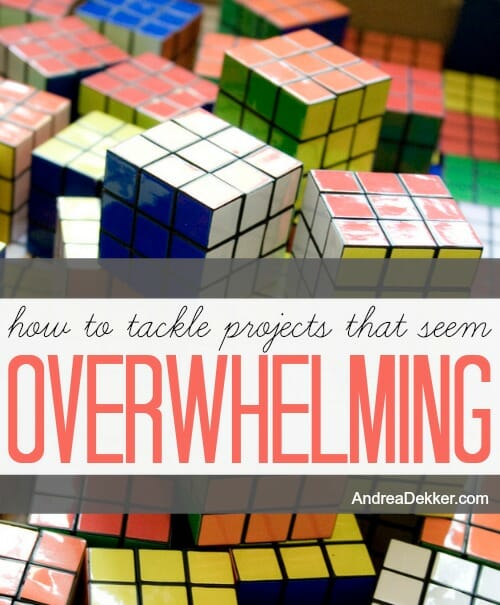 Over the past several years, one of the MOST common complaints I hear, in regards to getting more organized, is, "it's just so overwhelming… I don't know where to start."
Can you relate?
I know I can certainly relate to feeling totally overwhelmed — maybe not so much about an organizing project (because I'm weird and actually look forward to those!) but I have definitely had my share of "it's so overwhelming… I just don't know where to start" moments over the course of my life.
For example:
big school projects often paralyzed me for weeks at a time in high school and college — looming over my head until it was crunch time and I had no other choice but to get started or get a failing grade
long-term business projects often make me wish I turned them down because I just hate having those deadlines hanging off in the distance (one of the reasons I'll probably never write a book!)
simple home projects like painting a room or painting a piece of furniture often make me want to hide! I'll give myself every excuse in the book to put it off for one more day
So yes, I get it.
Overwhelming projects are, well, overwhelming — or at least they SEEM overwhelming for us at the moment.
Although I don't do a lot of in-home organizing anymore, I can confidently say that at least 90% of my clients contacted me because they were to the point where they felt totally overwhelmed with the clutter in their homes and lives and simply didn't know where to start.
Maybe they had tried to get organized in the past but didn't have a great system or didn't practice any maintenance — or maybe they never even tried. Either way, they were often convinced that they couldn't tackle their organizing projects on their own and needed to hire professional help.
Of course, I was able to help them weed through their clutter MUCH faster than they could have ever done on their own. In fact, I even had several people pay me for a few extra hours of time because they figured they would need me to come for weeks and months…. when instead, we finished in one day!
This is not because I'm some sort of miracle worker — it's simply because the projects really weren't THAT overwhelming once we just got started.
Some projects many of us might find overwhelming:
Cleaning the house — especially deep cleaning projects
Laundry — especially if you get behind!
Starting any type of home renovation
Organizing a closet, a basement, a pantry, a kitchen, a garage, or pretty much any other space
Taking control of your photos once and for all (this was a huge one for me several years ago!)
Paperwork — specifically coming up with a system to deal with it.
Gearing up for a garage sale
Selling several items on Craigslist, Ebay, or Facebook
Hosting an upcoming holiday party or event
Freezer cooking and/or canning
Meal planning
Completing a college (or advanced) degree
Setting up a budget
Paying off debt or setting up an emergency fund
Potty training a toddler
Starting up a business
Learning new technology or a new skill
etc. etc. etc.
All of these projects (and so many others) might SEEM overwhelming to us right now, but with a little bit of effort and a can-do attitude, I think you might just be surprised how quickly you will cross those projects off your list.
I know from my own experiences that this is often the case!
While I unfortunately can't sit down with each one of you and hold your hand through your overwhelming projects (wouldn't that be nice!), I CAN give you 3 general and very simple tips that will hopefully help you to finally tackle those projects that seem so overwhelming.
1. Do One Thing.
The absolute hardest part of starting any project is just that… getting started.
We tell ourselves that since we don't have time to do the entire project that it's not worth doing anything at all — after all, how much progress can we really make in 15-20 minutes?
Well, I guarantee you'll make more progress in 15-20 minutes than you will if you never get started!
Plus, by getting started and doing that ONE thing, you'll instantly feel more productive — which might just lead you to doing one more thing, and one more thing, and one more thing — until your project is nearly finished.
2. Do It Now.
Another huge obstacle when it comes to overwhelming projects is procrastination — and yes, I know this one all too well from personal experience.
It's SO much easier to say "I'll do that later" than to just suck it up and say, "I'll do it right now". However, I can speak from experience that often times, those projects we put off only take a fraction of the time to complete and then they're finished. We don't need to think about them for the rest of the day or the rest of the week. We don't have to keep pushing them to the next day's to-do list. And best of all, we have one less responsibility weighing us down.
3. Do It Again.
Just like we need to eat multiple times every day and shower multiple times each week, we also need to practice regular maintenance when it comes to keeping up with these seemingly overwhelming projects.
Just doing one thing right now is a great start, but the majority of the time, it will take more than a one-time effort to fully complete a project. And it will definitely take more than a one-time effort to continually maintain that completed project.
For example:
If your overwhelming project is cleaning out your bedroom closet, the first step would be to just do one thing (like purging 5-10 items of clothing you don't need, want, wear, or love).
The next step would be do it RIGHT NOW — not tomorrow, not when you have time, and not when you get around to it.
Then the final step would be to do that one thing (purging 5-10 items of clothing) again, and again, and again, until your closet is fully cleaned and organized.
Another example:
If your overwhelming project is freezer cooking, the first step would be to create a list of meals you want to make.
The next step would be to do that right now so you have that list to refer back to.
The third step would be to work at your freezer cooking efforts a little bit each day or each week. One day you make the list of meals you want to make, the next day you make a grocery list of all the foods you'll need to purchase to make those foods. Then you'll head to the store to buy the ingredients, and finally you'll start the baking and cooking process.
Just making the list of freezer recipes isn't enough (it's a good start, but it won't help you achieve your goal). You need to keep at it — doing a little at a time — until the project is finished.
.
Ok, so I told you these were really simple tips — and I know it's so much easier to tell you "this is all you have to do" than for you to actually do it. But I promise that I'm sharing these tips from lots of personal real-life experience… and they really DO work!
Also, these are GREAT lessons for our kids to learn as well — and by watching us get started on a project that seems overwhelming for us, we are showing them that life is not always fun and easy, but it IS very rewarding to finish one of the overwhelming projects on our list.
It sounds simple — but that's because it really IS simple.
Most of the overwhelming projects I've tackled (or helped others tackle) are almost laughable once we're finished. We think "why on earth did I put that off for so long when it only took me 3 hours one morning or 1 week of working at it a little each night?"
I have a hunch you'll feel the same way after tackling YOUR overwhelming project… so I'd encourage you to give these 3 simple steps a try.
After all, what's the worst that could happen?
What are your best tips for tackling those overwhelming projects?