The Saving Power of Waiting 24 Hours
posted by Andrea | 11/6/2015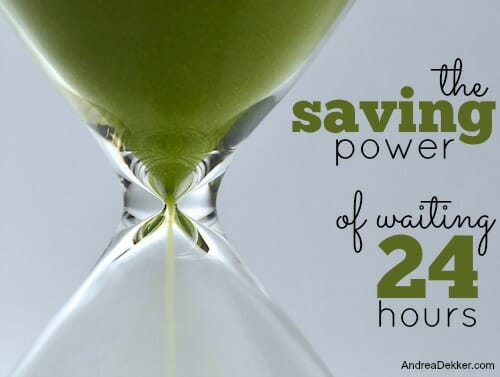 We're quickly approaching the time of year when there are so many sales and "great deals" that it's often easy to make quick decisions and impulse purchases that we might later regret.
Plus, many of the sales have an extremely limited time-frame (some are just for a few hours) making us feel like we need to grab the deal right now or we'll miss out.
Ahem… Black Friday and Cyber Monday! 
Dave and I have certainly made a few impulse purchases over the years — some of them were more costly than others. However, as much as possible, we try to resist these purchases by giving ourselves 24 hours to think before we shell out any cash.
If we really want the item badly enough, we'll get out the next day to go purchase it. If it's not worth the extra trip, then it probably would have been another impulse purchase that we regretted later.
Now, obviously, I don't use this rule for basic purchases like groceries, gas, etc. It's more for those items we don't need and weren't already planning to buy (more clothing, home decor item, a collectible, furniture, another book, something for a craft or hobby, new technology, etc.)
I also don't use this rule when I've been searching for a specific item or waiting for something to go on sale. In those situations, I pounce on a good deal when I see it and definitely don't wait another 24 hours.
Yes, waiting 24 hours might mean the item is already sold when I decide to go back the next day; but in those situations, I figured it's just not meant to be.
It's such a simple concept — and I know it has saved us hundreds of dollars on impulse purchases!
Have you ever saved by waiting 24 hours?