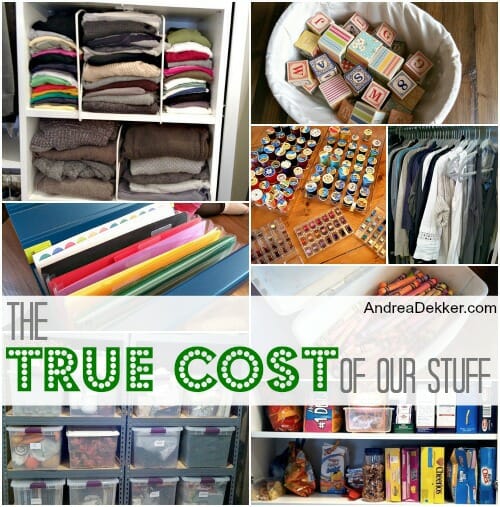 Today's post is an updated version of a post I shared a few years ago.
It is something I still think about every time we have the opportunity to bring anything into our home… and with "spring cleaning" season inching closer and closer, I figured it was a good time to re-share!
---
I think many of you know that I'm generally quite frugal… AND that I love to keep things neat and organized. Both of these factors work in my favor when it comes to simplifying and organizing my home.
Whenever I'm confronted with something I think I might want, my process usually goes something like this:
That's cute, and it's on sale, I should buy it.

Well, I technically don't need it and I'm not sure where I would put it.

I guess it's not that great of a deal… I'm sure I could come up with a better use for my money.

OK, I won't buy it!
Not that I think this is necessarily the right way to handle the situation, but I can pretty much talk myself out of buying ANYTHING — even if it's a super good deal!
Unless it's on my list as a specific need, I can almost guarantee that I won't buy it. In fact, I probably won't even accept it as a freebie!
.
I'm sure some of you might be thinking how boring, or un-fun, or super cheap I sound right now — but the fact of the matter is that even inexpensive (or free) items usually come with hidden costs that might end up being a burden later on. (Like that "free dog" we almost got this past summer!)
For example, when you bring something into your home, you'll eventually need to:
Find a spot to put it
Clean it (or around it)
Organize it (or around it)
Maintain it
Feed it
Water it (plants)
Put batteries in it or pay for electricity to run it
Buy accessories to go with it
Fix it if/when it breaks
Move it (if you move or change locations)
So even getting a fabulous deal or an awesome freebie almost always ends up using many MANY resources over it's lifetime in your home.
Not only does it use physical resources like space and money, it also uses resources like time and energy — both of which I have a short supply of these days!
For these reasons, it's very likely that I'll pass by even the best deal unless it's truly something I need AND something where the benefits of owning the item will outweigh the extra money, space, time, and energy it could potentially require.
I realize this might sound like I over-think simple purchases — but this thought process only takes a few seconds, and I'm sure those few seconds have saved me LOTS of time, money, space, and energy over my lifetime.
How do I decide to bring something into our home?
Obviously, there are plenty of items I DO bring into our home on a regular basis — but those are things I feel we actually do need.
For example, I'm a HUGE Craigslist shopper and usually have a running list of things I'd like to buy if the price is right. If there's nothing on my list, I don't even bother looking on Craigslist; however, if I have a few things on my list, I'll log onto Craigslist for 5-10 minutes every night and do a quick search for the items I'm looking for.
Once I find a good deal (in a decently close location) I'll jump on it — knowing it's something I actually need and that it will be worth the extra resources it might require.
I use this same philosophy when shopping for new items. I keep a list of items we need and then order them on Amazon.com or go to a store I know will carry that item, buy that item, and then leave again. I'm not big on window shopping so I just get what I need and then leave again 🙂
What about the stuff my kids bring into our home?
My kids aren't quite old enough to bring too much stuff into our home on their own, but with Nora being in school now, she does bring home a fair amount of papers, tchotchkes, and various other treasures… and of course, there are all the birthday gifts, Christmas gifts, and just-because gifts they get on a regular basis!
While I don't stop them from bringing things into our home like I stop myself, I DO work with them to remove other items in order to make space for their new "treasures".
If they get new clothing, it's usually because other things are too small, so we'll weed the too-small items out as the new items enter the closet.
If they get new toys, I will first ask if there are any toys they would like to give to someone else. Often times, they pick out a handful of items they no longer want and we donate them. If they are unwilling to pick out anything on their own, I will then remove a few of the toys I know they don't play with. To this day, I have never been asked "where is ______" so they clearly haven't missed the items too much!
When Nora brings home 18 papers from one day at preschool, we usually take a few moments to look through them all right when she gets home. Several of the papers are just for my information, so I can put the dates on my calendar and then toss the papers. If they are special papers she wants to keep, we put them in a little binder I have for her school stuff. We look through the binder periodically and it's always amazing how much stuff she's willing to get rid of after just being able to keep it for a few weeks.
I'll certainly need to continue to adjust this system as our kids get older, but for now, the fact that we even have any type of working system makes me happy!
.
In general, my goal is to only bring things we NEED into our home.
And if you think about it, I'm really not THAT crazy!
By taking a few seconds to question any purchase (or even freebie offers) I'm able to avoid wasting time, space, money, and energy — and that sounds pretty good to me!
Have you ever thought about the TRUE cost of your stuff?