Why We Don't Have College Funds for our Kids
posted by Andrea | 03/31/2014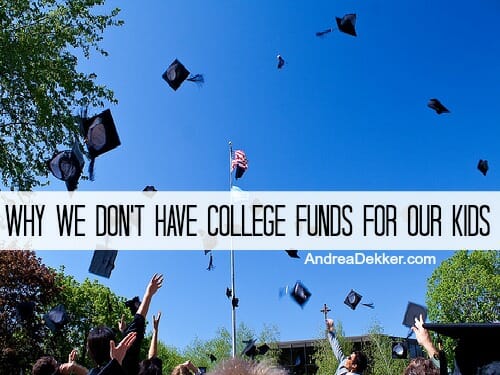 Almost immediately after Nora was born, I started getting asked if Dave and I would or would not set up a college fund for her and for future children.
Now, with the recent birth of Simon, I'm getting asked the same question again 🙂
The short answer:
No, probably not.
The longer answer:
Our kids are still really young and it will be 16+ years before any of our kids will be going to college. We have LOTS of financial goals to reach before then, and we feel those goals are more important than setting up a college fund for our kids.
Obviously, we will continue to evaluate this decision year after year, and we might very-well decide to start college funds for our children, but at this point, we just don't feel like it's a great use of our money.
Oh, and I should mention that although we aren't planning to set up a formal college fund, we DO plan to help our children with at least a portion of their college tuition if/when that time comes.
The "WHYS" to our answer:
I realize many of you probably think we're crazy for not setting up college funds for our kids — but we've actually given the topic a decent amount of thought and we have some pretty specific reasons WHY we're not currently setting up college funds for our kids.
1. We want to pay off our mortgage.
One of our goals is to pay off our mortgage in the next 2.5 years (before Nora starts school) and the amount of interest we'll save will be ridiculous — WAY more than the interest we'd make by keeping our money tied up in a college fund for our kids.
Plus, since we'll be living without a mortgage payment, we'll be able to put a lot more money aside for saving and investing (see next point).
2. We want to invest our money to make more money.
Once we have more disposable income and aren't "tied down" to a mortgage payment, we want to get a little more aggressive with our investing and work with our financial guy to help us make money from our money.
At this point, we have absolutely NO idea what we're doing when it comes to investments — we just have a few relatively safe mutual funds — but it's one of our goals to learn more about this (once we have the money to actually invest!)
3. We want to send our kids to a Christian school.
In another 2 years, Nora will be gearing up for preschool which means we'll be paying for Christian education for multiple children for the next 14-20+ years. Tuition is very expensive — but it's something we WANT to pay for. And since Dave teaches at a Christian school, we actually HAVE to send our kids to a Christian school whether we want to or not (no, he doesn't get a discount on tuition either).
4. We want to have plenty saved up for retirement.
At this point, Dave and I have been fully-funding our Roth IRA's each year since we've been married. We plan to continue doing this every year until we retire as we feel this is a very important use of our money. We don't want to be working when we're 75 — and since the life expectancy is getting longer and longer, we want to try to be as prepared as possible for our retirement days.
5. We want our kids to EARN their education.
Dave and I went to a relatively expensive liberal arts college (about  $25,000 per year for tuition + room and board). Our parents did help us out SOME, but we also worked multiple jobs to help pay for our tuition. We also applied for TONS of scholarships, grants, and special funds to help off-set the cost of our tuition and we took out student loans each year.
As I mentioned above, we DO anticipate helping our children to fund PART of their college education; however, even if we have the means to fully pay for their entire college education, we probably won't do it.
I saw WAY too many college students who slacked off because they didn't have anything invested in their education. They got a "free ride" from mom and dad (who sometimes took out a 2nd mortgage to pay for the tuition). Meanwhile, Dave and I worked our butts off to keep our grades up and keep our scholarships.
6. We're not against student loans.
I know loans aren't ideal, but the fact that Dave and I had student loans (and then paid them off really quickly) actually did a lot of good for our credit score!
Also, although we were both initially stressed out about how we would pay off our student loans, the whole process taught us a lot of financial responsibility — something we would not have necessarily learned if our parents had simply paid for all our college tuition.
We don't think it's bad if our kids also have to take out a few student loans.
7. We just don't want our money tied up.
Dave and I are the type of people who would MUCH rather save money than spend it — and because of this, we don't feel it's necessary for us to have our money tied up for so many years just to make sure there is something left when our kids get to college.
By not having college funds, we can use and invest that money for the next 14-20 years, all while keeping college tuition costs in the back of our minds… and then deal with them when the time comes.
I fully realize this method would NOT work for everyone — especially if you aren't naturally a saver — but that's how Dave and I view the situation at this point.
These are just a few of the major reasons why we've chosen NOT to set up college funds for our kids at this point in our lives.  But like I mentioned above, we will continue to evaluate this decision as time goes on.
College funds are a great way of setting aside money for your kids — and I definitely have no issue with anyone who DOES have college funds set up for their kids. It's just not something Dave and I want to do right now, and since I get asked so often, I thought it might be time to explain our reasonings in a blog post.
So now, when I get the emails and questions, I can just send the inquirers to this post 🙂
What are your thoughts on college funds?