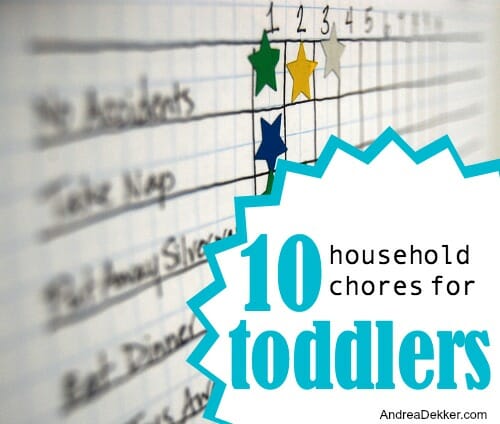 If I had my way, I would have one afternoon every week to devote to laundry, vacuuming, bathrooms, and other household cleaning tasks. I would be child-free, completely uninterrupted, and in my "zone".
However, since a full afternoon of completely uninterrupted cleaning isn't that feasible at this point in my life, I usually end up cleaning when my kids are around. This means I can either turn the TV on and let them watch while I clean, or I can get them involved and teach them how to help me clean.
I'll be honest, there are definitely weeks when I turn the TV on and plow through the cleaning on my own, but there are also many weeks when I try really hard to make the cleaning process fun and enjoyable so they want to help. It might take me 3 times as long, but I feel it's important to get my kids involved — not only so they can learn how to do basic household tasks and appreciate what I do for them, but also because they have a whole lot of fun "helping" me 🙂
If you're looking for a way to get your toddlers and preschoolers involved in household chores, these are a few of my favorites.
1. Dust
Dusting is pretty much a given when it comes to chores little hands can do. Of course, I'm not very particular about my dusting so whatever dust they get is good enough for me!
We have little microfiber mitts that they love using — and surprisingly, they do a decent job.
2. Sort and Fold Laundry
If I'm doing laundry alone, I very rarely sort anything except the whites. However, my kids love helping me to sort various colors into piles on the living room floor. Then, I tell them what piles to put in the washer and they excitedly race to the laundry room to shove the clothes in.
Also, even young children can learn how to fold some of the laundry (if you're willing to wait VERY patiently for them to finish!) Pillowcases, washcloths, hand towels, and socks are all pretty easy for small hands.
3. Empty the Dishwasher
Nora has been helping me empty the dishwasher for well over a year already. She started by just giving me the silverware and letting me put it in the drawer. Now that she is taller, she can put everything away on her own — even the plates and bowls (since we have them in a drawer). Cups are the only things she can't reach.
And even if they can't reach the proper cabinets, you could still have them put the dishes on the counter or hand them to you.
4. Make the Beds
I'll be honest, I'm somewhat particular about how my bed is made, so Nora usually just sticks to helping me make her bed. On rare occasions, I'll let her make my bed, but then I need to resist the urge to "fix it" all day long 🙂
5. Wash the Floors
For some reason, one of Nora's favorite things to help me with is washing the floors — and honestly, I hardly ever do it.
Since I don't want to deal with spilled water, I usually just give her a spray bottle (with vinegar and water in it) and a couple rags and let her go to town. She will literally stay busy in one small bathroom for at least 15 minutes.
I'm not sure how clean she actually gets the floor, but I'm sure it's not hurting anything!
6. Sweep the Floors
Around our house, I literally need to wait for the kids to be in bed before I can swiffer the floors. If I do it while they are awake, I am bombarded by small people who all want to use the swiffer. It's craziness.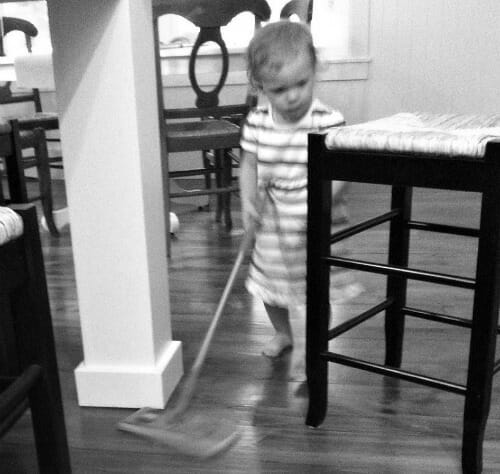 We also had to purchase additional push brooms for the garage because the kids were always fighting over who got to help me sweep out the garage floor. Now, Nora and Simon can both help and everything is right in their world!
7. Gather the Trash
I'm honestly not sure why, but my kids love throwing things away. Often, when I have some trash, I'll ask one of them to throw it away for me. It's not really extra helpful for me, but it keeps them busy, they enjoy it, and it gets them in the habit of helping and listening.
SIDE NOTE: Simon's favorite day of the week is "trash day". You will often find him by the front door awaiting the big trash truck, and both kids love walking to the end of the driveway with Dave to bring the trash and yard waste containers back to the garage 🙂
8. Scrub Anything
I'm not sure what it is, but my kids love scrubbing anything. We have a couple small scrub brushes that I let them use to "scrub the bathtub". I also let Nora use toothbrushes to scrub smaller items like toys, combs, and her play jewelry (I can't let Simon use the toothbrush yet because he always puts it in his mouth).
I'm not sure this ever really helps me a lot, but it does occupy them and at least they FEEL like they are helping.
9. Care for a Pet
Although we do not have a pet (although we almost got one!) I think toddlers could definitely be capable of helping with the pet chores around the house. They could brush the pet, scoop food into the food dish, pick up the pet's toys, etc.
10. Pick up Toys and Books
Last but not least, toddlers and other small children are certainly capable of picking up their toys and books — or at least helping with the process.
Both Simon and Nora are pretty good at helping to pick up (Simon is actually better than Nora). Nora doesn't like putting the books on the shelf, so our compromise is that she will bring the books to me and I'll sit by the shelf and stack them up.
The picture below still makes me laugh every time I see it — when Nora was pretty young, I asked her to "pick up all the toys in the living room". Instead of picking them up, she simply moved them off the living room carpeting and into the office!
These are just a few of the many ways even the youngest toddlers can help with household cleaning chores.
Although it might take a bit more time on your part, you will end up with a (somewhat) cleaner home, fewer to-dos, and you'll be teaching your children many valuable lessons in the process.
Plus, this is probably the only age where they actually WANT to help us clean — so we might as well take advantage of it!
Oh, and I should also mention that at this point, we do not have any sort of chore chart that we track chores on. We don't have set chores that our kids NEED to do, we don't give out rewards, we don't pay allowances, etc. We might very well implement some of these things when our kids are a little older, but for now, we just have fun cleaning!
What are your favorite chores for toddlers?