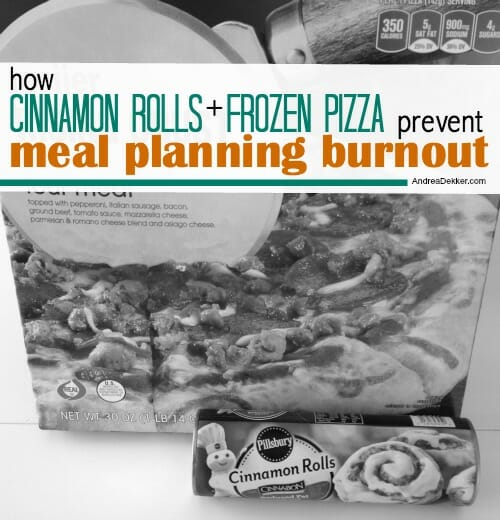 Right before the school year starts up, my email Inbox begins to fill up with meal planning questions. Everyone wants to hop back on the meal planning bandwagon in order to simplify dinnertime during the busy school year.
However, by the middle of October, I start getting emails from readers who are already burnt out and tired of putting time and energy into meticulously planning every meal every week… and you know what, I don't blame them!
Although I'm a huge advocate for weekly meal plans, I am also the first to say that you really do need to take some time off from the kitchen every week so you don't burn out.
As I'm sure many of you have experienced, planning for, preparing, and cleaning up meals day after day, week after week can feel totally exhausting and overwhelming if you never get a break — especially if you have a larger family to cook for. And if you constantly feel exhausted and overwhelmed, you probably won't stick with meal planning for very long.
Last year, I shared 6 ways I avoid meal planning burnout; however, after thinking about it a little bit more these past few weeks, I realize that one of the best things I do to avoid meal planning burnout is simply taking one day off from the kitchen.
My "day off" is usually Sunday.
Ever since Dave and I were first married, we have had a super simple Sunday meal plan that requires little to no time in the kitchen for me
Breakfast = refrigerated cinnamon rolls + fruit and yogurt
Lunch = a casserole I made the day before, or a meal with family
Dinner = frozen pizza + salad and raw veggies
The best part of all of this — Dave is the "chef" for the day!
He is in charge of making the cinnamon rolls while I'm getting the kids ready for church. He's also in charge of throwing the pizza in the oven and making the salads for dinner.
Sometimes we're invited over to one of our parent's homes for Sunday dinner, but usually I'll make lasagna, chicken pot pie, or some other casserole on Saturday afternoon so I can simply stick it in the oven on Sunday. We have very few side dishes with this meal, and I set the oven to turn on while we're at church so the food is almost ready when we get home.
Taking one day off from the kitchen each week is usually just what I need to eliminate meal planning burnout. Not only does my day away allow me to enjoy a little extra free time (and a cleaner kitchen), it also means that I only need to plan 6 days of meals each week instead of 7.
Plus, our kids LOVE the cinnamon rolls + pizza routine on Sundays. Nora will actually start to cry if we change things up 🙂
NOTE: Sometimes I'll make homemade cinnamon rolls the day before, or we'll make our own personal pan pizzas on Sunday, but usually they are store-bought.
Of course, you certainly don't need to do exactly what we do — maybe you always have donuts for breakfast on Saturdays, fast food for dinner on Fridays, order takeout during the week, or simply have one day where everyone fends for themselves. I think the important thing is that you purposely schedule a little "breathing room" into your meal planning routine so you don't totally burn out.
If you've never tried this route before, you might be surprised how much less overwhelming meal planning can be!
What do you do to get a break from meal planning?