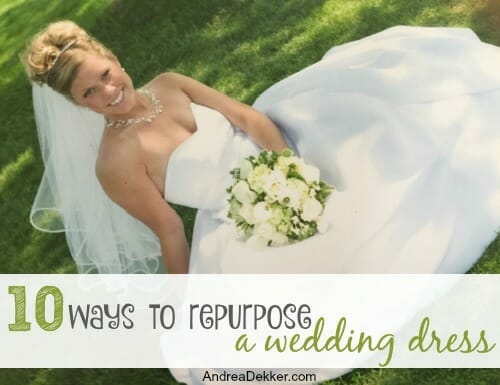 May is often considered the start of "wedding season" here in West Michigan — so since May is almost here, I thought it might be fun to share this updated version of a post I wrote 5 years ago.
Plus, Dave and I will be celebrating our 10-year anniversary in June — TEN YEARS! — so it only seemed fitting to share TEN ways to repurpose a wedding dress!
For starters, I should probably tell you what I did with MY wedding dress…
I chopped it up!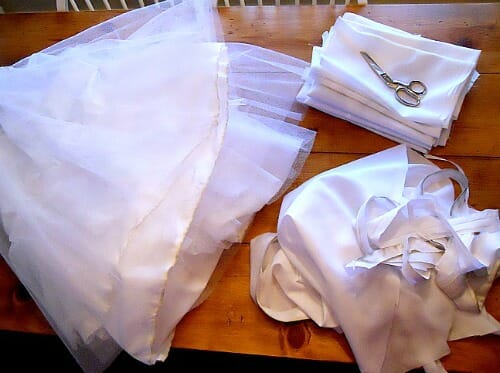 Yes, you read that correctly… I cut all the fabric off the skirt and put it in a small vacuum-seal bag to save for later. (Read more about my decision in this post.)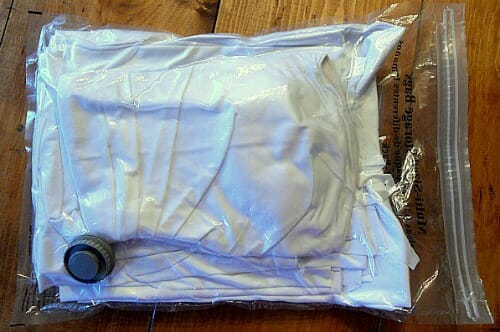 I remember feeling slightly hesitant as I made the first cut into my dress — but it was honestly so freeing to get the dress out of our extra closet and to know that I would eventually do something useful with the fabric.
As some of you know, I ended up using some of the fabric to make a super-cute baptism outfit for Simon — and ended up using the same outfit for James.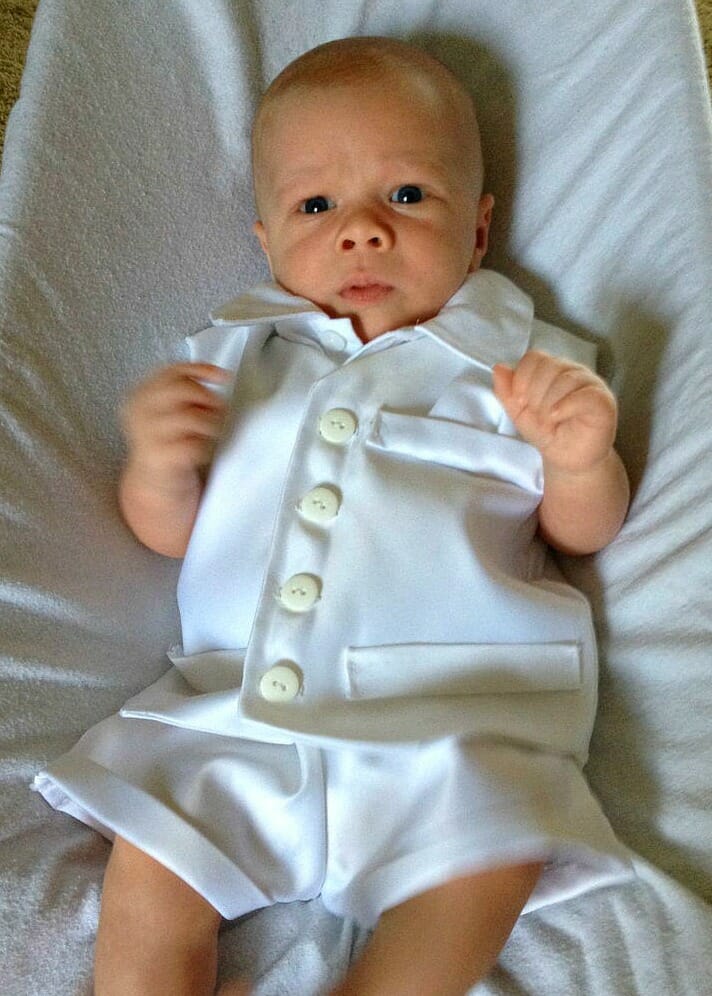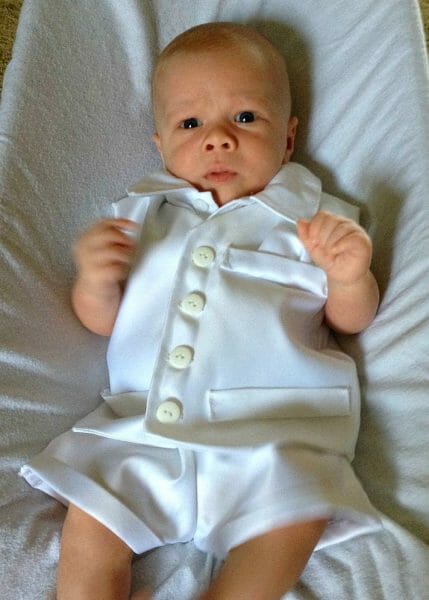 I am SO thrilled with how the outfit turned out — and that I got to use it more than once. This one outfit made it worth cutting up my wedding dress; I still hope to use the fabric for other "projects" in the future.
A little more about MY dress:
My dress was very plain — it didn't have any lace, beads, or other decorative trim, so it was very easy to cut up and get long panels of silky fabric.
Even still, some of you might be wondering why I would cut up such a precious keepsake (or such an expensive purchase).
Yes, I understand my decision might sound hasty or ridiculous; but keep in mind, I am NOT a sentimental person — especially when it comes to stuff. I don't like extra stuff sitting around my house, so there was no way I would ever want to store my dress for the next 50 years. It was either donate it, or cut it up and repurpose it into something useful — I chose the second option.
Also, my dress was $90 from the clearance rack 🙂
.
As I mentioned above, I am very happy with my decision to cut up the fabric from my dress; however, since I know many of you would not be willing to do this, I thought I'd share a few more ideas of ways to repurpose or reuse your wedding dress (many of which were suggestions from you, back in the comment section of the post I wrote years ago).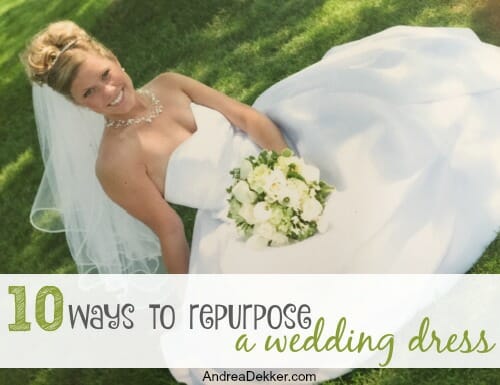 1. Sell it.
If your dress is a style that is still somewhat fashionable right now, there's a chance you might be able to sell it via Craigslist, Facebook garage sales, Ebay, a consignment shop, etc.
I would highly recommend setting a VERY reasonable price though. Even if you paid several hundred dollars for a dress, I don't know many brides who would be willing to pay even a few hundred for a used dress.
Also, I know there are consignment shops who sell bridesmaid and flower girl dresses too — so you might be able to make some money back for the rest of your wedding party as well.
2. Give it away.
If I didn't have plans to make the baptism outfit, I most definitely would have donated my dress.
Obviously, not everyone could simply give their wedding dress away, but I always see wedding dresses at thrift stores and secondhand stores, and I just think it would be such a blessing for someone on a limited budget to be able to wear a great dress (preferably while it's still in style!)
3. Donate it to raise money for a cause.
I received several comments from women who had donated their dresses to raise money for cancer or another great cause.
It sounds like there are different organizations like these in every state, so if you're interested, just do a quick Google search for places to donate wedding dresses in your area.
4. Donate it to the Mary Madeline Project.
Speaking of donating, the Mary Madeline Project has been suggested to me over and over and over again by blog readers.
The Mary Madeline Project doesn't use the dresses to raise money for a specific cause; instead, volunteers use wedding dress fabric to make itty-bitty burial outfits for stillborn babies.
I can't even imagine how it must feel to be in that situation, but I'm sure the last thing on those parent's minds is finding an outfit to bury their baby in. I know this ministry is meaningful and important to SO many families — it would be a great use for your old wedding dress.
5. Make another wedding, rehearsal dinner, or prom dress.
I know of people who have used parts of their dress to make prom dresses for their daughters — or even wedding dresses for their daughters.
I've also seen a trend of girls altering their mom's wedding dresses and wearing them as a "rehearsal dinner dress" — how cool is that!
6. Use the fabric to make anything.
As I mentioned above, I used my wedding dress fabric to make a baptism outfit for Simon and James. However, baptism outfits aren't the only thing you can make with wedding dress fabric.
Consider anything and everything from pillows, hankies, and garters (potentially for future children's weddings) to photo album covers, Christmas ornaments, baby quilts, doll clothes, stuffed animals, Christmas tree skirts, or decorative pillows in your own home.
Seriously, just search Pinterest for "ways to repurpose a wedding dress" and you will be amazed at how creative some people are!
7. Do a "trash the dress" photo shoot.
The "trash the dress" photo shoots became popular a few years after my wedding (and after I had already cut my dress into pieces). I have several friends who have done these photo shoots and they all turned out really great.
I actually know of wedding photographers who offer a trash the dress photo shoot as part of the wedding package if the bride is interested. That might be something to ask about if you, or someone you know, is getting married this summer!
8. Let your kids use it to play dress-up.
This is another great idea if you're not quite ready to get rid of your dress but want to do something useful with it. What little girl wouldn't love to play around with her mom's wedding dress?
I have actually thought about making Nora a mini dress (or even just a skirt) with the materials left over from my dress, but I haven't gotten around to it yet! Maybe this summer… maybe 🙂
9. Wear it for a Halloween or costume party.
I know SO many women who have worn their wedding dress multiple times for Halloween, costume parties, mystery dinners, etc. How fun!
10. Use it as a photo prop for newborn photos.
For those of you who just can't bare to see your dress trashed or cut up or used for play or donated, you can keep it in your closet and use it as a nice white fluffy backdrop for future newborn photos (this looks especially cool if you have a poofy dress).
.
These are just a few ideas I've had (and that I've heard from some of my readers); I'm sure there are many more!
Do you have any creative ways to repurpose a wedding dress?