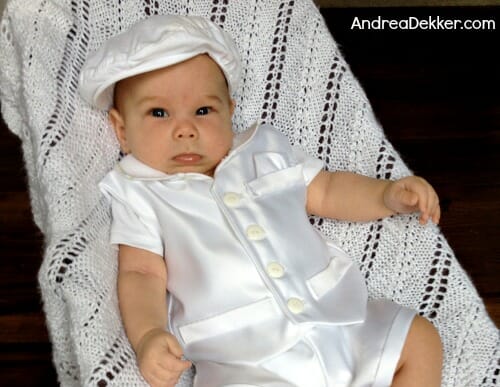 Simon was baptized this past Sunday, Mother's Day.
It was a lovely day, the weather cooperated, Simon cooperated, and Nora did the best she could for being 2 🙂
Almost all our immediate family members were able to make it to the church service… and I was thrilled to get my mom, Dave's mom, and my grandma to sing with me following the baptism.
This quartet was actually an idea I had back when Nora was baptized, but I was WAY too stressed out with life back then to even think about adding anything extra to my plate.
So when we were given a "March 4" due date, I thought it would be nice to do a Mother's Day baptism and that THIS time, the mother, grandmothers, and great-grandmother would sing. I almost chickened out again, but I'm so glad I followed through.
My mom re-wrote the music (Children Of The Heavenly Father) so it was a full 4-part harmony at times… it sounded really nice.
After church, we had our family over to our house for a yummy brunch.
(The MENU: https://andreadekker.com/bacon-wrapped-sausage-bites/, fruit salad, cinnamon rolls from Dave's mom, blueberry muffins, banana chocolate chip muffins, and an egg dish… I'll be sharing that recipe next week.)
We did not go hungry!
.
Oh, and did you notice Simon's little outfit? It's made out of the fabric from my wedding dress!
This was the last project on my "to-do before baby list" and although I didn't finish it before he was born, I did finish it over a week before the baptism (so not too bad!)
I was a little intimidated by this project because I rarely ever sew from a pattern (I usually just "wing it"). However, after putting a little pressure on myself to get started, I made the shorts one night after the kids were in bed, and then the vest the next night.
Looking back, I'm actually glad I didn't make the outfit before he was born because I think I would have made it too big. After I cut the pieces out for the 3 month size, I held them up to Simon and they were HUGE HUGE HUGE.
Although he's currently wearing mostly 6 months clothes, in the 90% for height, and the 75% for weight, I actually used the newborn pattern for this outfit. Crazy!
There are a few places where I messed up and had to go back and fix it — but I was really pleased with how quick this sewing project was and that it actually looked pretty cute. Although I'm sure it doesn't hurt to have a cute model 🙂
I borrowed the adorable hat from my neighbor friend (Rochelle with the amazing chocolate chip cookies) and I feel like it just completed the outfit. Thanks Rochelle!
It was such a nice day.
I'm so glad we were able to celebrate with our families and that I was finally able to make something with the fabric from my wedding dress (there's plenty more fabric for other projects too!)