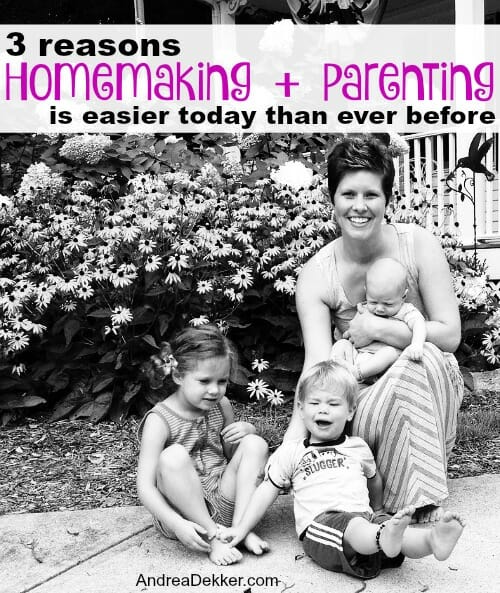 Last week I shared a post about how parenting in the 21st century is so much different than parenting back in the 60's, 70's, and 80's (read the full post here).
After publishing that post, I got a comment that I've been thinking about ever since…
My mom was raised in the 60s… she described her mom seeing her occupation NOT as a stay-at-home parent but as a homemaker.

Her job was keeping house, not caring for kids. She did the same things before and after having kids at home as she did while they were at home.

But you know what? My mom also says she grew up wishing her mom would have spent more time with her instead of doing housework all the time!
For the last week, I've been thinking about the huge difference between being "a HOMEMAKER who takes care of their children" and being "a PARENT who takes care of their home" and I just can't help but feel so completely blessed to live in the day and age where it's "cool" to be a stay-at-home-parent, and where we are encouraged to put our families before our things.
Although I greatly appreciate and value 'neat', 'clean', 'simple', and 'organized', I'm also fully aware that the people in my life are more valuable and more important than an organized closet, a made-from-scratch menu plan, a weed-free garden, or a zeroed-out Inbox.
However, this does not mean my house is totally chaotic and cluttered, that we eat fast food every day, or that we have piles of dirty laundry covering our bedroom floors.
No way!
For the most part, my home is neat and organized, my laundry is under control, I have a simple weekly menu plan, my email is manageable, and my garden is actually looking pretty nice these days — PLUS, I still have plenty of time to play with my kids, go on field trips with Nora, take bike rides to the park, build forts in the living room, and plan fun crafts and activities.
No, I'm not Wonder Woman, no I don't have magical powers, no I am not that much "better" or more efficient than women of previous generations… I simply have a few things working in my favor!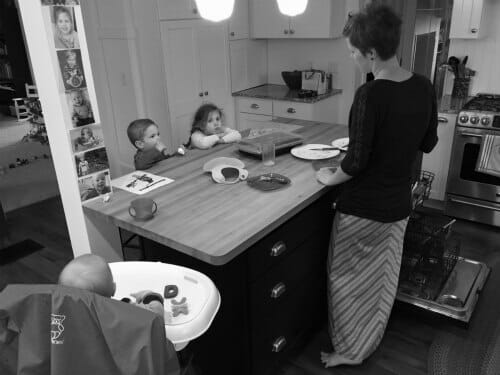 In my opinion, there are 3 major differences between being a parent and a homemaker today versus previous generations… these 3 differences have made the combination of homemaking + parenting easier than ever before.
Please note I did NOT say "easy"… just "EASIER"!
Thanks to these 3 differences, we now have the luxury of putting our family first… AND still staying caught up on our various homemaking duties and responsibilities.
Let me explain…
1. We have more support and encouragement.
I know I've only been around for 30 years, but in my opinion, it seems that dads are more involved in family life than ever before. It is not only acceptable and expected, but also "cool" for dads to be very involved in home life, to spend time with their children, to help out with household chores, and to invest in their families' lives.
Many employment places now offer paternity leave for dads to take off from work after a baby is born, and there are more options for dads (and moms) to work from home than ever before. We know a handful of stay-at-home dads, and I even know a couple of homeschooling dads — pretty cool!
Dave and I also have quite a bit of help and support from both sets of grandparents (which I KNOW was not common in past generations)… and thanks to Facebook, blogging, and other online groups, I have felt so much love, encouragement, and motivation as I find my way as a mother and a homemaker (and I know many other young moms and homemakers who feel the same way).
2. We have more modern conveniences.
I have heard MANY of my grandma's stories about all the work she had to do just to keep food on the table and clean clothes in the closets. She worked from sun-up to sun-down (as did my Grandpa) just to do the basics. It's no wonder no one had weight issues back then!
Nowadays, our homes are fully loaded with dishwashers, huge refrigerators, extra deep freezers, washers, dryers, top-of-the-line vacuums, automatic everything, a whole slew of helpful small appliances, and super effective cleaning agents (hello Oxiclean!)
This makes it possible for us to keep our homes neat and tidy in a FRACTION of the time our mothers, grandmothers, and great-grandmothers needed.
We can buy anything we need and have it shipped to our home in 2-3 business days — which means we don't need to make our own, or spend countless hours running errands every week.
Our grocery stores and farmer's markets are overflowing with delicious produce — which means we don't need to grow and preserve all our own produce… and there are so many restaurants and semi-homemade food options at the grocery store that we could get away with not cooking for days and weeks on end.
We also have access to SO many services that we can simply hire to do the work for us — carpet cleaning, dry cleaning, window washing, meal planning, grocery delivering, house cleaning, lawn mowing, leaf raking, home repairing, etc. Our time is freed for other things like family, friends, and recreational activities.
And let's not forget about all the amazing "gadgets" available to make parenting little ones SO much easier (and safer) — disposable diapers, monitors, bouncy seats, car seats, sippy cups, pre-portioned snacks, baby carriers, iPads, DVDs, etc. etc.
3. We have more information and resources.
Although it can be overwhelming to weed through the mountains of information and resources available to us these days, I have a hard time seeing the excess information as anything but positive and helpful.
I have personally learned SO many new skills thanks to YouTube, Google, various blogs, eBooks, and the internet in general.
If I need a new recipe, I can find one in seconds. If I'm looking for a fun activity for my kids, I scroll through Pinterest for 10 seconds and have a week's-worth of fun activities planned.
If I need to know how to clean stained grout, I'll have 500 different articles at my fingertips in seconds… and if I'm trying to fix my sewing machine (or just about anything else) YouTube usually saves the day.
There are fabulous eBooks and blogs on every topic under the sun, and it's all available to us with a click of our mouse — everything from cleaning, organizing, and time management to menu planning, freezer cooking, canning, and preserving. And then there are ALLLLLLLLL the parenting tips, tricks, books, articles, websites, and resources. We could literally learn something new every single day without much effort!
.
Homemaking and parenting has never been (and will never be) "easy", but with a little extra support, some helpful modern conveniences, and a boatload of useful resources, it is getting EASIER!
What are YOUR thoughts on parenting and homemaking today, and in past generations?