As many of you know, Nora has always been somewhat of a high-maintenance child. She is super cute, smart, funny, and creative. But with her sensory issues, overly anxious personality, and overall "touchy" disposition, it doesn't take much to push her over the edge.
Add in the fact that she's right in the middle of the "terrible threes" and it's not a huge surprise that we experience many MANY tantrums on a daily basis. I do think some of them are triggered by her sensory issues… but I have a feeling MOST of them are pretty normal "3-year-old issues".
Last week, we had one particularly rough day… and when Dave got home from school, I felt like I could immediately crawl into bed and sleep all night long. It was just SO frustrating and exhausting to deal with toddler tantrums throughout the day.
I'm sure MANY of you can (or could) relate at one point in your life!
That night, after the kids were in bed, I felt the need to channel my frustration somehow. The only thing I could think of was making a list (you know I love my lists) of every little thing that caused her to have a tantrum that day. After I was finished, I realized it was actually a pretty hilarious list — and I figured it might make a somewhat humorous blog post.
So without further adieu, here are 101 Nora had a tantrum (yes, all in one day).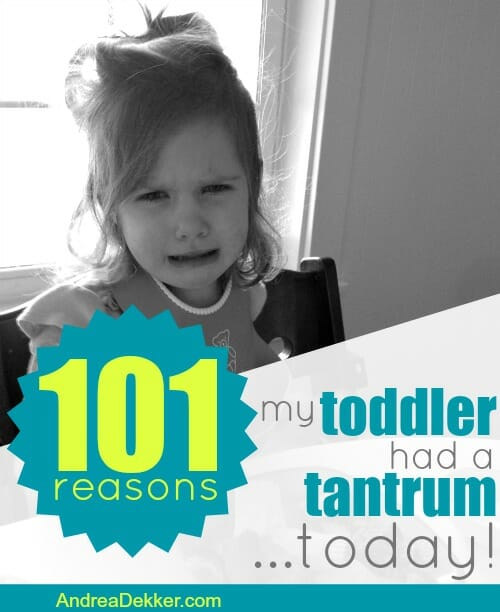 101 Reasons My Toddler Had a Tantrum… Today
Because I put her back in bed when she woke up at 5:00am
Because she apparently still wasn't tired at 6:00am (so we got up)
Because she peed through her pajama pants and it didn't feel good
Because I made her change her pee-soaked pants
Because I made her wash her hands after going to the bathroom
Because I turned on the warm water to wash hands and she "doesn't like that water"
Because her hands got cold after washing them with the cold water
Because her socks didn't feel right
Because her robe was turned inside out and she couldn't get it on
Because she couldn't find her slippers
Because she was SOOOOOOO hungry
Because 2 of the grapes I gave her were "mashy"
Because 1 waffle wasn't enough
Because I wouldn't give her a marshmallow after breakfast
Because she drank all her water and was still thirsty
Because she dragged her sleeve through some of the syrup from her waffle
Because we changed the syrup-stained shirt
Because I needed to brush her hair and it apparently was "ouchy"
Because I put a ponytail in her hair to keep it out of her face
Because she noticed a microscopic cut on her finger
Because the Band Aid I put on the microscopic cut didn't feel right
Because the Band Aid she took off the cut (after I told her not to) wouldn't stick when she tried to put it on again
Because Simon was now awake and he was playing with some of her toys
Because she lost the cap to one of her dry erase markers so it dried up



yes, it's only about 8:00am at this point

Because we couldn't go upstairs to play until we picked up the living room
Because I wouldn't pick everything up for her
Because Simon had to come upstairs with us and couldn't just stay in his crib
Because it wasn't Sunday and we couldn't eat cinnamon rolls
Because Dad was gone at work all day
Because she didn't have enough pillows for all her dolls to have their very own
Because she couldn't find her tiny duck finger puppet
Because Simon touched her favorite flashlight
Because she couldn't build as tall of a block tower as she wanted to
Because her cut finger was REALLY REALLY REALLY hurting
Because I gave her a timeout for slamming a door (which I've asked her not to do repeatedly)
Because I asked her to say, "sorry for slamming the door" and she just didn't have any 'sorrys' left to say
Because I said she shouldn't run with her Princess Elsa high heel shoes on
Because she fell while running with her Princess Elsa high heel shoes on
Because I asked her to stop picking her nose
Because I wiped her nose
Because it wasn't lunch time yet and I still wouldn't let her have any marshmallows (I did say she could have a banana)
Because her play cash register wasn't working properly
Because I had to go downstairs to put Simon down for a nap (this literally takes me 5-7 minutes)
Because I finally said "no" to her request for "one more book" after 45 minutes straight of reading
Because she couldn't decide which of her TWO coloring books to color out of and my suggestions were no good
Because she couldn't find the exact right color of crayons to use for her picture
Because I wouldn't let her get in Simon's crib (while he was still sleeping)
Because she was SOOOOO hungry for lunch
Because I made her go to the bathroom before lunch
Because I made her wash her hands (again) after going to the bathroom
Because her shirt sleeves got a little wet while washing her hands



lunch time… finally!


Because she only wanted pickles and Cheetos for lunch
Because she couldn't finish her lunch but still wanted a cookie… and I told her no cookie unless she finished her lunch
Because she realized she forgot to wear her bib after she was finished eating her lunch
Because it hurt her cut when I wiped her hands after lunch
Because I had to go to a Dr. appointment after lunch
Because I came home from the Dr. appointment which meant Nana went home
Because she was SOOOOO hungry for a snack
Because I apparently didn't give her the right ratio of goldfish crackers to pretzels for her snack
Because she drank all her water… again
Because she was too warm
Because I asked her not to mix all the PlayDoh colors
Because she couldn't find her PlayDoh rolling pin
Because a delivery person dropped off a package and she didn't recognize him
Because I wouldn't open the package immediately once it arrived
Because Dave came home from school and was ready to play with her (obviously, I can see why this upset her)
Because Dave was going to play with Simon too
Because I wouldn't give her another snack right before dinner
Because I cooked dinner without her
Because Dave wouldn't let her feed Simon
Because we had to pick up before dinner



dinner time at last

Because she didn't want a smoothie with her dinner
Because she drank her smoothie and we wouldn't give her more until she ate some of her other food
Because she realized there were frozen blueberries in her smoothie and she apparently only likes frozen blueberries "out of her smoothie"
Because she couldn't eat her eggs and only had room for a cookie
Because we didn't give her a cookie
Because we asked her to stop trying to "help" Simon walk
Because she was pretending to be a bunny and was stuck at the top of the stairs and I wouldn't go up there to carry her down
Because we let her watch Curious George but it wasn't the right episode
Because it was time to clean up the toys
Because she didn't want to take a shower
Because (after I explained tonight was not a "shower night") she DID want to take a shower
Because her usual pajama pants were in the laundry (filled with pee) and she had to wear different pants
Because I had to take her ponytail out and brush her hair before going to bed
Because she wanted Dave to read the book completely out of chronological order (they are reading her first chapter book, a little every night)
Because she couldn't decide on a bedtime snack
Because she didn't want to brush her teeth
Because she didn't want to wash her hands
Because her cut finger still really hurt
Because we were all out of the tiny Band Aids for her finger



early bed time tonight!


Because she didn't want to go to bed
Because she was so tired she couldn't sleep
Because she couldn't get comfy in her bed
Because her pillow wasn't in the perfect spot
Because Annie the doll didn't have the right blanket
Because the next day still wasn't Sunday
Because Dave had to go to school the next day
Because the book we were going to read had a rip in it
Because I wouldn't read more than 1 book (we always only read 1 book in her bed)
Because I wouldn't leave her bedroom light on all night long (she has 2 nightlights)
Because her door wasn't open to the exact right angle and it was too dark in her room
So there you have it — a day in the life of my three-year-old!
Obviously, this was a really bad day for us… but many of these tantrums do happen every single day (specifically washing her hands and snacks!) Some are more mild tantrums, while others are full-blown, crying-on-the-floor tantrums.
I will say that we still ended the night on a good note with a kiss goodnight and saying "I love you" before I went downstairs and crashed on the couch for a bit.
For the record, I would say Nora is generally quite fun to be around — and she regularly has us doubled over laughing. We've just been experiencing a bit of a rough patch lately… I can only imagine what the teen years will bring!