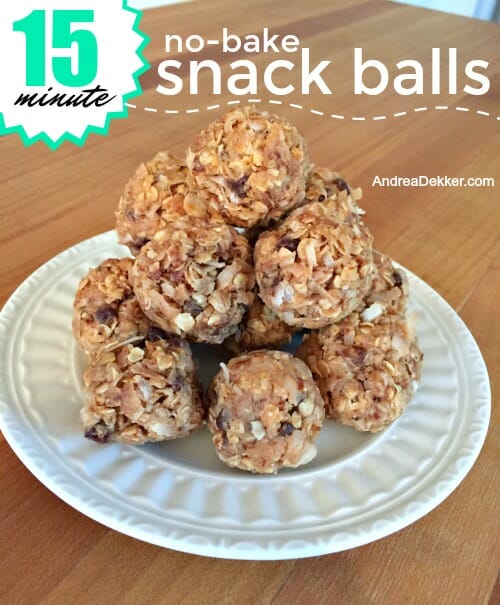 Dave and I have always enjoyed snacks throughout the day — and our snacking habits were quickly passed on to our children 🙂
We try to have lots of nutritious snack options available for morning and bedtime snacks — yogurt, clementines, apple slices, bananas, frozen grapes and blueberries, raw veggies, cheese sticks, etc. — but our afternoon snacks are often more fun.
The kids can choose between pretzels, goldfish, animal crackers, vanilla wafers, granola bars, muffins, and sometimes even fruit snacks, candy, or popsicles (in the summer).
They LOVE their afternoon snack — especially because we usually let them watch part of a movie or a show on Netflix while they munch away.
In an effort to add a few healthier options to our afternoon snack, I'm always on the lookout for super easy snacks that are slightly more nutritious than traditional baked goods or store-bought goodies, kid-friendly, and have a decent shelf/freezer life.
Today's recipe definitley fits all my criteria — which is probably why it's a favorite in our house!
Not only can I make roughly 30 of these yummy no-bake snack balls in 15 minutes or less, they are SO good, and they last for weeks in the fridge (even longer in the freezer).
I've seen similar recipes called "energy balls" or "healthy granola balls" — but I just call ours "snack balls" because I'm honestly not sure how "healthy" or "energizing" they are.
I DO know they are more nutritious than a cookie or brownie, I know my family loves them, and I know they are ridiculously easy to make — so for now, that's good enough for me!
Recipe for 15 Minute No-Bake Snack Balls
makes 30-35 balls
INGREDIENTS:
1 c. oats (any kind will work — I like the smaller quick oats for this)
1 c. shredded coconut (sweetened or unsweetened)
1/2 c. mini chocolate chips
1/2 c. creamy peanut butter (or substitute butters)
1/4 c. – 1/2 c. honey
NOTE: you can definitely add in extra ingredients based on what you have in the house. Some ideas are:
ground flax seed (I almost always add this into my balls)
chia seeds or sesame seeds
protein powder
craisins or raisins (you might want to chop them up a bit first)
finely chopped nuts
DIRECTIONS:
In a medium bowl, mix all ingredients until combined.
Scoop out a heaping Tablespoon of oat mixture and roll into a ball.
Refrigerate balls on a parchment lined cookie sheet for 30 minutes
Store balls in a tightly sealed container in the refrigerator, or freeze for later.
That's it! 15 minutes or less and only 1 bowl to wash!
These snack balls are so tasty — just the right amount of sweetness without being too sugary.
Also, these are really fun for kids to help with — it's fairly easy for them to roll the mixture into balls if I scoop out an appropriate amount. And they love snacking on the little bits that fall while they are rolling.
I'm positive there are healthier snack options out there… but considering my kids love these balls, they aren't pure sugar, and they are super easy to make, they are winners in my book!
What are your favorite healthier snack options?
Visit my virtual recipe box for more simple, delicious, family friendly recipes!