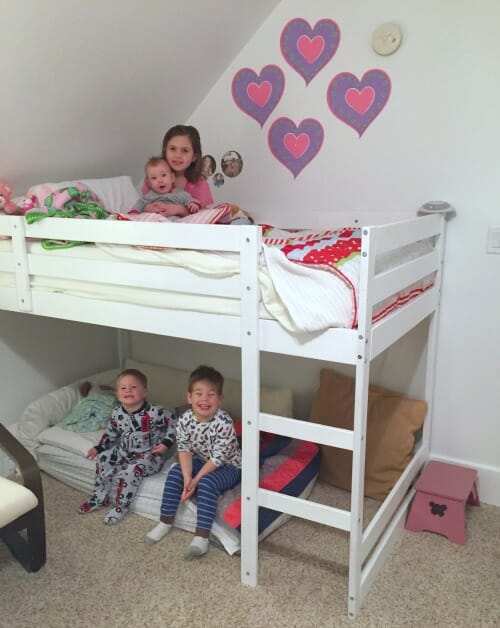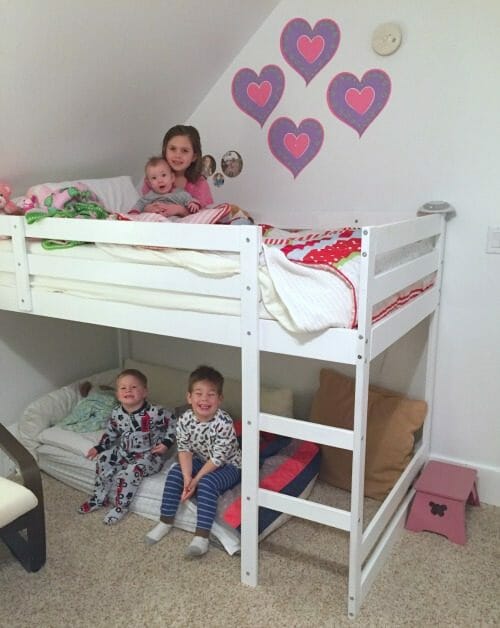 Remember this past summer, when I spent hours upon hours (while 7-8 months pregnant) painting, moving furniture, installing closets, hanging decorations, and sewing bedding in an effort to transform our upstairs bedrooms into fun places for our children to sleep, play, and hang out?
If not, let me refresh your memory…

Here's Nora fabulous bedroom before and after pictures.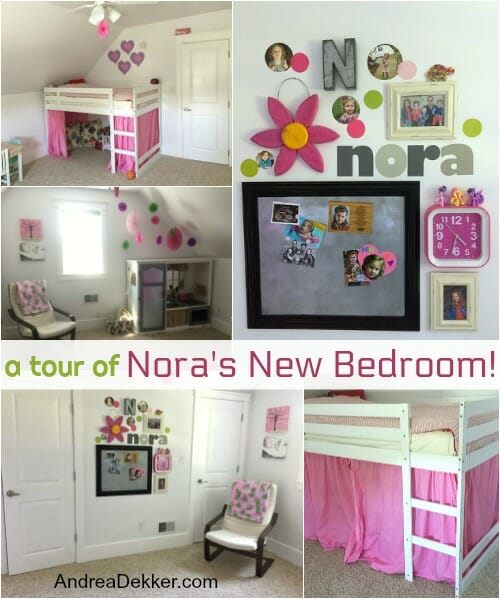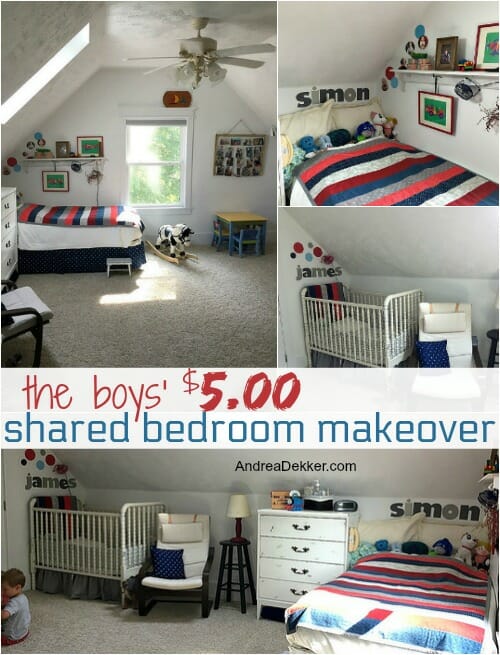 Seriously, their bedrooms were SO cute!
.
Everyone loved their bedrooms, slept well, and we were all happy.
Then, around Christmas time, Nora started waking up frequently every single night, crying that she was scared to sleep by herself. Since Nora has always been our "worst" sleeper, we didn't really think much of it.
However, after about a week of complaining she didn't want to sleep by herself, we found her sleeping on the floor in the boys bedroom several days in a row.
At the same time, James said he wanted to sleep in a big boy bed; so Dave and I decided we would move the bedrooms around… again!
.
Since Nora's mini loft/bunk bed wouldn't fit in the boys bedroom (their ceiling is even more sloped than her ceiling is) we opted to put all 3 kids in Nora's room for now.
This way, James could sleep on the bottom of Nora's bunk bed (which is essentially on the floor right now) so he won't get hurt if he falls out of bed.
We moved the play kitchen out and replaced it with Simon's bed and the boys' dresser.
James sleeps under Nora's bunk on his crib mattress.
We DO have the bottom bunk for Nora's bed, and we plan to attach it soon. However, James just started sleeping with undies on, and crib bedding is much easier to wash if he has an accident — so we're holding off on the twin bed for a little longer 🙂
He LOVES sleeping under Nora's bed and Nora loves having her brothers in her room.
Nora's clothing is still in the left closet and dress up clothing is still in the right closet.
And even though most of the boys clothing is in the dresser, they still have a few things that need to be hung, so I put another rod in Nora's closet for their dressier clothing.
The boys old room is now a gigantic play area!
Part of me is annoyed that we rearranged everything only 5 months after I put so much work into their bedrooms… but it is sort of sweet to hear them all talking together at night.
I figure it won't be too much longer before Nora will want her own room again (or before Clara moves upstairs to share with her). So I'll let them all enjoy their nightly bonding time for now!
Oh, and in case you're keeping track, this makes NINE different bedroom set-ups in the two upstairs bedrooms over the last 2.5 years!
All 3 kids' shared bedroom (today's post)
Good thing I really enjoy moving furniture!