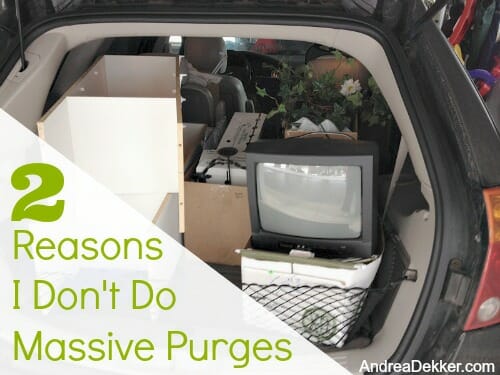 Over the past few years since I started my blog, I've gotten several requests to share more organizing project before and after photos… and I understand why. Those types of post are really inspiring and motivational — plus, who doesn't love a good before/after decluttering makeover post!
I sure do!
P.S. In case you missed it, I shared our mudroom renovation earlier this week!
The only problem with this is that I rarely do any massive purges or huge organizing projects around my house anymore. The last semi-big purge I did was when we moved Nora to her new bedroom upstairs — almost 7 months ago already. Since then, I've only gotten rid of a few small bags of items at various times.
This is not because I'm lazy, not because I don't have time, and certainly not because my home is a huge dump all the time.
It's because…
1. I don't bring a lot of extra stuff into my home.
I try really hard not to bring anything into my home unless we need it AND unless we have a specific spot to store it. If we don't need it, I don't bring it in (even if it's free). If we don't have a spot to store it, I try to figure out what we can get rid of in order to make the space for it.
This is a constant, daily challenge for someone like me who loves scouring garage sales, thrift stores, and other bargain stores. However, now that I'm in the habit of questioning all my purchases, I'm saving lots of time, space and money. If it's not something we need or if we don't have a space to store it, I will (almost) always leave it be — even if it's an amazing deal.
2. I regularly do mini-purges throughout the year.
Although I honestly DO try to keep things out of our house, so many things just seem to find a way in 🙂
Also, with little children, we are constantly out-growing clothes — and then giving some (or often most) of them away.
I always have a "donation" bag or box ready for anything I no longer want. Once it's full, I put it in the back of my car and drop it off at the local donation center whenever I'm driving by. I like being in the habit of consistently purging because it doesn't feel like work when I'm only purging one or two items at a time. I also like being in the habit of regularly stopping by the donation center and moving things out of my house.
That's it!
It sounds simple… because it IS simple.
By making a point not to bring clutter into your home and then regularly removing anything you don't love, need, want, or use, your house should stay mostly clutter-free most of the time without the need of massive purges that take up your entire weekend.
Oh, and for the record, I understand that not all the clutter brought into your house was brought there by YOU… but I'm certain it can't hurt if you personally start implementing the 2 techniques above. Who knows, the rest of your family might catch on eventually 🙂
Do you have any other tips to avoid massive purges?