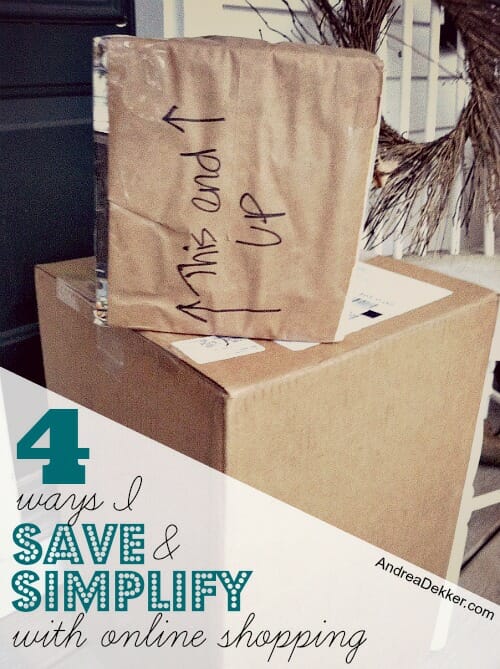 I've never really enjoyed going shopping; however, I also never discovered the amazing world of online shopping until a few years ago. In fact, I never purchased anything online (even from Craigslist) until after we were married!
Over the past 3 or 4 years, I've almost entirely switched to online shopping (these are my favorite online shopping sites), and I cannot believe how much it has helped me to simplify my life.
If you've never tried online shopping, or if you've been nervous or intimidated about buying something online, or even if you're just not quite sure how it all works, I hope that this post will give you the motivation you need to jump in to the world of online shopping.
If you do it "right", you should be able to save a bunch of time, energy, stress… and money!
Let me explain…
1. I save time:
Obviously, shopping from my computer is going to save me MASSIVE amounts of time. Not only can I quickly search and browse for what I need without driving to many different locations, I can also shop when it's convenient for me — which is almost never when normal stores are open.
Also, when I shop online, I can read the reviews and check out similar items on Amazon.com — saving me time returning items that don't fit my needs. I've already changed my mind on many children's products after reading pages of negative reviews — and Amazon.com is great for comparing similar products without driving all over town.
Most importantly, when I shop online, I save time by always shopping alone… which brings me to my next point 🙂
2. I save energy:
It takes a lot of energy to load up the diaper bag, the stroller, the kids, and then corral them throughout an entire shopping trip.
By the time I drive to the store, unpack the stroller, get kids in the stroller, give kids a snack so they don't whine about being at the mall, and walk into the mall, I'm just about ready to leave. I realize this is because I don't particularly enjoy shopping, but shopping via my computer is SO much less work!
Not only is the internet almost never "sold out" of what I want to buy, I don't have to wait in line to buy it, and I never have to worry about losing a child in the store!
3. I save stress:
In general, shopping is a very stressful and overwhelming activity for me (yes, I realize how ridiculous this probably sounds to many of you, but it's true!) so being able to "hide" behind my computer screen in the privacy of my home is pretty fabulous.
Once I get into the store with 2 children, I feel like it's basically impossible for me to have a fully coherent thought process, which makes finding what I came to the store for that much more challenging. Grocery shopping with a detailed list and nothing to try on is bad enough — clothes or home goods shopping is simply out of the question for me if the kids are tagging along… and they are usually tagging along 🙂
Another stress-saver is when it comes to holiday gifts — for myself and for others. I keep an Amazon wish list for myself, stocked with things I'd love to have but don't necessarily need — and when someone requests gift suggestions, I can either point them to my list or suggest a couple of those items I know they can find at local stores. I can also check other people's wish lists (if they have them) or start lists for various family members as I think of things throughout the year. This makes holiday shopping SO much less stressful!
4. I save money:
I've had a handful of people tell me that they actually spend MORE money when shopping online — but I'm very convinced that I spend less. Although, I suppose if my only option was shopping in-store, I probably would never buy anything, so I would eventually end up spending less.
Anyway, when I shop online, I can compare prices to find the best deal. I can also check out similar items (and, as I mentioned above, read products reviews to know I'm getting a quality item).
Almost all the coupons I get for "in-store" also come with a promo code to use online — AND I use Amazon.com gift cards purchased with Swagbucks to get free products via Amazon.com.
I've also gotten a fair amount of ThredUp and Twice referral sales so I can use that credit to buy clothes for me and the kids from the comfort of my own home. In fact, just last week, I purchased some fall items for myself, Nora, and Simon using ThredUp credit and a $20 off coupon they sent me in the mail!
Shameless plug: If you sign up for ThredUp and/or sign up for Twice through my referral link, we BOTH get $10 off our next order 🙂
When it comes to shopping online, the money-saving aspect I love most is that once I have the items I'm thinking of buying in my shopping cart, I can wait 24 hours (or more) before actually buying them, which gives me a chance to think about my purchases before actually submitting my payment.
This might sound trivial, but there are many times when I remove items from my shopping cart before checking out because I know I can get by using something else.
.
To date, I've used the internet to buy everything from clothing and kitchen supplies to books, furniture, baby products, toiletries, electronics, and even non-perishable food. I'd love to start ordering all my groceries online but I'm currently not aware of any local stores that offer this service (let me know if you do) — some day!
The internet has many benefits for me (my job being one of them!) but online shopping ranks pretty high up there on my list of "ways to simplify my life with technology".
What about you… are you a fan of online shopping?