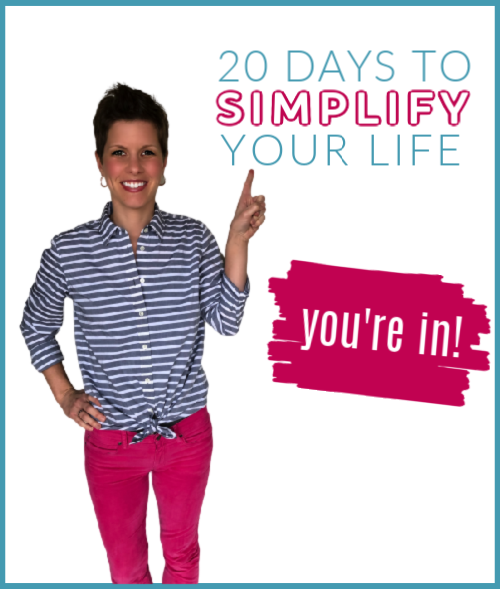 Congrats! You're officially IN the challenge!
I'm so excited to do this with you!
This FREE challenge is fueled by my passion and enthusiasm for simple living, as well as the life-changing benefits my own family has realized through my (and our) efforts to simplify our home, schedule, and life.
I want YOU to experience those benefits as well, and I'm confident this challenge will help you develop the habits, routines, and skills to assist in your journey to a simpler, more organized, less chaotic home and life.
What a gift that will be for you and your family!
Learn more about me, my family, and why I'm so passionate about simple living.
Two Quick Notes:
You may want to create a folder in your email for these challenge emails. They are NOT available anywhere else on the web, so if you delete the emails, you will not have access to them for reference.
And speaking of emails, you'll want to make sure to add my email address (andrea@andreadekker.com) to your list of approved senders so it doesn't end up in your SPAM folder.
Related Reading:
The articles below are a few of my favorites when starting any new project. I re-read them regularly when I need an extra dose of motivation, and I encourage you to read them today in preparation for this challenge!
Questions?
See below for answers to frequently asked questions about this challenge. Feel free to shoot me an email if you have additional questions.
Simple living is a journey — it will take time and effort. However, in just 20 days, you will be well on your way to a simpler, more organized, less stressed life!
I hope you're as excited as I am!
---
What Is The Goal For This Challenge?
MY goal is to help you jump-start your journey to a simpler, more organized, less chaotic home and life.
YOUR goal might be different from mine — that's something you should take the time to think about before getting too far into the challenge.
Why did you decide to sign up for this challenge?
What do you want to achieve over the next 20 days?
Are you willing to spend extra time each day working on the 20 challenges you'll receive?
What long-term habits do you want to create for yourself and your family?
How might your home and life improve after 20 days of simplifying?
Answer these questions for yourself — they should give you a clearer vision and help maximize the results of your efforts over the next 4 weeks!
Is This A Decluttering Challenge?
Not really… but we will talk about purging and I will give you action steps to help you declutter throughout the process.
Simplifying is very different than organizing — and while both are important, my goal for this challenge is to focus on the overarching principles I feel are necessary to help you simplify your life.
Once you implement these simple-living principles in your home and life, the decluttering part will often fall into place as well. They go hand-in-hand, but my efforts for this challenge are on Simple Living.
When Will My Emails Arrive?
You can expect one email each morning for the next 20 days.
What if I Missed the First Few Days?
You can't "miss" days of this challenge — woohoo! Whenever you sign up, your "day 1" will be the next day!
What Are The Daily Challenges Like?
In an effort to keep this challenge as simple and straightforward as possible, each daily challenge is fairly short and sweet.
I share the over-arching theme for the challenge and how it relates to simple living. Then I list a handful of Doable Action Steps you can implement immediately that day, and I round out the email with a short list of Related Reading that will help you dive deeper into the topic and challenge for the day.
You can do as much or as little as you want each day, but keep in mind your results will be directly tied to the amount of time and effort you put in each day.
Why 20 days?
I wanted to create a doable challenge — long enough to cover a lot of ground, but short enough so you don't get overwhelmed or burnt out.
I also wanted to play on the fact that it's 2020 — so 20 days seems like a good number!
Will I Need Any Supplies?
In general, none of these challenges require "supplies". I'm always a huge advocate for using whatever you have in the house instead of buying new.
If I feel a specific tool is helpful, I note that within the challenge email.
How Much Time Will These Challenges Require?
Time is so hard to estimate as it largely depends on the size of your home, the current state of your home and life, how full your schedule is, the needs of your family (a.k.a. do you have little kids who need you all the time), how focused you can be, etc.
My hope is that you can complete each day's challenge in under 1 hour of focused time.