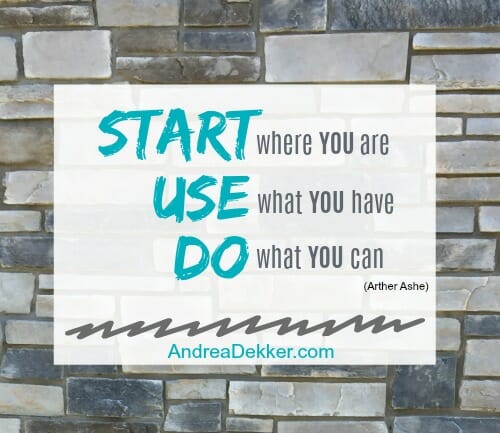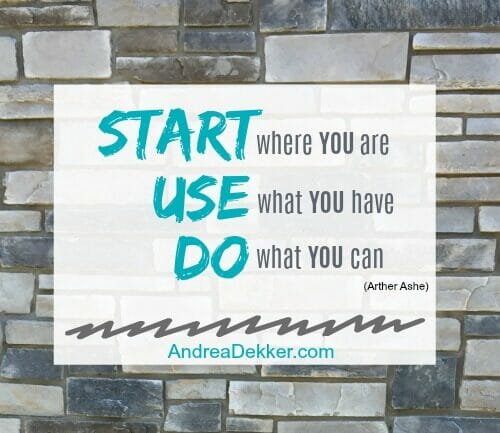 Over the summer, I heard a talk centered around one of Arthur Ashe's famous quotes:
Start where you are. Use what you have. Do what you can.
The point of the message was VERY different than the point of my post today — but they both stem from the same quote.
In my own life as a middle-class, introverted, stay-at-home-mom of 4 young children with no huge goals for my life, it's very easy to fall into the trap of thinking I can't do all that much or that I don't have much to offer compared to others.
Ironically, I often get emails and messages from others who seem to feel the same way (can't do it, don't have much to offer) in regards to getting organized, managing their schedules, simplifying their lives, etc. etc.
For example, whenever I share photos of an organizing project or a tour of a room in our home, I get several emails and/or comments from readers who feel the need to explain why they "can't be as organized as me".
It's usually because they believe they…
don't have enough storage space to be organized
don't have enough time to get organized
don't have enough money to buy proper organizing containers and tools
don't have enough energy to stay organized
don't have enough help from family members to keep things organized
don't have enough motivation to actually get started
don't have enough "type A" to stay on top of the clutter
I also get LOTS of comments regarding our choice to wake up at 4 am in order to be super productive before the kids wake up.
It seems that most love the idea of waking up super early; however, the implementation often falls through for a variety of reasons…
up too late with teen children
up in the middle of the night with a baby or toddler
too many evening activities and family events
working a job with strange hours, requiring abnormal sleep and wake times
inability to fall asleep on time, so still tired at 4 am
And ever since I shared more about all the vegetables we're eating each day, I've heard SO many excuses and reasons why more veggies just couldn't work…
I work outside the home, so I don't have as much time in the kitchen as you do
my family wouldn't eat the veggies so they'd go to waste
we can't afford that much fresh produce
we don't have an extra refrigerator to store our extra produce
I don't enjoy being in the kitchen
I don't live in a place where I can grow my own garden
.
I actually have a canned email response for these situations saying, "It's OK that you don't do everything the same as me! Just start where YOU are, use whatever tools and resources YOU have, and do whatever YOU can do at this point in your life."
Maybe that means putting a few carrot sticks in your children's lunches this month.
Maybe that means waking up 15 minutes earlier.
Maybe that means setting your timer for 20 minutes and tackling 2 drawers in your dresser.
Maybe that means using old shoe boxes and mismatched baskets you already have in the house versus buying pricier containers brand new.
Maybe that means growing one cherry tomato plant in a 5-gallon bucket on your back steps.
Maybe that means digging an old notebook out of your drawer and finally writing down your goals and to-dos.
Maybe that means lowering your standards for the cleanliness of your home and enjoying the fact that it's cleaner or more organized than it was last year or last month.
And of course, this can also be applied to exercise, starting a new hobby or job, learning a new skill, and basically every other aspect of life.
We are all at different stages of life, we all have different backgrounds, we all have different daily and weekly schedules, we all have different energy levels and sleep needs, and we all carry different "baggage" around with us each day.
There is no one-size-fits-all approach to getting organized, boosting productivity, increasing vegetable intake, or anything else – and that's OK!
In many ways, I feel like the day after Labor Day is the start of our family's "New Year".
We just finished our "summer holiday" and now we're back at it again for the next 9-10 months.
It feels like a fresh start, a new beginning, and a really great time to start wherever I am and do whatever I can, with whatever tools and resources I have at this point in my life.
This might not look or be as good as others around me and it certainly will not be "Pinterest perfect"… but it will be the best I can do right now, where I'm at with 4 little kiddos at home with me each day, and with the tools, skills, resources, and abilities I have available to me.
If you're feeling discouraged because you don't think you have the time, money, space, energy, knowledge, skills, tools, or resources to do something as well as others around you, I hope this post encourages you to focus on doing YOUR best based on YOUR current season of life, YOUR current financial position, YOUR current energy level, YOUR current workload, YOUR current sleep habits, etc. etc.
If you're anything like me, you will notice an immediate pressure release when you stop focusing on matching up to others and start focusing on making forward progress on YOUR OWN terms!
Start where you are. Use what you have. Do what you can.
Thanks, Mr. Ashe!