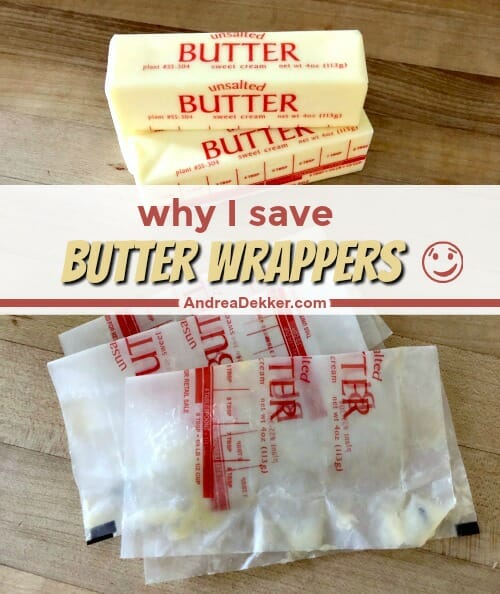 I know, I know, saving butter wrappers might seem ultra-frugal, but frugality is honestly not the main reason I save my butter wrappers! You'd be surprised how many different uses for butter wrappers you might find around your own kitchen!
I should note that our family goes through quite a bit of butter each week — usually close to 2 pounds (8 sticks)!
I use it for baking, for cooking foods in our cast iron pans, for buttering vegetables, for oatmeal, pancakes, and waffles, and of course, on all the bread and rolls we eat for toast, sandwiches, or just as a side dish to our meals.
.
And yes, I save my butter wrappers!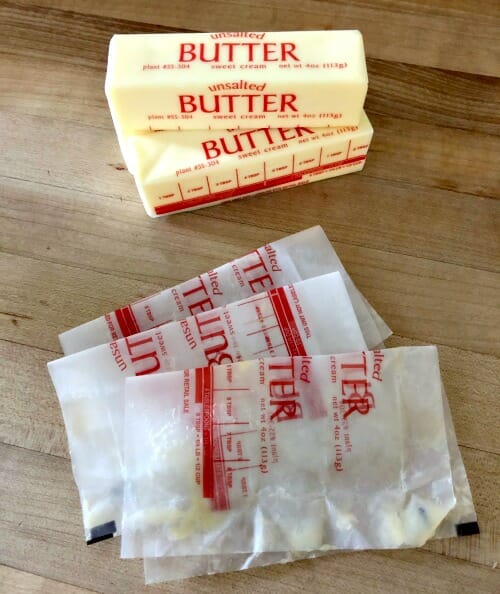 As you know, I'm fairly frugal — and I'm also quite resourceful in the sense that I LOVE finding another use for things I already have in the house!
Our butter wrappers are one of those things I have found a "second use" for — and although I've been saving them for YEARS, I've never thought to share the idea on the blog until now!
Let me explain…
Because we use so much butter, I have a "system" to assure we always have several softened sticks of butter available at all times.
I keep one stick on the butter dish, in the cabinet next to the stove.
I have 2 or 3 additional sticks on a plate in our pantry so they are always at room temperature.
There are at least 4-6 sticks in the fridge (useful for when I need cold butter or for replacing the softened pantry butter)
Our freezer is stocked with several pounds of butter at all times (it's always on my Costco list!)
Whenever we finish off the butter on the butter dish, I replace it with one of the room-temperature sticks of butter from the pantry… however, as you might assume, room temperature butter is VERY soft, so some of the butter sticks to the sides of the wrappers.
Being the frugal person I am, I usually take a knife and scrape as much of the butter off the wrapper as possible.
Once I scrape the majority of the butter off the wrapper, I fold the wrapper in half and add it to the small stash of butter wrappers I save in my lazy susan — next to many of my other baking supplies.
Whenever I need to grease a pan or dish or if I want to rub a layer of grease into my cast iron pans, I simply grab a butter wrapper and get to work.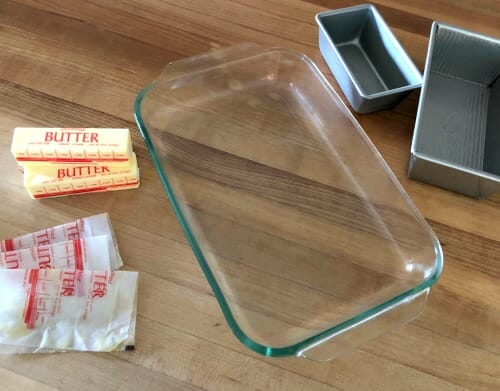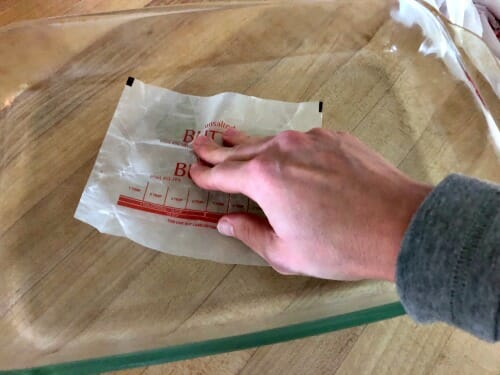 My hands stay clean, I can easily get into small corners of my pans, the food never sticks, I don't need to use the sprays (which my USA pans and cast iron pans say not to use), and I don't need to buy anything extra or spend any extra money!
Win-Win!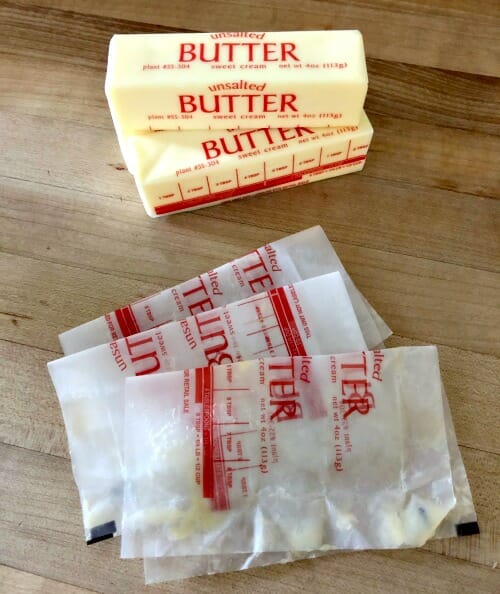 Of course, this frugal tip will not work for all families — if you aren't a big baker, or if your family just doesn't go through butter as quickly as we do, you might not have as many uses for butter wrappers and this tip probably won't sense for you.
The point of this post is NOT to say that everyone should save their butter wrappers… instead, I hope it might help you to think of other ways you can better utilize different resources in and around your home!
Whatever the case, I hope this light-hearted post will encourage and inspire you to look for ways to reuse and repurpose items you already have in your home — versus spending time and money buying something new!
More Butter Posts:
Apparently I'm fairly passionate about butter as I've shared other posts in the past! 🙂

A super quick tip to soften butter (if you don't like leaving several sticks sitting at room tempurature)

How to make your own butter (really fun for the kids!)

The big debate on butter versus margarine — read the comments! (I switched over to only butter in 2013)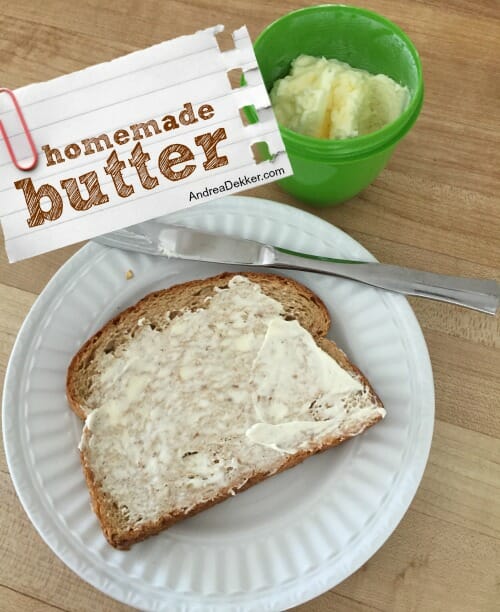 I'd love to know… do you save butter wrappers? If so, what are your favorite uses for butter wrappers?
Are there any other sort-of-strange things you save and reuse for something else around your home?