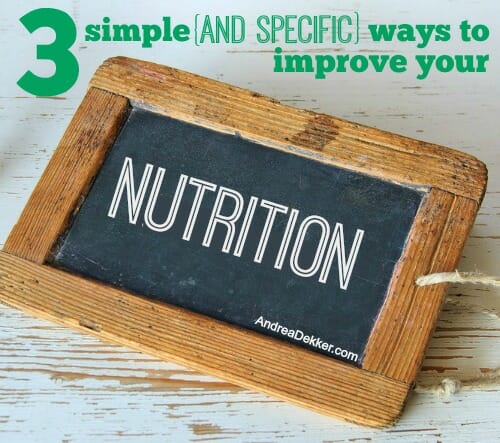 I don't usually blog about health or nutrition — mainly because I'm not super passionate about these topics and I don't feel I'm knowledgeable enough to share worthwhile information.
However, one thing I AM passionate about is simplifying overwhelming topics and concepts so they feel doable for us normal, average, everyday people. And in my opinion, the topics of health and nutrition often feel VERY overwhelming to me.
From what I hear and read these days, almost everything we eat will eventually cause cancer, almost everything we eat is apparently "not so great" per the opinion of someone somewhere, and almost everything we eat will generate negative side effects of some sort.
So… since all foods and food theories are essentially condemned by some source, my whole "all things in moderation" approach to food, health, nutrition, and exercise continues to suit me just fine!
I will continue to eat some processed foods in an effort to save lots of time, energy, and stress. I will continue to grow veggies and preserve my own jams, jellies, applesauce, and more because I enjoy doing it. And I will continue to eat at Culver's every once in awhile because it tastes SO good!
I will not count calories or fat grams, I will not drive to 6 different health food stores, farmer's markets, butchers, etc. just so I can say I'm feeding my family the "best", and I will not stress or worry about every single morsel of food I put into my body or my children's bodies.
It's just not worth it for me.
.
After lamenting some of my frustrations with the current "health and nutrition" industry to a friend of mine (a friend who just so happens to be VERY knowledgeable with diet and nutrition) I decided to write today's post…
Unlike most other health and wellness posts, this post will not tell you to stay away from certain foods or food groups. This post will not tell you to eat gluten-free, dairy-free, soy-free, sugar-free, low-carb, paleo, or Whole30 approved foods. This post will not list 10 foods that will most certainly cause cancer, 15 foods that will cause belly fat, or 25 foods that will cause high blood pressure. This post won't even tell you to stay away from your most favorite guilty pleasure.
Have I piqued your interest yet?
.
I don't know about you, but I quickly tire of all the "don't buy" and "never eat" and "stay away from" advice about food and nutrition. Instead, I want to know what I SHOULD do, what I SHOULD eat, and what foods I SHOULD be buying at the grocery store.
If you can relate, I think today's post will be encouraging for you.
It's a super short list of 3 very simple (yet very specific) things you can do right now to immediately start improving your health, your nutrition, and your body.
1. Drink half your bodyweight in ounces of water each day.
For example, if you weigh 150 lbs. you would drink 75 oz. of water per day. If you weight 200 lbs. you would drink 100 oz. of water per day.
I realize this sounds like A LOT of water — but as I've mentioned before, drinking lots of water is one of the absolute simplest and most frugal ways to improve your health, your skin, your hair, your digestive system, your mood, and so much more.
I carry my water bottle around with me everywhere and if I'm conscious about drinking it, I can fairly easily down 4 full bottles of water each day (plus more at meals).
.
2. Eat protein with every meal.
My friend explained how protein helps us stay full longer and avoid mid-meal crashes (among many other benefits). However, she said most women lack enough protein in their diet.
Her tip was to consciously try to eat some protein with every single meal.
For example, instead of a bowl of cereal or piece of toast for breakfast, have yogurt with your cereal and eggs with your toast. Instead of a lettuce and veggie salad for lunch, add cheese, leftover grilled chicken, nuts, or another protein.
Even try to add protein into your snacks — instead of just Wheat Thins, eat Wheat Thins + sliced cheese + sliced summer sausage. Instead of just eating an apple or some fruit, eat an apple with peanut butter or fruit with cottage cheese. Hard boiled eggs and nuts are 2 more simple, protein-packed snack options.
If you want to use a protein powder, my friend recommends going with an organic plant-based protein powder.
.
3. Eat at least 20 grams of fiber each day.
This is probably the hardest one for me, because I never even consider what foods have fiber in them and what foods don't. However, thanks to my friend's suggestions, I've been paying more attention to the nutrition facts on my foods and looking for options with higher fiber.
Eating more fiber should help regulate our digestive systems (assuming we're also drinking enough water) and reduce bloating — which means we'll feel slimmer and healthier right from the start!
Also, she mentioned that women under 50 should strive to get 25 grams of of fiber each day.
If you feel like you just can't get enough fiber in the foods you eat, she recommends adding chia seeds or ground flaxseed into baked goods, oatmeal, smoothies, or anything else you want to try.
.
Again, I realize I'm not a nutritionist or health coach or really anyone with any knowledge — but after talking with my friend and doing a little research of my own, I feel confident sharing these simple tips with you.
In my opinion, they seem very doable for almost anyone — even those with food allergies, food sensitivities, food restrictions, or those on specific eating plans and diets.
If you're looking for a couple simple ways to start your journey to a healthier more nutritious diet, I think any one of these tips is a great place to start. And you know as well as I do that once you get started, it's a lot easier to keep moving in the right direction.
Yes, you can get your grande latte, eat cheesecake, and order a burger and fries at your favorite fast food joint… but also keep these 3 tips in mind as you go through your day.
More water, more protein, more fiber – Good Luck!