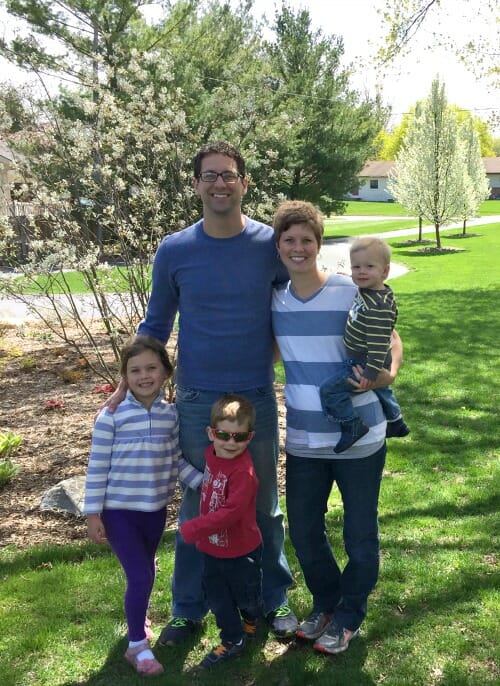 Ahhh! The last 2 weeks after coming home from our spring break vacation have been good, simple, peaceful, relaxing… and difficult all at the same time.
It felt SO good to get back home again, get everything unpacked and put away, and get back to our regular lives again. The kids enjoyed playing with their own toys again, riding bikes with neighbor kids, and just lounging around the house. Dave and I enjoyed all the comforts of our own home… and getting to bed a lot earlier than we did on vacation!
That said, it has been really difficult for me to get back into my "normal" routine again (especially for work purposes!)
I worked so hard to plan, write, and schedule ALL my blog posts and do ALL my VA work several weeks in advance that the last 2 weeks have been a challenge for me. I had such a nice break (almost 2 full weeks away from work) that finding my groove took a bit of time… but I think I'm finally there (or at least really close!)
Tell me I'm not the only one who struggles to get back to reality after being in "vacation mode"!
.
I haven't done any major projects yet — just lots of little things to get our home and yard ready for spring and summer.
I did some weeding, pruning, splitting, and transplanting while the kids played outside; and I finally swapped out the winter decorations on our front porch for a few more spring-looking items!
I washed all our blankets and comforters (and removed some of the blankets from our beds in hopes that the warmer weather will stick around!) I also vacuumed out the van and "washed" our strollers and bike trailer (here's how I wash them).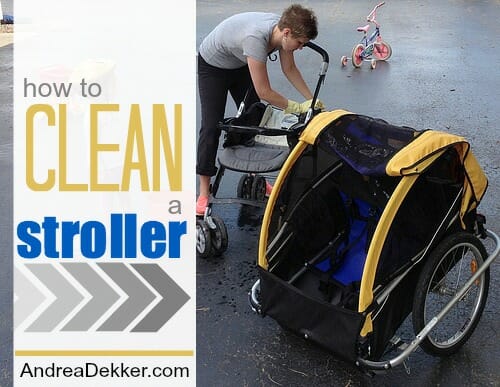 .
Dave I officially began the process of preparing for demolition in our "blue bedroom" (a.k.a. the current playroom). We emptied out that room completely in preparation to remove the carpet, doors, trim, and a bunch of drywall, hopefully starting next week already.
It gave me a good chance to take "inventory" of all our toys, purge a handful we don't need/want/use/love anymore, and better organize the rest. Nora and Simon were surprisingly willing to part with 2 large bags of toys… I think because it was extra 'fun' as we were rearranging furniture and moving so much around 🙂
Right now, all the toys are in Nora and Simon's bedroom. It took a bit of rearranging, but everything fits and doesn't feel too cluttery — at least not in my opinion!
We hope to have the "blue bedroom" torn apart and put back together by July (when it will no longer be blue!) Then we'll be gone for a couple vacations, after which the plan is to move Nora into the new room before school starts in August.
Once Nora is out of her current bedroom, we'll move James up to share that room with Simon — leaving the nursery empty for a few weeks so I can clean it and get it ready for the new baby!
Oh, how I love a good house project (at least once it's finished!)
.
Switching gears… I got these pens for the kids before we went on vacation — they think they are SO cool, and it just brings me back to my childhood, using these pens in church 🙂
I think I only paid $6 for the pack of 12. I let each kid pick the color of their choice, and we're saving the rest to give as little gifts to friends and neighbors.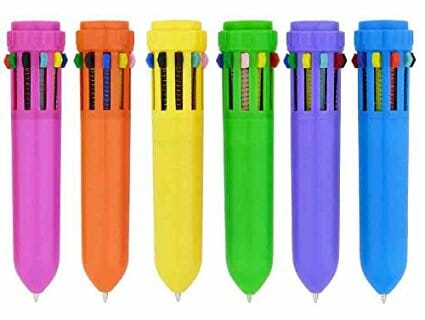 I also got a new Home T for myself — a bigger size so I can wear it as I become a bigger size 🙂
It's honestly THE softest, most comfortable t-shirt I've ever owned… and I'm loving the new V-neckline too!
We received a set of lunch boxes from PlanetBox… and the kids were SO excited to eat lunch this past week!
We have the "Rover" box and I have to say, not only is it really cute, it's also much more practical than I thought it would be, and super easy for the kids to eat out of (especially nice this time of year when they like to have picnic lunches outside.)
I have a feeling we will get good use out of these lunch boxes once I need to start packing school lunches!
.
What I'm reading and watching:
I had grand intentions of reading so many books over spring break — but aside from 2 afternoons when James napped on my lap at the pool, I had very little down time to read (not too surprising since we traveled with 3 young children and James didn't go to bed well at night!)
Anyway, I was bummed that I didn't even finish 1 book on vacation, but I've read several books the past 2 weeks at home.
I watched enough HGTV on vacation to satisfy my TV "itch" for a while — the only thing I've watched in the past 2 weeks is Call The Midwife on PBS each Sunday night. Seriously, it's such a good show (the first few seasons are on Netflix).
.
Our Menu Plan:
SUNDAY (Easter):
Dinner at my parent's house
MONDAY:
Mashed potatoes
Fresh fruit
TUESDAY:
Chicken Spaghetti (so good… I adapted this recipe quite a bit and made it so much simpler. I'll have to share my recipe soon!)
Salad
Broccoli and cauliflower
Garlic bread
Fruit
Rice Krispie Bars
WEDNESDAY:
Green Beans
Fruit
Ice Cream Sandwiches
THURSDAY:
Beef Brisket (my first time ever making this cut of meat)
Roasted potatoes and sweet potatoes
Corn
Fruit
Rolls
Chocolate Chip Brownies
FRIDAY:
Salad
Chips and salsa
Fruit
SATURDAY:
Mushroom and swiss burgers from Blue Apron
Grilled corn on the cob
Fruit
It's exciting to realize that after this week, Dave only has 6 more weeks of school until Summer Vacation!! yay!
It's also crazy to think that in just a couple more weeks, we'll know the gender of our baby! I know Nora would just love a little sister, and I would love for her to have a little sister — but in all honesty, the main reason I'm so excited to find out what the gender is because Dave refuses to entertain all my random name suggestions until he knows the gender 🙂
I have so much fun coming up with names (I have a couple of winners for both genders already) and I just can't wait to decide on this baby's name ASAP!