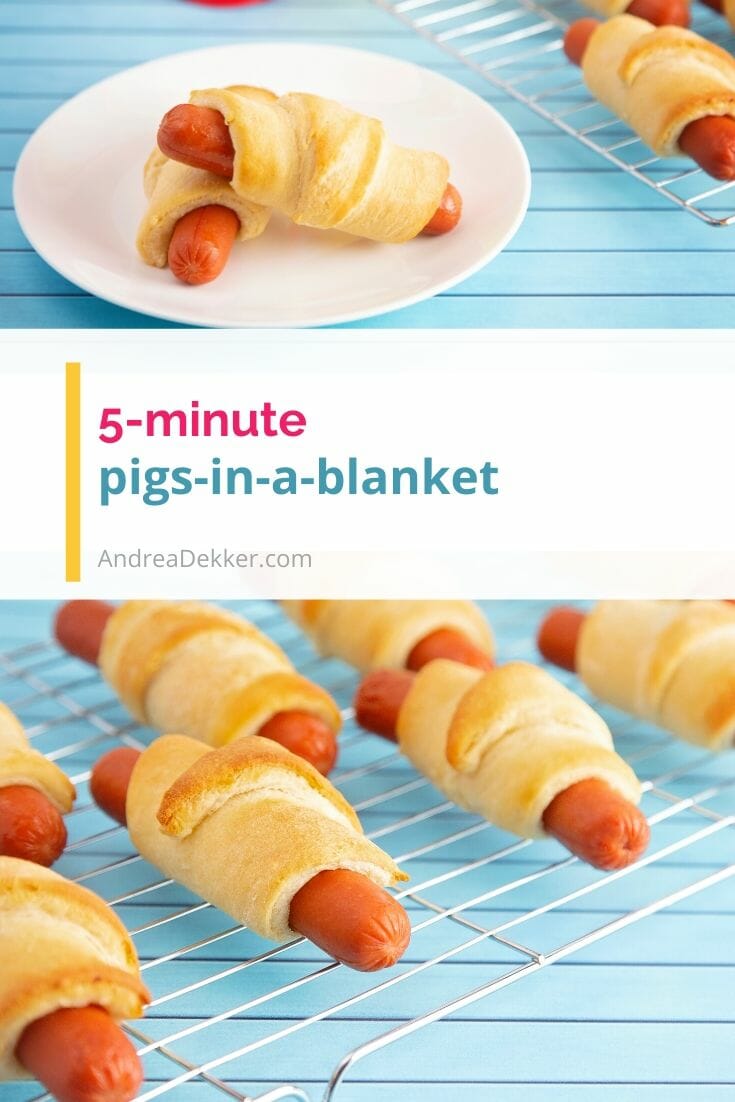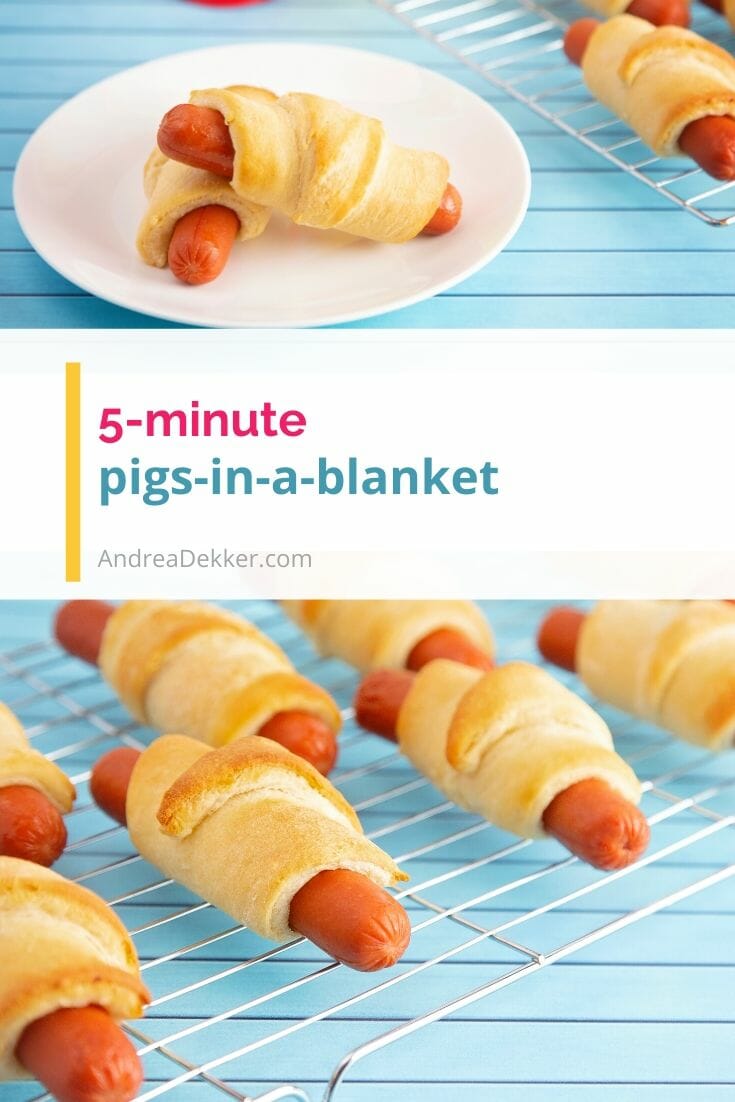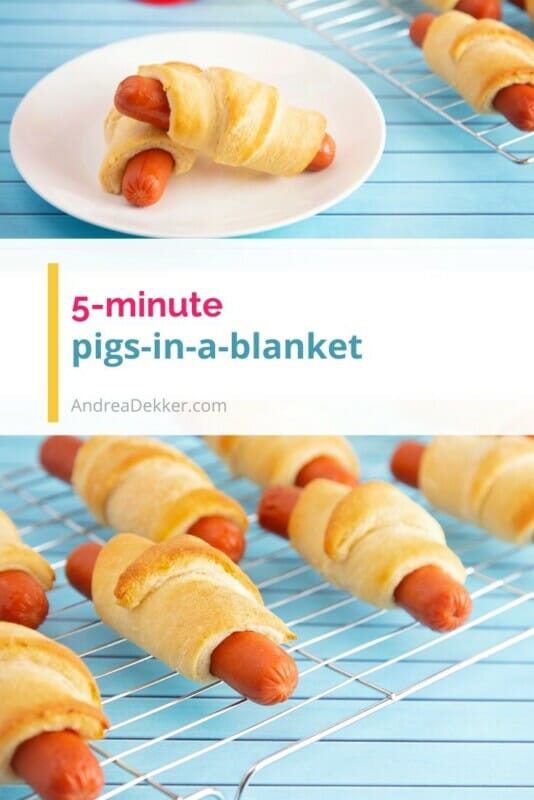 Dave and I were both fortunate to grow up in homes where meals together as a family were very important.
Yes, our families were busy with lots of extracurricular activities, but even still, it was rare for either of our families to eat dinner anywhere other than at the table together.
Now, many years later, we've both made an effort to prioritize dinner together with our own children each night.
We do realize this will be more challenging as our children get older! That's one reason we're even more committed to making family dinners work while the kids are little and at home with us all the time!
We know that if we develop that routine and standard NOW, it will be easier to maintain in future years.
This recipe for 5-minute Pigs in a Blanket is one of those super simple 30-minutes-or-less recipes our family loves… I think your family will too!
However, before I get too far into the recipe, I want to share a fun resource I added over the weekend!
I created a new page on my blog with 30-Minute Meals!
Every recipe featured on this page is one I can make in 30-minutes or less… many of the meals are 10 and 15-minute meals!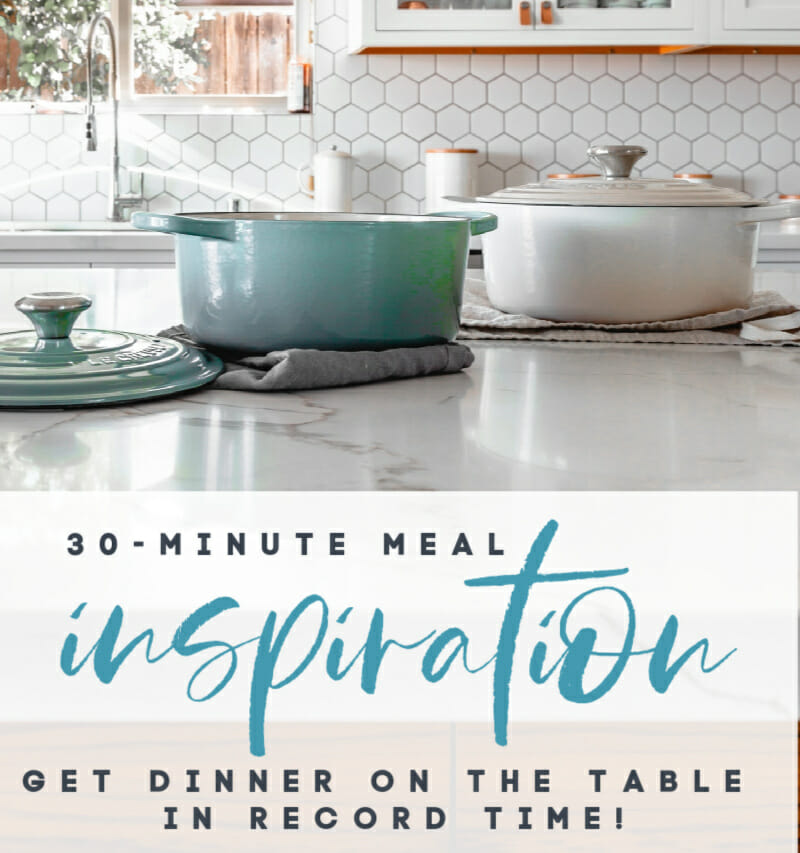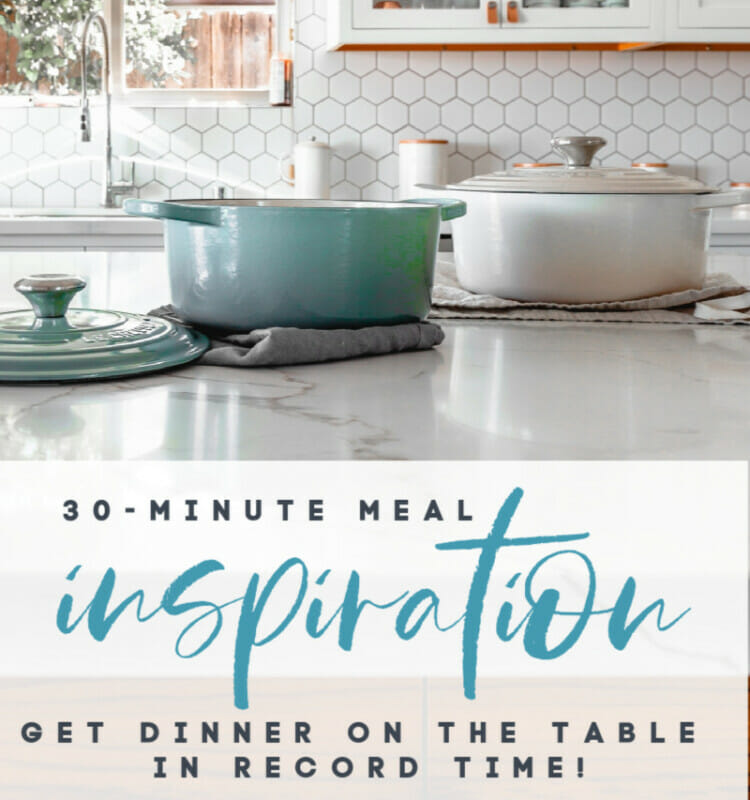 The image above is now featured in my sidebar, and the page will update automatically whenever I share a quick recipe (like the one in this post!)
If you need a little extra inspiration to get dinner on the table in record time, you'll love these 30-minute meal ideas!
---
Back to today's 30-Minute-Or-Less Recipe…
Homemade Pigs in a Blanket
Believe it or not, this SUPER simple weeknight meal can be ready for the oven in roughly 5 minutes.
Seriously — even my kids can make it in less than 5 minutes! (See resource at the end of this post for links to all my other "Kids in the Kitchen" recipes.)
I first shared this recipe in my Instagram Stories — and I immediately got SO many requests to "officially" share it on the blog!
If you're looking for an ultra-simple, family-friendly weeknight meal to get your family around the table together, try these homemade pigs in a blanket!
Yield: 8
5-Minute Homemade Pigs in a Blanket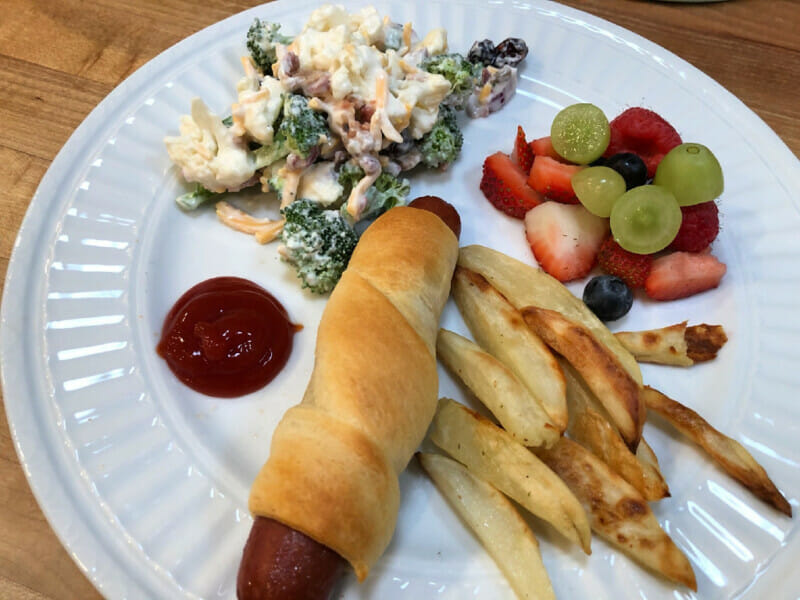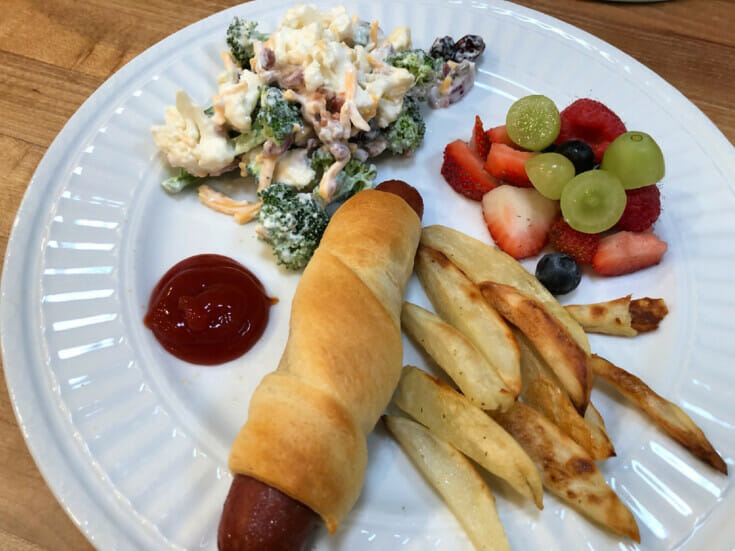 This simple meal requires roughly 5-minutes of hands-on prep work so you can get dinner on the table in record time. Plus, everyone loves these easy homemade pigs in a blanket!
Ingredients
1 package refrigerated crescent roll dough
8 hot dogs
Instructions
preheat oven to 400ºF
unroll crescent roll dough and divide it into 8 triangles.
wrap one triangle around each hot dog and place on baking sheet
bake in preheated oven for 12-15 minutes (or until dough is your desired "brownness")
Notes
We Serve our Pigs in a Blanket with:
Nutrition Information
Yield
8
Serving Size
1 hotdog
Amount Per Serving
Calories

295
Total Fat

22g
Saturated Fat

9g
Trans Fat

0g
Unsaturated Fat

11g
Cholesterol

30mg
Sodium

341mg
Carbohydrates

17g
Fiber

1g
Sugar

1g
Protein

7g
Nutritional information is approximate and does not account for additional ingredients or added toppings.
That's it!
I told you it was a simple recipe (if you can really even call it a "recipe"!)
NOTE: We love the all-beef hotdogs from Costo. They are larger than traditional hotdogs, more filling, and more flavorful. Plus, they're all beef!
Simple Side Dish Ideas for Pigs in a Blanket:
We serve our pigs in a blanket with:
Related Resources:
If you're looking for a little meal planning inspiration, check out the links below!
I know how much simpler my life feels when I have a plan for dinner — and simple meals make it feel much more doable!
Add this 5-minute meal to your weekly menu plan and enjoy a little extra family time around the table!
What are your favorite 30-minute-or-less meals?