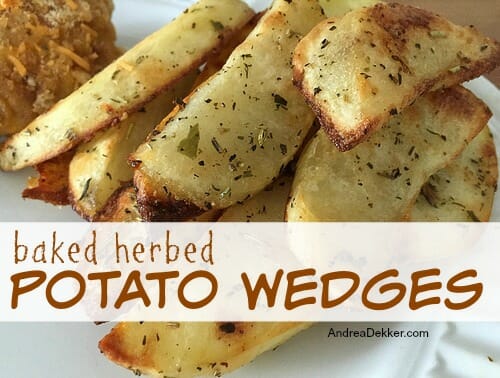 As the weather warms up, I often plan at least one grilled meal every week — burgers, brats, chicken, etc. Using the grill is a great way to move some of the mess outside, and our kids really seem to like eating out there now that we have a much larger deck.
One of our favorite side dishes for grilled meats is baked herbed potato wedges. They are extremely simple to prepare, and I can easily mix and match the seasonings to go with whatever meat we're eating.
These potato wedges go great with burgers, brats, grilled chicken, and even the crispy cheddar chicken bake recipe I shared last week.
They are perfectly crunchy on the outside, but soft on the inside, and they have TONS of flavor without a lot of salt. I have a feeling these potato wedges will show up frequently in my summer meal plans!
Recipe for Baked Herbed Potato Wedges
Make 1 potato per person
INGREDIENTS:
good baking potatoes (I use 1 Russet potato per adult)
olive oil to coat potatoes
2 T. seasonings of choice (I often use Herbes de Provence)
1 pinch Paprika
salt and pepper to taste
DIRECTIONS:
Preheat oven to 425ºF. Line a large baking sheet with parchment paper or a silicon mat.
Peel and cut potatoes into wedges (you don't need to peel the potatoes, but we like them better peeled)
In a medium bowl, mix olive oil, herbs, paprika, salt, and pepper.
Toss potato wedges into oil mixture until fully coated with oil and herbs
Arrange in a single layer on baking sheet and bake for 20 minutes in preheated oven.
Flip potato wedges and bake for an additional 15-20 minutes, or until potatoes are cooked through and crispy.
Serve immediately with your favorite dipping sauce!
I have no idea what the calorie count or fat content is for these potato wedges — but I'm certain they are much healthier than their deep-fried competition at local restaurants (and they taste SO much better!)
The first time I ever made these, I fully expected our children to try one wedge and say "no thank-you" but they gobbled them up and kept asking for more. In fact, I think we have only had leftover wedges ONCE — and that was because I made so many other side dishes to go with our meal!
While these baked herbed potato wedges are not freezer-friendly and really can't be made ahead, they are just so simple and delicious that they still make it into our weekly menu plan on a very regular basis!
What is your favorite way to eat potatoes?
Visit my virtual recipe box for more simple, delicious, family friendly recipes!