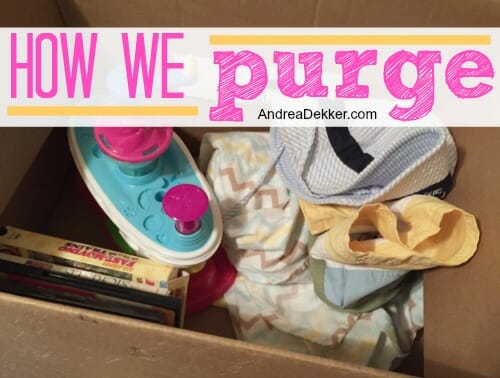 Last week, I talked a bit about why I've never been one to participate in "purging challenges" — not because I think they are bad, but simply because I feel that the point of purging is not to hoard items for extended periods of time just to "win" a challenge; but rather, to remove unneeded and unwanted items from our homes and lives.
Plus, I feel that in order to successfully maintain a relatively clutter-free lifestyle, purging must be a regular activity — not a once-a-year challenge.
So after publishing that post (and after receiving a fair amount of questions) I decided that if I explained how I DON'T purge, I should also share exactly how I DO purge the things we no longer need or want in our home!
As I hope you've come to expect, our system is VERY simple, basic, normal — not glamorous at all.
Our Purging System:
I keep a medium-size cardboard box (about 24″ x 15″ x 15″) in our laundry room and ANY TIME I feel like we should donate something, I toss it into that box immediately.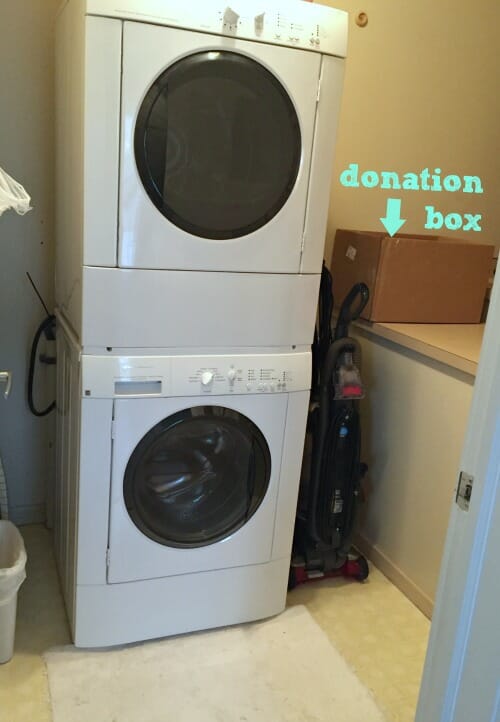 I don't worry about folding anything or keeping it neat — I just toss anything and everything we want to purge in the box and sort/organize it later (see below).
Clothing and shoes that are too small for Nora — in the box
Clothing I don't think fits me well or I don't feel great in anymore — in the box.
Clothing or shoes Dave says he won't wear anymore — in the box.
Books or toys we no longer use — in the box.
Kitchen gadgets I don't need — in the box.
Gifts we have no use for — in the box (yes, even if they are brand new).
Baby things we've outgrown or don't love — in the box.
Anything James outgrows that I don't like enough to save or give to future family members — in the box.
Home decor items I'm tired of — in the box.
Anything I replace with a newer or more updated version — in the box.
If we have larger items, we just set them on the counter next to the box and if it's a REALLY big item (like furniture) we'll usually try to sell it or post it for free on Craigslist so we don't need to physically haul it away ourselves.
When the box is full, I separate the contents into "like categories" (all clothing together, all toys together, all home items together) and put them into paper grocery bags. Then I load up my car and drop off the contents at our local donation center which we pass every time we bring Nora to school.
I keep the original box in my laundry room and start the whole process all over again.
On average, I easily fill our box every 2 months (sometimes much faster depending on the time of year!) I've noticed there are 3 times a year when I do more "major" purging
1. Mid October
This is the time of year when we purge SOOOOOOO many outdoor toys, sand toys, kiddie pools, etc. I also go through all our summer clothing, sandals, swimwear, etc. and purge anything I know will be too small next year or anything that won't fit another child at the appropriate time of year.
I think I subconsciously do this in preparation for the massive influx of holiday gifts… but also because we're inside more, and after a long spring and summer of being outside, I want to declutter our home.
2. Mid January
After Nora's birthday in late November and then unending Christmas parties from mid-December through early January, our house always seems to be bursting at the seams by mid-January!
I take this time to purge holiday decorations and anything seasonal (before I pack it away for another year!) I also use the kid's excitement of their new toys to encourage them to purge several of their old toys, books, games, clothing, etc.
And over the month of January, I try to do a once-over of every space in the house (really quick, nothing crazy) just to weed out any stray things we're not using or don't need anymore. It's always amazing what things I find in the back of drawers or in the corner of the closets 🙂
3. Early April
Since Dave and I rarely travel over his school's Spring Break, I often use that week to do some serious "spring purging" around our house.
I've never really been big on "spring cleaning" but when it comes to purging, I definitely feel a strong desire to declutter once the weather starts to warm up and we head outside again. I think it's because the kids are inside less, so I feel like it's easier to get rid of things without them "helping" me the entire time 🙂
We also end up moving many of their "inside toys" outside for the spring and summer (things like balls, trucks, shopping carts, etc.) and then when October comes around, we often end up trashing or donating them instead of bringing them back inside.
I told Dave it's like we just "phase out" their toys — they are inside toys for the first winter, then they become outside toys in the spring/summer/fall, and then they magically disappear the following winter when the kids are inside, too busy with their new Christmas toys to remember the old ones that used to be outside!
For me, the one-box system works really well right now.
In previous years, I kept a single paper bag in every closet. I loved the convenience of this system, but the kids started getting into the bags and pulling things out. So since the box is up on the laundry room counter, the kids can't reach (or see) into the box, so it's easier for everyone this way 🙂
Oh, and I should also mention that our laundry room is right off the kitchen and mudroom, so it's a very handy location for our donations — easy to toss items in as we decide to donate, and easy to bring the donated goods out to my car when I want to drop them off!
How do YOU handle purging?